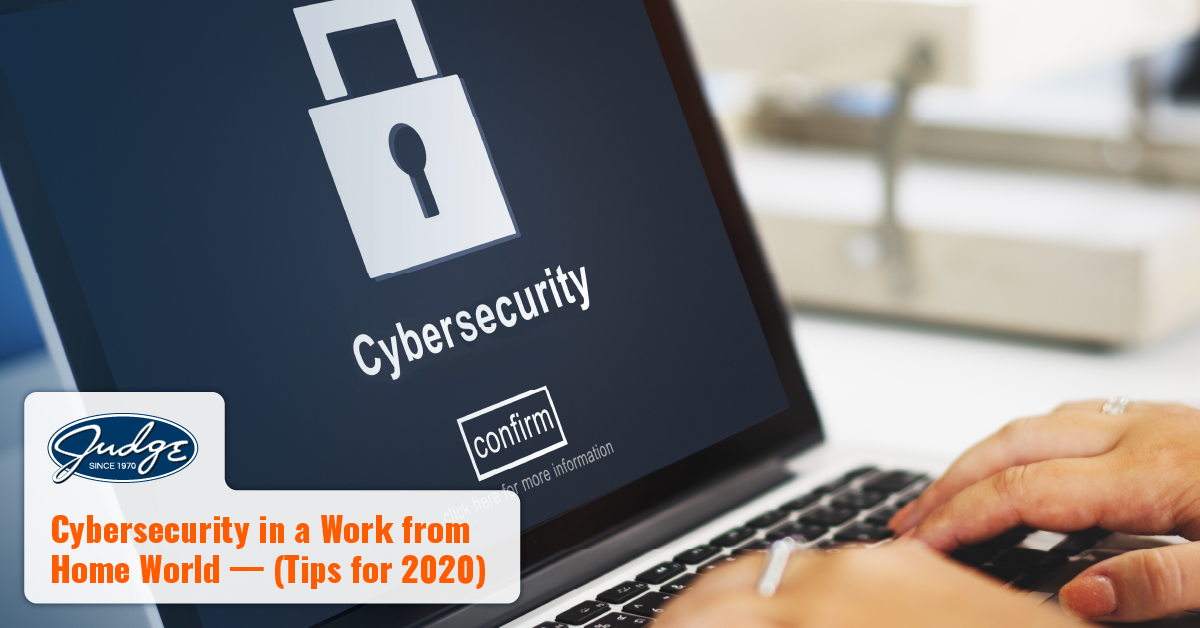 Share this post
Cybersecurity in a Work from Home World — (Tips for 2020)
According to Google, Gmail engineers are currently blocking about 18 million COVID-19 related phishing emails per day.
Likewise, they are identifying an astounding 240 million spam emails per day. True, email platforms always have to deal with cybersecurity challenges — as do companies. But the fallout from COVID-19 has made these numbers rise considerably. And it isn't just the content of phishing emails that's made things more challenging — it's also the sudden shift from office to remote work environments. So, the question is, how should companies maintain optimal cybersecurity, with so many employees now working from home?
The Wild West of Company IT
With millions of employees now working remotely, personal and occupational information has become more vulnerable to cyber-attacks. Over the long haul, IT leaders should approach security from creative angles. But in the short term, it's necessary to start simple. Here are some tips!
Ensure staff have the proper technology and devices to operate.
If you haven't already, re-test all relevant security software, making sure it's updates and functioning smoothly.
If workers will be accessing sensitive documents or important data from their remote network, create (and clearly communicate) extra security and access guidelines.
Seek information about your company's remote access management policies and procedures. If those guidelines are underdeveloped, prioritize getting your ducks in a row.
Place limits on remote desktop access, add scrutiny to remote network connections, explore IP whitelisting, and consider implementing multi factor authentication for VPN access.
For applications connected to bank accounts, financial security is obviously extremely important. Communication with supplier portals and tracking any compromised activity is key!
Educating Employees
The tips above are great, but the number one priority is communicating to non-IT colleagues the importance of taking precautions. At minimum, this should include discussing the importance of being cautious about emails from unknown senders, or people you wouldn't normally receive emails from. Advise employees to avoid opening attachments from unknown sources — especially those requesting personal information or requesting donations through email. Finally, educate yourself about some of the most common phishing schemes currently floating about. Common schemes include requesting payroll information (allegedly to assist in the fast tracking of stimulus checks) or requesting direct donations to the World Health Organization (WHO), and other COVID-19 related entities.
Tell employees the following: when in doubt, report any suspicious activity to IT immediately!
Conclusion: Cybersecurity in a Work from Home World — (Tips for 2020)
Maintaining security while working remotely is definitely possible, but it requires teamwork and vigilance. Your employees should receive reminders that their data is especially vulnerable during these times. Remember, even one employee's careless behaviour can compromise your company's data. By communicating as a team and implementing careful protocols, you should be able to move through the remote work era unscathed!
Topics : Articles, Cybersecurity, Remote Employees, Remote Work, Working from Home
Share this post
Join Our Winning Team
We are always looking to add talented professionals to our team. Advance your career with Judge.
Apply Now
Let's Continue the

Conversation.

Tell us how we can help you and we'll be in touch soon.