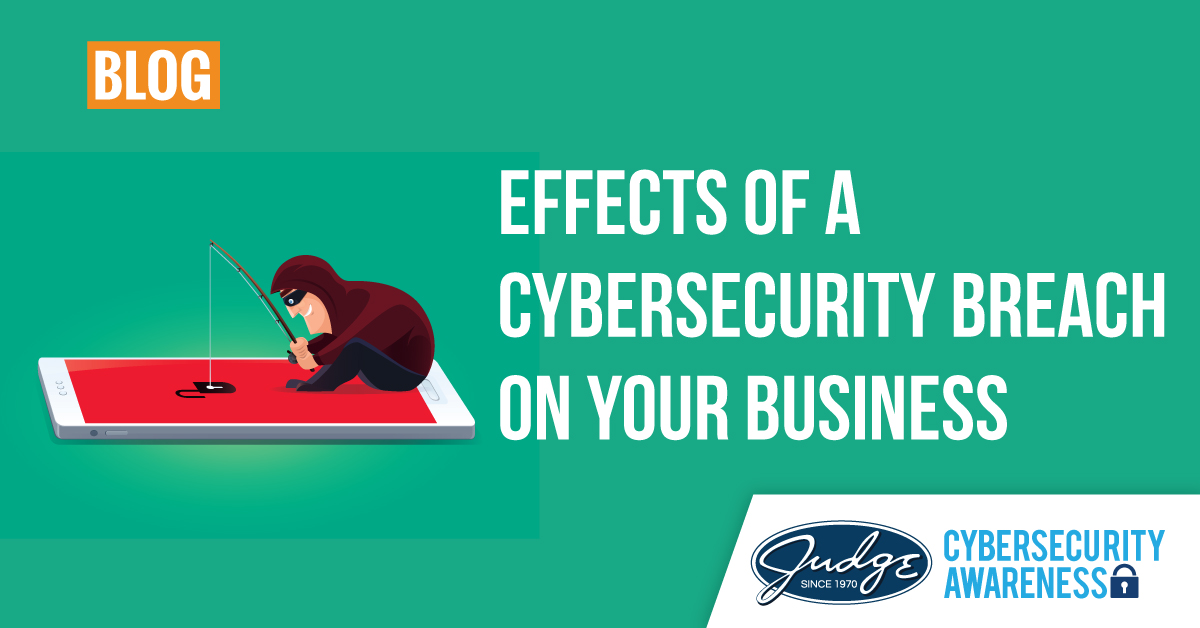 Share this post
Effects of a Cybersecurity Breach on Your Business
A cybersecurity breach can be a critical hit to your business.
There are a number of costly effects that a cybersecurity breach can have on your company. They range from the physical (what was actually stolen) to the ethereal (reputational damage). And if you're a small business, the impact of a cyber breach could be even worse.
Here is a list of some of the most devastating effects of a cybersecurity breach on your company.
Theft
A cyber-attack can lead to monetary losses, but money isn't the only thing an attack can steal from you. A bad actor might steal your customer data or an internal employee database. Information found in these data sets may even be more valuable to hackers than stealing money directly from the company. Personal information from your customers & employees and employee credentials sell well on the black market. Experian has a nice breakdown on how much pieces of personal information will sell on the Dark Web. If an attack stealing employee credentials goes unnoticed, then you are primed for even more breaches in the future.
Another tactic bad actors use in ransomware. Here, an attacker will lock you out of your system until you pay them a ransom. Similarly, confidential information might be stolen and threatened to be released to the public unless you pay up.
Expenses
Be prepared to spend a lot of money in the aftermath of a successful cyber-attack. Even if no money was stolen or you aren't the victim of ransomware/extortion, your company will need to spend money. Most obviously, you'll need to spend money to fix the point-of-entry or weak point in your system that was exploited by the bad actor. You may need to bring in an outside company/consultant to assist in finding/patching the vulnerability.
Depending on the laws you're subject to, you might be fined for not doing enough to prevent the data breach. You'll also need to notify anyone whose information was stolen while under your care. In a worst-case scenario, you will need to hire legal representation to defend you in a lawsuit. This adds legal fees you'll need to cover plus pay any monetary damages as ordered by the judge.
Reputation Loss
Damage to your reputation because of a cyber breach may be the most devastating out of all the outcomes. Companies are already having a difficult time building trust with potential customers and a breach won't do anything to change that. This impacts both B2C and B2B companies. Neither customers nor other businesses want to do business with a company that is careless with data or doesn't have the correct protocols in-place.
A hit to your reputation will affect your company in both the long and short-term. There will be an initial revenue loss as customers turn elsewhere to do business. If your company can't recover quickly, then you brand may become damaged beyond repair. Additionally, you may find your bad-rap negatively impacting your ability to hire and retain top talent, suppliers and/or investors.
Be proactive in defending your company from cyber-threats - the risks to your company are too great. Overcoming the negative impacts of a cyber breach can take years to fully recover from, if your business ever does. Take action before a cyber-attack derails your business.
By: Nick Iannucci
Topics : Articles, Cybersecurity
Share this post
Join Our Winning Team
We are always looking to add talented professionals to our team. Advance your career with Judge.
Apply Now
Let's Continue the

Conversation.

Tell us how we can help you and we'll be in touch soon.