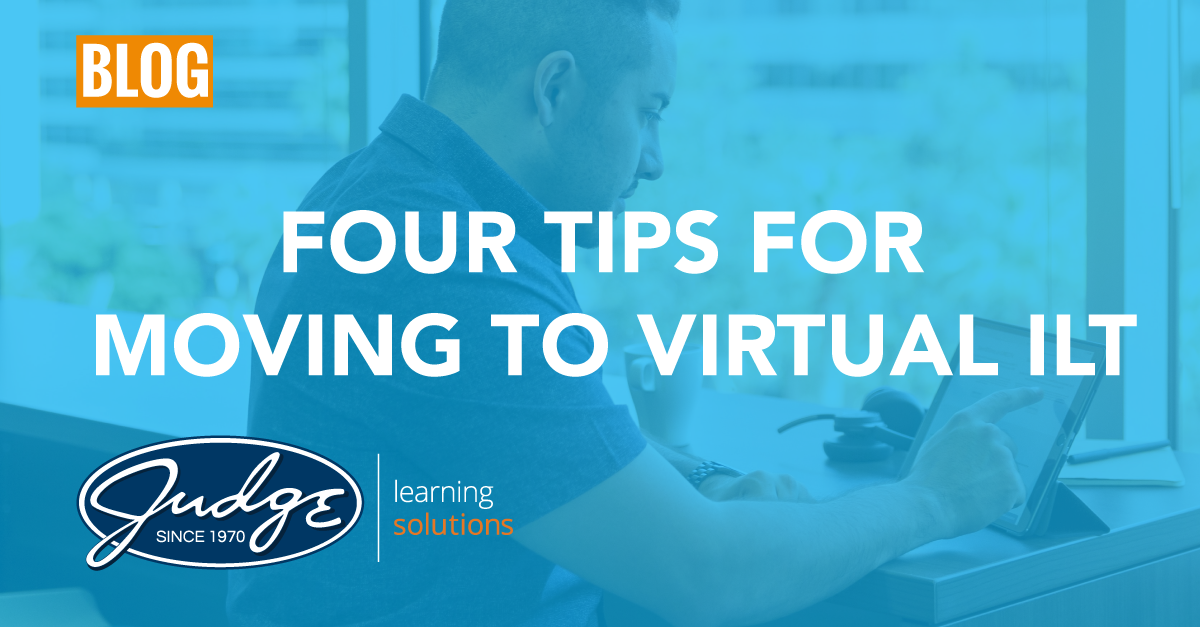 Share this post
Four Tips for Moving to Virtual ILT
Travel restrictions and remote working policies are critical for public health but are wreaking havoc on training schedules. Cancelled and postponed face-to-face training keep employees from the training they need. Virtual instructor-led training (vILT) is a cost-efficient, effective alternative to ILT that allows you to deliver training to a dispersed, remote workforce. When designed correctly, it can be just as effective as ILT. But to get vILT right, it takes planning and creative thinking. Here are four tips when creating or converting to vILT:
1. Decide your structure. ILT is often designed for larger blocks of time due to cost of travel and facilities. vILT doesn't have those logistical issues, but they have other considerations instead. For vILT course structure, spaced learning (i.e., shorter learning sessions over several days) is more effective for learner retention. For vILT, break your learning into several, 45-90-minute sessions to help keep participants engaged and drive deeper learning.
2. Engage, engage, engage. vILT design isn't the same as ILT design. There can't be downtime or you'll lose your learner to their email, YouTube, or that report that's due. vILT must be filled with activities and discussions to make them successful. This makes them more complicated to design, but much better for the learner.
3. Choose the facilitator wisely. The person who delivers vILT is almost as important as the content, since delivery and engagement are critical. Make sure your facilitator knows the content and is ready to run the course – especially the transitions between activities or discussions where logistical and technology issues tend to pop up. Ideally hire a professional facilitator. Another best practice? Have a facilitator run the course with a support person running the technical aspects like collating comments or writing on the virtual whiteboard.
4. Check the tech. Not all virtual meeting systems are the same. Some have more features than others that can limit or enhance interactivity depending on course design. Talk to your IT team and understand all the options available before beginning design. And don't forget about how learners will log on and receive credit for the training. Assigning courses through an LMS is ideal as it helps with tracking and allows for post-learning assessments.
This all may seem daunting, but it doesn't need to be! Converting ILT to vILT can take less than six weeks from start to pilot. New vILT can take a little longer if content needs creation. A lot of the upfront planning is straightforward – it just takes some creative thinking. And if you need help with the design, development, and facilitation, Judge Learning Solutions has extensive experience in creating and facilitating vILT. We have fantastic vILT designers as well as excellent facilitators to support your efforts. Contact us (JLS@judge.com) to learn more about how we can help.
By Mark Burke, Ed.D. and Kathleen Fortney, Ed.D.
Topics : Articles, Employee Learning Programs, vILT, Virtual Instructor-led Training
Share this post
Join Our Winning Team
We are always looking to add talented professionals to our team. Advance your career with Judge.
Apply Now
Let's Continue the

Conversation.

Tell us how we can help you and we'll be in touch soon.