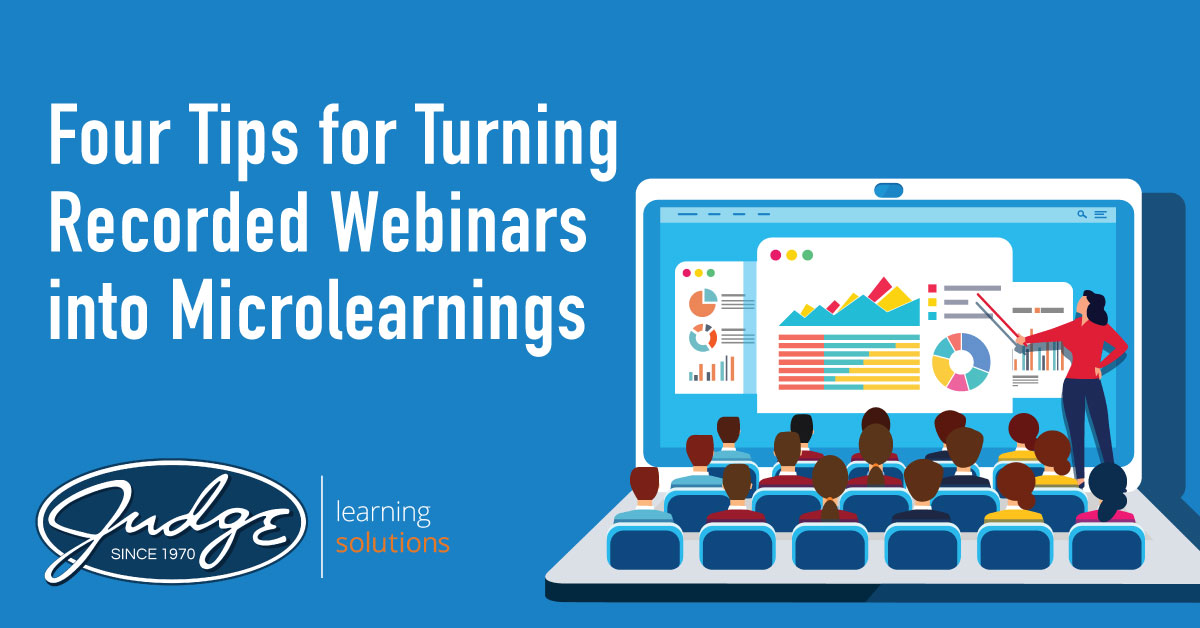 Share this post
Four Tips for Turning Recorded Webinars into Great Microlearning
By Mark Burke, Ed.D.
Today's learners are ravenous for information – especially bite-size chunks they can quickly reference when necessary. Enter microlearning. Short, helpful, easy to digest. Microlearning is great, but who has time to constantly create new modules for continuous education or reference materials? SMEs are busy and often don't have the time to develop training. On the flipside, SMEs frequently make time for sharing their knowledge through webinars – whether through external virtual presentations or onboarding videos for new hires. While SMEs see these as one-and-dones, training staff should look at these webinars as a gold mine for content.
Any 45-minute webinar will have 3-5 moments where the content is prime for microlearning. The challenge is getting the SME to deliver those moments in a high-quality and professionally-delivered manner. If you know of a great webinar coming up from your SME, try the following four tips for getting the most from those recordings:
Coach the SME. Let them know your goal ahead of time. That will drive them to think about their content a little more and where there will be some great learning nuggets.
Preview the learning. Make sure you attend if the SME is going to do a practice run so you know where the key content resides. If nothing else, get a detailed presentation outline.
Script the moments. Ideally the SME would be willing to script out the sections that will be clipped, so they are high-quality and powerful. The more preparation for the moment, the better it will turn out.
Use questions as a launching point. Microlearning clips from a recorded webinar typically have a question they are trying to answer for the learner. If the SME can start off with a question before jumping into the answer, it can be an organic and excellent way to start the video clip.
We don't always need to start from scratch when creating custom learning. Those recorded webinars collecting virtual dust on your hard drive are a fantastic place for you to find your next teachable moment!
Want to talk more about this? Leave a comment below, or reach out to us at JLS@judge.com. Our team of creative rock stars are ready to help – just let us know what you need.
Topics : Articles, Microlearning
Share this post
Join Our Winning Team
We are always looking to add talented professionals to our team. Advance your career with Judge.
Apply Now
Let's Continue the

Conversation.

Tell us how we can help you and we'll be in touch soon.