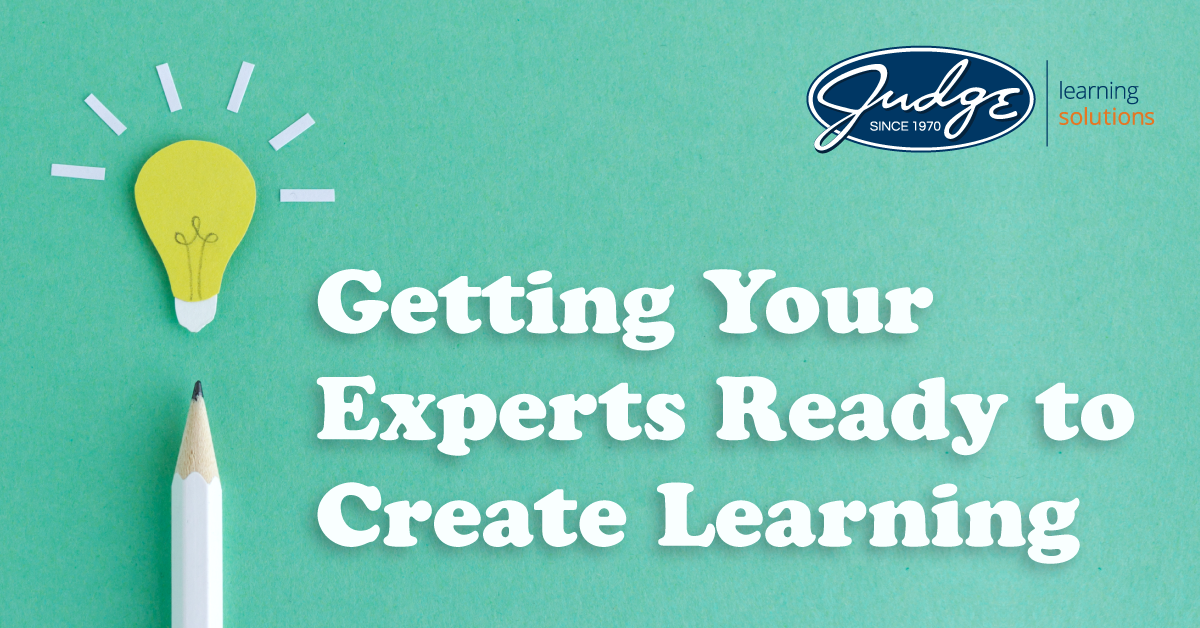 Share this post
Getting Your Experts Ready to Create Learning
By Mark Burke Ed.D.
I'm always impressed when someone raises their hand on a client call and says that they will be the subject matter expert (SME) for a project. Oftentimes the SME is one of the busiest people on the call and can barely manage their own work, and yet they are so thoughtful and care so much about their chosen field that they feel compelled to volunteer. You can definitely tell they don't know what they are getting into when they say, "I'll be your expert – just tell me what you need me to do." So to set your SMEs up for success, you can help prepare them for the task at hand using the following three actions. We want to make their job as a SME as clear and straightforward as possible so they can focus on what they do best, being the expert.
Urge them to organize their content first. SMEs typically have tons of content that they can share. But not all of it is created equal. Content can get dated quickly especially in fast moving fields like finance and technology. A key action for SMEs to take is to go through the content before sending it over to the instructional designer (ID). Doing this initial review of the content ensures that only the right information goes to the ID – thus ensuring that the training has the correct content from the start.
Guide them to focus on the learner's needs. If a learning project gets sidetracked, it is often because it loses its focus on the learner. You can support the SMEs by reminding them to keep the needs of the learner forefront. An easy way to do that is to frequently refer to the learning objectives. It's easy to get bogged down in the content, but that is not the best thing for the learner or the project. Keep it simple – focus on what the learner needs to be able to do.
Encourage them to pick their battles. It's almost impossible to pack everything a SME knows into a learning project. Therefore, it is critical that the SME decides early what content they want to include and then sticks to those goals. This may require negotiating with the ID and project stakeholder about what is most important for the learner (see #2 above). Bottom line – SMEs will likely have to leave out some of their favorite topics from the learning, so they should decide ahead of time what will matter most to the learner.
Learning development needs SMEs. They are the foundation of everything we do. The goal is to help them as much as we can so that they don't struggle any more than necessary. The above actions are a great first step to helping them be a successful learning SME.
Want to talk more about this? Leave a comment below or reach out to us at JLS@judge.com. Our team of creative rock stars are ready to help – just let us know what you need.
Topics : Articles, Learning Development, Learning Solutions, SME
Share this post
Join Our Winning Team
We are always looking to add talented professionals to our team. Advance your career with Judge.
Apply Now
Let's Continue the

Conversation.

Tell us how we can help you and we'll be in touch soon.