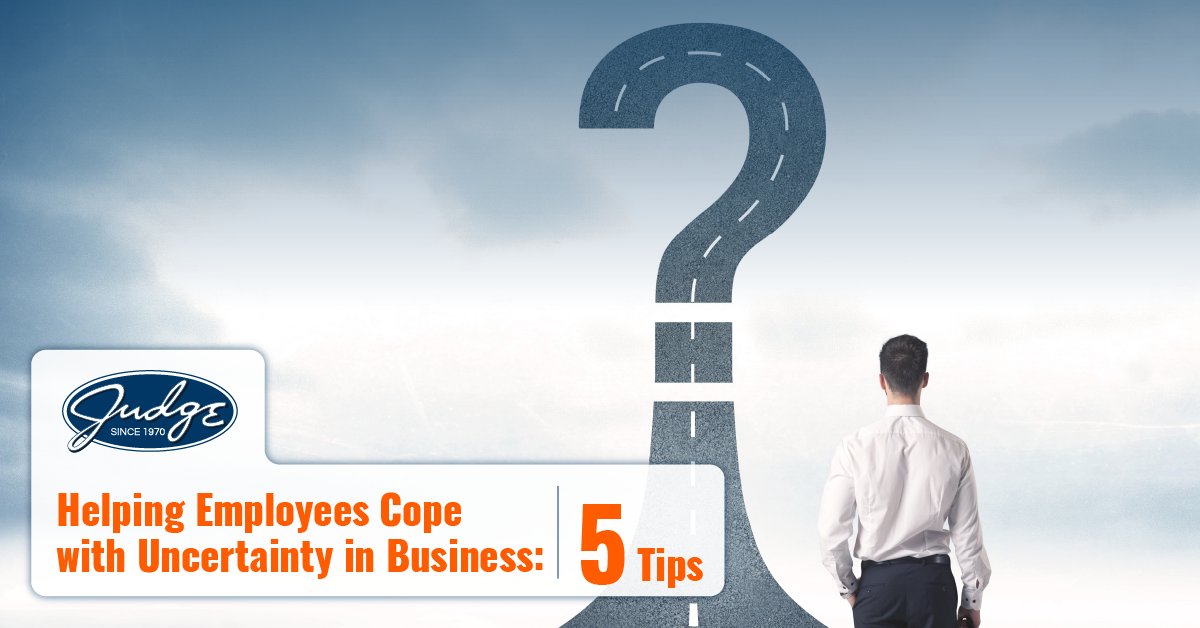 Share this post
Helping Employees Cope with Uncertainty in Business: 5 Tips
Human beings are hardwired to seek safety and predictability. Remember Maslow's hierarchy of needs? The fact is, we all want to know we're safe — even the most free-spirited among us.
So, as the novel coronavirus (COVID-19) begins to transform our everyday lives, employees around the world must find ways to manage stress, keep their families safe, and in most cases, continue working.
Team leaders face especially complicated circumstances. Besides having to contend with a host of new challenges (while also working to keep team morale high), they must find ways to maintain business productivity. In order to help employees cope with uncertainty in business, here are a few tips to create optimal conditions.
1. Acknowledge the uncertainty
Everyone experiences anxiety during an unfolding crisis. For that reason, it would be a mistake to pretend everything is 'business as usual.' As a manager, you should acknowledge the reality of the situation; while emphasizing the importance of teamwork and balance. To the extent it is possible, continue A) motivating employees while B) acknowledging their concerns and C) collaborating with them to find solutions.
And of course, make sure you are as empathetic as possible.
2. Ask team members what they need
If it becomes clear that adversity is on the horizon (or already here), try to organize one-on-one and/or team meetings, asking employees what they need to be effective. With many companies sending employees home for work, managers should perform quick check-ins. Ask team members about their workspace, internet connection, schedule challenges, and possible distractions (such as living with a big family). Of course, not all employees will have jobs allowing them to work from home. Either way, communication and brainstorming will maximize collaboration.
3. Train and prepare
New situations require new skills. To the extent that it's possible, prioritize helping your employees prepare for impending challenges. In the case of the COVID-19 outbreak, some employees won't have access to the information and tools they are accustomed to. Those unable to work from home may require staggered or part-time schedules. Others may need to adapt in even more creative ways. No matter the situation, the more you prepare, the less stressful the transition will be.
Judge Pro Tip: No time to prepare? Think about it like working on an outline before writing a report. It's a necessary part of the process — even if it needs to happen less thoroughly (and much faster) than usual. This will help you avoid sprinting forward without a vision for where you're going.
4. Focus on what you can control
During times of uncertainty, many of us feel far out of our comfort zones, and less effective as a result. As a manager, it's important to reframe your thinking; focusing on what you (and your team) can control. For example, if your team normally has in-person Monday morning meetings, figure out what team collaboration software you can utilize instead. If some of your employees need to adjust their schedules because the kids are off from school, work around these circumstances to mitigate stress.
5. Envision the best outcome
This too shall pass. In the meantime, it is important to be optimistic and encourage your employees to stay positive. Remember, in difficult circumstances employees may feel underappreciated or unseen. As a manager, it's important to be there for them.
Judge Pro Tip: Envisioning the best outcome doesn't mean ignoring the possibility you might not get there. Sometimes circumstances are beyond your control. Aim for the ideal outcome, but always have a contingency plan.
Summary: Helping employees cope with uncertainty in business
At the end of the day, it's about normalizing stress, increasing employees' control over their duties, and encouraging them to take care of themselves and their families. Sleep, exercise, and eating well are also crucial. Don't let uncertainty be an excuse for failing to meet key deadlines, but always maintain empathy and understanding.
Topics : Articles, Employee Management, Leadership
Share this post
Join Our Winning Team
We are always looking to add talented professionals to our team. Advance your career with Judge.
Apply Now
Let's Continue the

Conversation.

Tell us how we can help you and we'll be in touch soon.