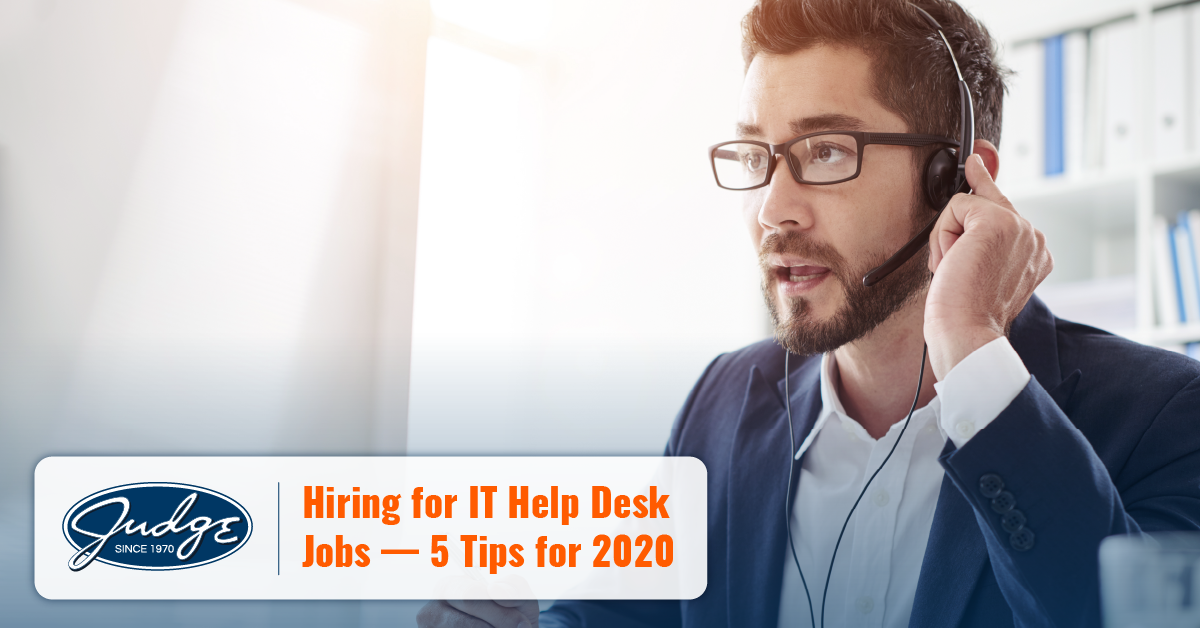 Share this post
Hiring for IT Help Desk Jobs — 5 Tips for 2020
If there is one thing your company's IT help desk has gotten used to over the past few months, it's the incessant sound of their ringing phones. Your help desk team, ironically enough, needs help!
The truth is, your help desk staff has probably always been a bit stressed out. Indeed, research on the topic shows that IT workers were already feeling increased anxiety as 2020 approached. Add a pandemic to the mix — and let's face it — there is a lot to be overwhelmed about. If it has become clear that your help desk team is in need of reinforcement, it may be time to consider seeking additional support.
Here are five important tips that will help you find the right fit:
Write an Accurate Job Description
A lot has changed as of late, and your job description should reflect that. For example, your new help desk hires may be expected to work from home more than usual, teach your staff members how to implement new tools, or troubleshoot problems over the phone rather than in person. Make sure your job description includes the unique details of the new role, to screen for candidates who are comfortable with adversity.
Focus on The Most Important Skills
The perfect candidate doesn't appear often. Be mindful of this and look for candidates with crucial skills that are difficult to learn on the fly. For example, if candidates don't already possess solid communication and people skills, it's unlikely they will magically develop them after a few weeks of training. In other words, you may not want to reject a candidate outright for lacking mastery of a particular tool, especially if that candidate has a solid foundation, a great attitude and excellent periphery skills.
Seek Help From a Staffing Agency
Staffing agencies with years of experience are experts at delivering talented candidates on tight deadlines. Whether you're looking to fill temporary entry-level help desk jobs or experienced permanent positions, staffing agencies can help you find exactly what you're looking for. Don't be afraid to start a conversation.
Use Real Life Scenarios to Quiz Candidates
You may already use standardized questions and tests to conduct initial screenings of candidates. However, when you've whittled your list down to a top three, be sure to quiz candidates about real-life scenarios. Here are a some examples:
"Tell me about a time when you dealt with an unhappy colleague or customer."
A successful answer will demonstrate how they can diffuse problems with customers and colleagues.
"I'm having trouble logging into my email. Can you guide me to figure out the problem?
This question showcases the candidate's communication style when they need troubleshoot a problem, which may be particularly relevant in a virtual work setting.
Judge Pro Tip: Look for someone adaptable! Practices and procedures are changing rapidly and your IT help desk needs to learn on the fly and communicate clearly. Dig deep when interviewing candidates to try to learn how adaptable they are.
Double Check References
This is especially important when you can't meet the candidate in person. Spend some more time calling a candidate's references for anecdotes. Does the candidate participate in out-of-office team-building happy hours? How do they react when things aren't going as expected? Are they level-headed? Easily agitated? References might mention different characteristics, so talk to multiple people to paint as detailed a picture as possible.
In Closing: Hiring for IT Help Desk Jobs — 5 Tips for 2020
Finding the right staff to support your IT help desk is critical. Whether they are interacting with your internal team, your B2B clients or your B2C customers, maintaining high satisfaction rates is essential. Don't be afraid to seek help from staffing agencies, especially during times of increased urgency.
Topics : Articles, Helpdesk Services, Hiring, IT
Share this post
Join Our Winning Team
We are always looking to add talented professionals to our team. Advance your career with Judge.
Apply Now
Let's Continue the

Conversation.

Tell us how we can help you and we'll be in touch soon.