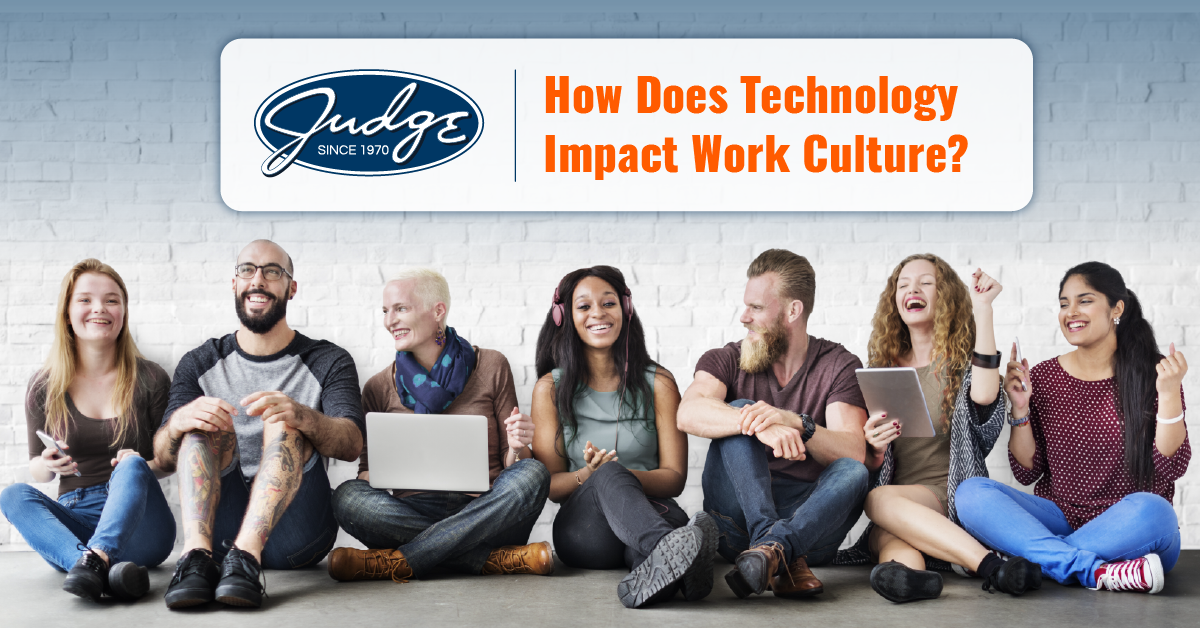 Share this post
How Does Technology Impact Work Culture?
Let's start with what we know for certain.
Technology has changed humanity in ways generations before us couldn't have imagined. We hop on planes for vacations, carry hand-held computers in our pockets, and schedule video conferences with clients thousands of miles away. While those might sound like obvious examples, the fact is, none of the technological shifts that have shaped our everyday culture did so independent of the business world. To that end, let's explore how technology has helped shape work culture in the past, and how it will continue shaping it in the future.
Reducing information barriers
Business technology has made it possible for employees and supervisors to access the same type (and volume) of information, when appropriate. Long gone are the days of storing crucial information inside a single filing cabinet in the boss's office. Today, intranets and web-based sharing systems make it easy to grant access to virtual files — assigning appropriate levels of access to employees. In other words, when we want information, it's right at our fingertips!
The hiring process
Finding the right fit for your company — both in terms of talent and character, is critical. Thanks to business technology, the vetting and hiring process has changed dramatically. Today, managers have greater access to information about candidates — including resumes, applications, interview notes and feedback. Not only is it easier to sift through applicants to identify the right fit, it's become easier than ever to communicate the mission, values and culture of your company throughout the hiring process. This maximizes the chance that new employees will enter their new role with clear vision and expectations.
Professional development
When it comes to maximizing the potential of your individual employees and your overall team, continuous training and education is vital. Today, online programs and software packages present streamlined opportunities to learn new skills, earn certificates, and project one's career forward. As a supervisor, encouraging your team to grow their skillset shows that you care about their success, and it is a fantastic way to communicate your company's values.
Communication tools
There are a wide range of communication tools that can be used to improve workplace efficiency and reinforce company values. From project management software, to internal and external communication platforms (and much, much more), business technology can help us develop quality communication channels that align and connect our team members.
Judge Pro Tip - The potential downside to this one is obvious, and many of us will be all too familiar with it. The ability to access communication channels around the clock creates fertile grounds for an unhealthy work/life balance. Ultimately, it's on all of us to find what works for us. If possible, consider turning off those notifications when you walk out the office doors!
Flexibility and autonomy
As companies continue to incorporate remote employees into their culture, there are both benefits and challenges to contend with. The ability to work on-the-go or permanently away from the office helps companies attract more diverse and qualified talent. On the other hand, the lack of face-to-face time with co-workers can have damaging effects on team bonding and communication.
Conclusion: How does technology impact work culture?
Whether we focus on costs or benefits, one thing is for certain: the impact of technology on work culture can't be denied. As culture and technology continue to evolve in tandem, companies will need to focus on staying more adaptable and agile than ever.
Topics : Articles, Culture, Office Culture, Technology
Share this post
Join Our Winning Team
We are always looking to add talented professionals to our team. Advance your career with Judge.
Apply Now
Let's Continue the

Conversation.

Tell us how we can help you and we'll be in touch soon.