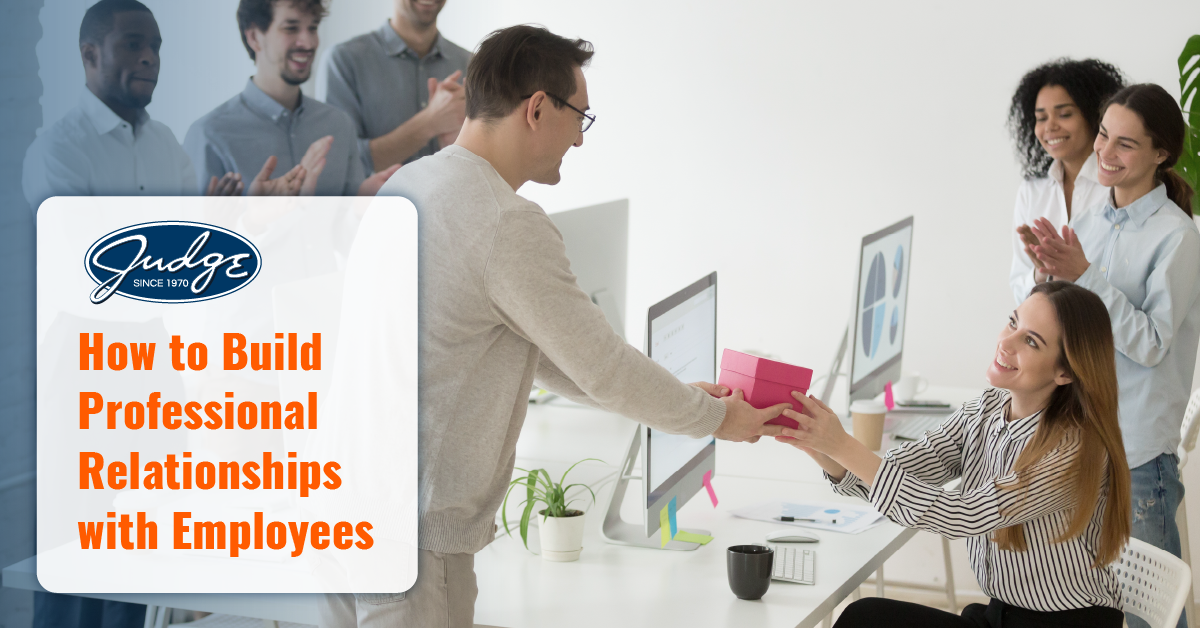 Share this post
How to Build Professional Relationships with Employees
We get it. As a manager, it can be difficult to build healthy relationships while also maintaining professionalism. At one extreme, you run the risk of becoming the cold, unrelatable boss you've never wanted to be. On the other hand, by communicating too casually, you might end up blurring the lines of hierarchy and leadership.
Depending on the situation, both can be reasonable concerns. The good news is that developing manager/employee relationships is a marathon, not a sprint. And since it takes time to build mutual trust and understanding, you can continuously work to communicate expectations in a friendly, respectful way.
Here's how to get started.
1) Be yourself
It's not as simple as it sounds. The phenomenon of impostor syndrome — or the tendency to feel self-doubt in new intellectual situations — often leads us to pretend we are something (or someone) we aren't. It might sound cheesy, but you need to be the person you truly are! Consider it from your employees' perspective: It's difficult to accept leadership from a person you don't trust, and it's difficult to trust someone if you don't understand their true motives. It might take some time for you to get there, and that's okay.
Editor's Note:
Okay — we might have changed this section's title to "be a professional version of yourself." Afterall, you aren't in sweatpants making a pasta breakfast at 12pm on Saturday.
2) Build trust through integrity
Trust is built through honesty and appropriate transparency. When working towards the same goal, avoid giving employees reasons to doubt that your words and actions are in alignment. Lead by example and embrace your company's values. Some ways to do this include maintaining an open door policy, speaking to your employees rather than at them, and giving them honest, objective feedback.
3) Ask some "outside of work" questions
What is important to your team members? What do they like and dislike? What makes them laugh? Take time to learn who your employees are outside the office. Asking questions about family, interests, and hobbies can lead to light conversation, and will help you learn about who they are as people.
4) Show interest in employees' ideas
Be an active listener. Factoring your team's ideas into your decision making is a great way to show that their words matter. This is important for at least two reasons: First, true collaboration often improves the final product. Second, employees perform better when they know their ideas can result in true impact.
5) Encourage Autonomy
As a leader, it's your responsibility to give assignments, track work, and encourage employees along the way. In doing so, it's also important to avoid micromanaging their every move. Communicate goals and strategies clearly, while also giving your employees the opportunity to manage their own tasks. Give them room to make minor mistakes, and work with them to overcome challenges. Inspiration rarely occurs without autonomy.
6) Show appreciation
While the power of a good old 'thank you' and 'nice job' can go a long way, we encourage you to go a bit deeper. Paying attention to details is a great way to build relationships. For example, if an employee went above and beyond for a particular project, a public or private acknowledgment can make a big difference.
7) Celebrate important days
Not only is it important to celebrate company successes, but also your employees' personal accomplishments. For birthdays or key work anniversaries, a simple cake and card can be meaningful. This is also a great opportunity to take the conversation a bit lighter, engaging your team members on a personal level. Remember, paying attention to details shows that you're willing to take the extra step to acknowledge and appreciate them.
Topics : Articles, Culture, Employee Management, Management, Office Relationships
Share this post
Join Our Winning Team
We are always looking to add talented professionals to our team. Advance your career with Judge.
Apply Now
Let's Continue the

Conversation.

Tell us how we can help you and we'll be in touch soon.