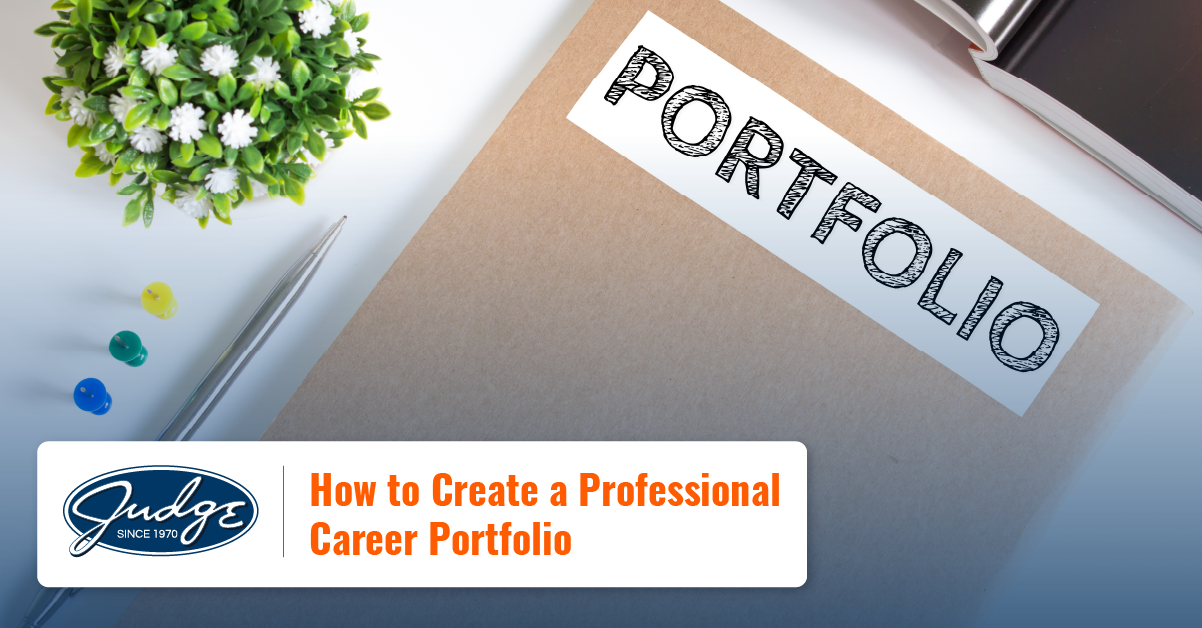 Share this post
How to Create a Professional Career Portfolio
When it comes to professional careers, no matter the field, job market, or position, it's a competitive job market out there. The question is, how can you stand out from the crowd?
One way to give yourself an edge is by assembling a top-notch career portfolio. If you haven't heard of a career portfolio before, it's an organized showcase of career accomplishments, personal information, talent, skills, and professional growth.
Today's blog will show you how to create the kind of portfolio that will impress your future employers!
Collect your materials
Your first step is to collect the materials that will become the basis of your portfolio. This process can also be helpful for writing cover letters and resumes, since it is a great refresher of your career history. Gather your evaluations, servers, annual reports, project contributions, awards, and employer information. Make a list of your past and current projects, skills, licenses, certifications, education, and volunteering/outreach. Letters of recommendation and testimonials are also helpful! Once you've collected all relevant materials, you can move to the selection and organization process.
Pick and Choose What's Important
The amount of content you can showcase your skills and accomplishments with will depend on your experience, education, and background. If you've been in the workforce for more than a few years, this can easily become overwhelming! Remember, keep it simple and only include items that will actually help in your current career move. You don't need to include performance reviews from 15 years ago. Employers like to see relevant and current information.
Organize for Easy Navigation
The goal here is for your potential employer to be able to find information easily. Divide your content into categories. Be sure to place the most important information (biography and resume) at the beginning. Creating a table of contents and adding page numbers helps keep your portfolio neat and organized. An example of portfolio order is the following:
● Contact Information
● Table of Contents
● About Section
● Cover Letter
● Resume
● Work Experience (e.g., samples, certificates, volunteering experience)
● Reference Letters
Go Digital!
Online portfolios are easier to share with a wider audience. You can also add a link to your online portfolio on a professional social media profile. Multiple platforms can be used to create your online portfolio, most of which are free. The format of an online portfolio is similar to a hard copy version, with the same focus on clean structure and simple navigation.
Personalize by Position
Once you create a master copy of your portfolio, make tweaks as needed for specific job applications or interviews (especially if you really want the job!) This kind of personalization can include adding keywords from the job posting or company website to illustrate you're a good match for the company. You'll also want to be sure that any provided examples or testimonials are well aligned with the position you're applying to.
Conclusion: How to Create a Professional Career Portfolio
It might be a little more work in the beginning, but a strong professional portfolio can be used for the rest of your career. Continuously updating your portfolio throughout your profile life is a simple way to give you an edge over the competition and land the job you're eyeing!
For more job hunting tips click here.
Topics : Article, Career, Digital, Job Market, Portfolio, Professional Development, Resume, Social Media
Share this post
Join Our Winning Team
We are always looking to add talented professionals to our team. Advance your career with Judge.
Apply Now
Let's Continue the

Conversation.

Tell us how we can help you and we'll be in touch soon.