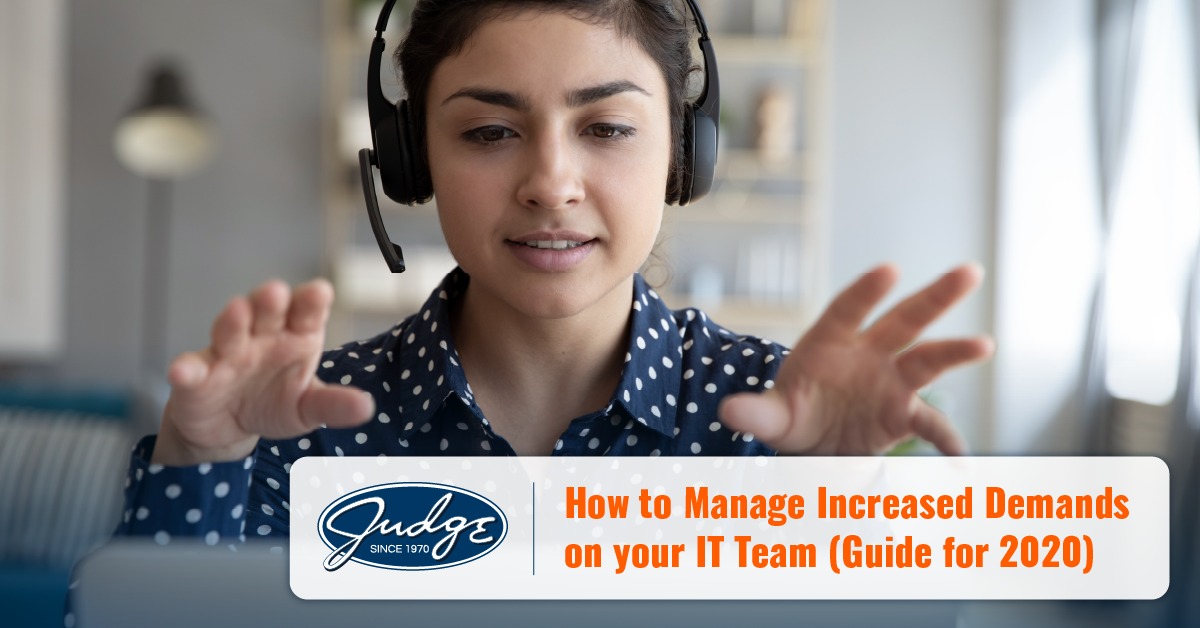 Share this post
How to Manage Increasing Demands on your IT Team (Guide for 2020)
In a recent blog article, Judge wrote about the increased stress on IT department workers. In that piece, we outlined three big reasons IT departments have become so strained over the years (Hint: COVID-19 is only the most recent variable). Since we're in the business of solving problems — rather than simply pointing them out — here are some techniques Judge recommends to manage the ever-increasing demands on IT.
1) Additional Support
If you're already thanking Captain Obvious for this one, bear with us. It isn't a question of if hiring new IT employees is smart, it's a question of whether you can do it effectively, such that it solves more problems than it creates, and it doesn't carry a sloppy onboarding process along with it. Since the IT skills gap is more potent than ever, identifying, vetting and hiring qualified, talented IT professionals isn't easy. That's why hiring an agency like Judge can help!
2) Collaboration Easier
If a lack of human capital isn't your problem, it might have more to do with your processes. In today's unprecedented work climate, remote tools are more important than ever. If you're not already using them, start researching remote file sharing and communication tools. Additionally, the value of an RMM tool (Remote Monitoring and Management), shouldn't be underestimated. RMM tools simplify a range of processes — from problem diagnosis, to update application, fixing issues, and limiting cyber threats.
3) Outsource Routine Tasks
Sometimes, improving your IT team's efficiency means offering team members the freedom to focus on the hard problems. This can be often be achieved by removing them from time consuming, monotonous work. One way to do this is by contracting a company that offers relatively low skill IT assistance, at an affordable rate. Another is to begin exploring Robotic Process Automation technology. As RPA becomes more common, you may be able to relieve some of the burden of the more time consuming, monotonous IT tasks. Other times, outside consultants can help you re-imagine your use of technology from a bird's eye view, creating project management workflows repeated across multiple systems, and designed to maximize productivity and efficiency.
4) Document, Document, Document!
One of the biggest challenges of a sudden increase in demand is maintaining organization. In the moment, it might be tempting to complete help tickets as quickly as possible, and sprint to the next issue without looking back. But in failing to properly document the specific actions taken to resolve a problem, it becomes very difficult to identify best-practice workflows in the future. In short, by enforcing a filing process for your team, you'll be able to leave a digital paper trail that you can reference later.
Conclusion: How to Manage Increasing Demands on your IT Team (Guide for 2020)
In the age of COVID-19 and remote work, it would be naive to suggest any of the solutions above are "easy" to implement. Frankly, if you're an IT leader in 2020, we're impressed you found the time to even read this article! If the extent of the demands are pushing your team towards burnout, it might be time to seek some advice from the experts at Judge.
Contact us anytime!
Topics : Articles, IT, IT Departments, IT Management, Management
Share this post
Join Our Winning Team
We are always looking to add talented professionals to our team. Advance your career with Judge.
Apply Now
Let's Continue the

Conversation.

Tell us how we can help you and we'll be in touch soon.