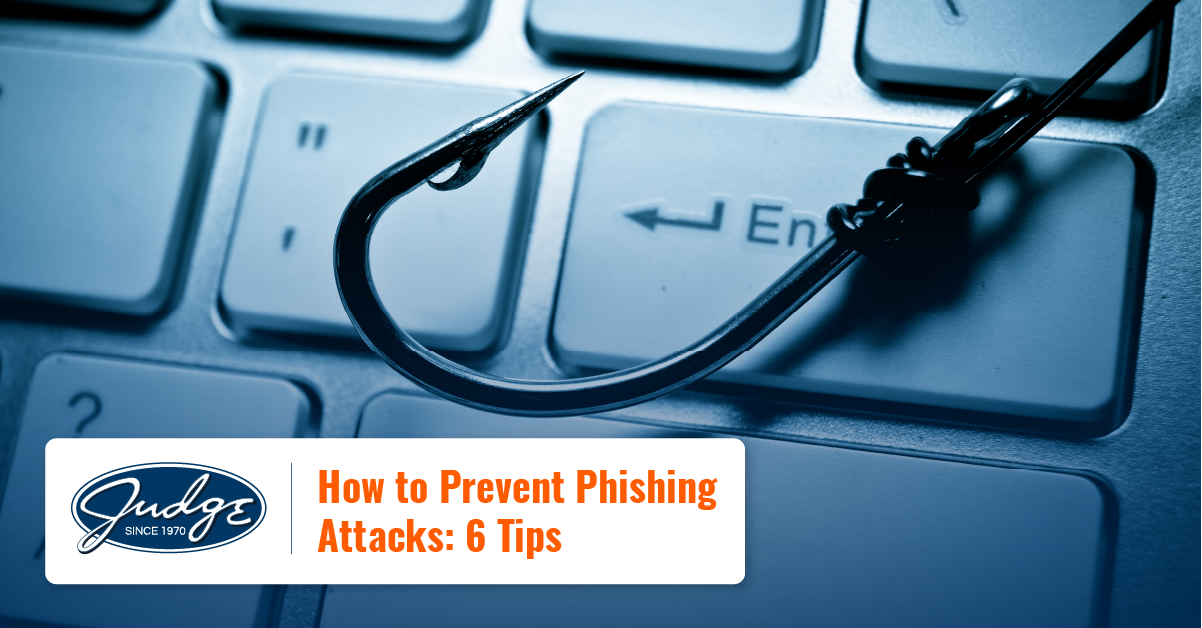 Share this post
How to Prevent Phishing Attacks : 6 Tips
Here's a stat that will knock your socks off. In 2021 alone, phishing attacks have increased by over 1,000%!
Phishing scams are one of the most common cyber attacks in the world, and sadly, they've been on a precipitous rise. The hard reality is that cybercriminals are always finding new ways to compromise our information. And they are better at it than they've ever been.
The bad news is that your company could be at risk from a single employee clicking on a devious phishing link. The good news? Key steps can be taken to prevent phishing attacks in the workplace. Here are some helpful tips from Judge!
1. Understand what a phishing attack looks like
Phishing techniques are constantly being developed, but it's important to understand that the fundamentals rarely change. They can usually be identified by requests for personal information or money, such as wire funds. Ideally, multiple employees should be knowledgeable about different types of phishing attacks. This helps diffuse knowledge across a company.
2. Raise awareness
Make sure your employees know how to stop a phishing attack. Companies can raise employee awareness by offering continuous cyber security training and access to educational materials about how to prevent phishing attacks. Simply being able to recognize a phishing attack is easily the best prevention method! Other ways to increase employee awareness include constantly reviewing and updating the organizational plan, and reviewing best practices. If your organization doesn't have a plan, go make one!
3. Don't click that link!
More advanced phishing attacks may address you by name, or pretend to be someone on the peripheral of your social network (e.g., a friend of a friend), an authority figure or organization (e.g., the police, IRS, or FBI), or by an entity known to send lots of communication (e.g., Google, Microsoft, or Netflix).
Whether the phishing attempt occurs via email, text message or phone call, the sender will probably ask you to click on a link or visit a website URL. Never click on a link or go to any website if you are not familiar with the sender, or if the email seems out of character (i.e., your boss needs you to wire them funds immediately, your neighbor is in the hospital and needs you to visit the hospital webpage to fill in personal information, etc.). If you suspect a phishing attack, immediately contact your IT department to inform them of the suspicious communication.
4. Create an incident response process
Regardless of the steps you take to prevent a phishing attack, you will probably have to contend with one eventually. It is therefore critical to have a tested and proven incident response plan. This plan should include clear steps to take in the event of a breach or cyberattack, an assessment of the attack itself (including the damage it caused), assigned steps of action, and ways to improve the process in the future.
An incident response plan will help your organization minimize damage and return to normal operations faster.
5. Don't ignore updates
Stay on top of your updates and remind all employees when major updates are out! Although this will require restarting computers (even during work days) remember that most updates are efforts to combat modern cyberattack methods — and to fix operating, software, or platform security glitches.
6. Install firewalls
A firewall is a network security device that monitors incoming and outgoing network traffic and blocks suspicious network traffic, such as communication with unknown IP addresses, data sharing with insecure sites, or cookies and trackers operating without your permission. Both desktop firewalls and network firewalls can optimize your security and help prevent phishing attacks. Having a firewall creates a first line of defense in cyber security.
Conclusion: How to Prevent Phishing Attacks: 6 Tips
The cost of damage from phishing attacks is alarming — the estimated annual cost increase raised $11 million from 2015 to 2021. In other words, phishing attacks are not disappearing anytime soon! So what can you do? Stay on top of your cybersecurity and use these tips to mitigate them in the future.
Topics : Articles, cyber threats, Cybersecurity, Cybersecurity Month, Phishing
Share this post
Join Our Winning Team
We are always looking to add talented professionals to our team. Advance your career with Judge.
Apply Now
Let's Continue the

Conversation.

Tell us how we can help you and we'll be in touch soon.