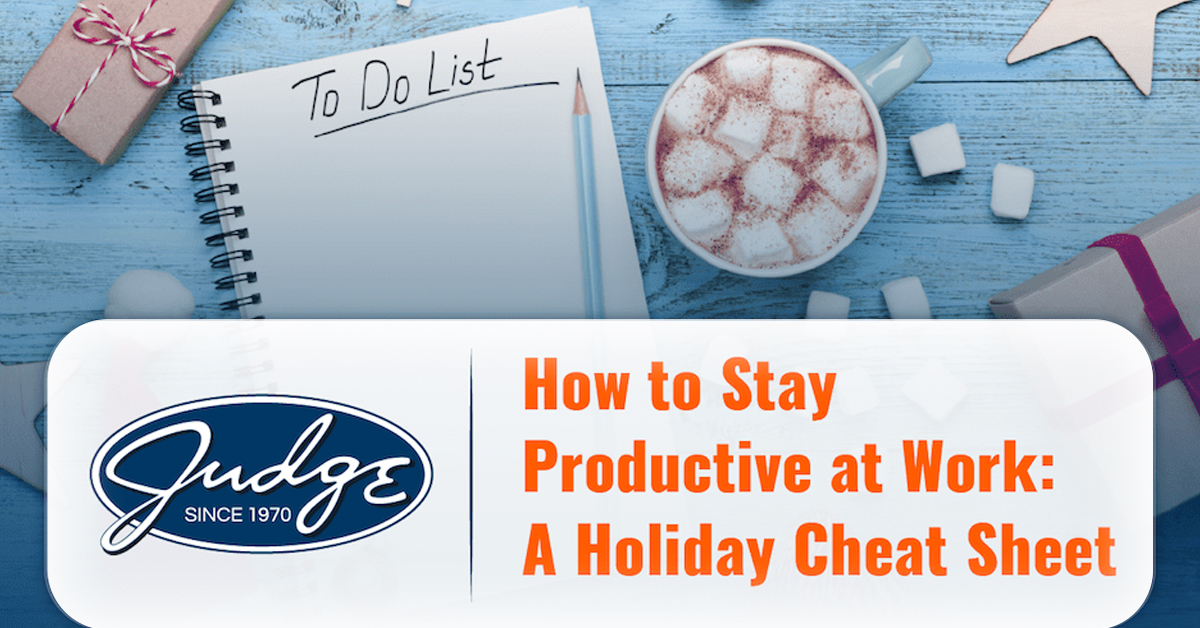 Share this post
How to Stay Productive at Work: A Holiday Cheat Sheet
It's that time of year again! Whether you are the most festive of celebrators, a complete non-observer, or anything in between, one thing is for certain—the holiday season can be a difficult time to stay productive at work.
The good news: You're not alone! Chances are your colleagues are also busy shopping for loved ones, attending parties, and making travel arrangements.
The bad news: Your mega to-do list isn't going to cryogenically freeze itself until the new year—even if it is cold outside.
At the Judge Group we've been in operation for nearly 50 years so we know a thing or two about efficiency during busy times. Follow the guide below to stay productive at work this holiday season.
Create a Plan
Before the holiday rush sets in, grab a pen, open a Word file, or pull out a handy brainstorming app. What specific tasks will you need to accomplish over the coming weeks? Write down a laundry list of items—you can always cut it down later.
Consider the following:
What needs to go to the top?
What can hold off until post-holiday season?
What are the small tasks you can accomplish in a single afternoon, versus that Godzilla project you'll need a week to complete?
However you structure it, creating a list somewhere outside of your own mind can have a tremendous effect on reducing anxiety and boosting productivity.
Don't Multitask
We get it—when you are drowning in emails and deadlines, focusing on one thing at a time can feel like an impossible dream. But if workplace productivity is your goal, there's no better time to drop the juggling act than this holiday season. As any psychologist worth their salt will tell you, multitasking isn't possible in the first place. The only thing that all that "task switching" is getting you is divided attention, forgetfulness, and problems that will need fixing down the line.
So keep that handy to-do list nearby, but focus on one thing at a time.
Set Boundaries
Showing initiative and volunteering for new projects is a fantastic way to demonstrate value. But if your list is becoming longer than Santa's, turn down the burners a bit—at least until January. Apply the same rule to holiday parties and office events. Be festive, network and share stories, but don't hesitate to set boundaries if your commitments are beginning to overwhelm you.
Be Healthy
Amidst all the gift buying, meal cooking, and work deadlines, it can be easy to forget about your body and mind. The irony is that sleeping, exercising, and eating healthy are by far the best ways to stay energized and productive. Even if it's a 10 minute mini-workout in the morning, staying on track with your health and wellness is more important now than ever.
Take Time Off
The end of the year is a great time to look back, pat yourself on the back, and set some new goals. In the meantime, don't hesitate to take some well-deserved time off. Turn your work phone off and melt into your couch with a glass of eggnog. Carefree conversations with loved one's will remind you why you work so hard.
So there you have it! As 2019 draws to an end, getting organized is the key to staying productive at work. Be diligent in crossing items off your list, but don't forget to be realistic about what's feasible. Most importantly, enjoy the season with those who matter most!
By: The Judge Group
Topics : Articles, Efficiency, Judge Tips, Productivity, Time Management
Share this post
Join Our Winning Team
We are always looking to add talented professionals to our team. Advance your career with Judge.
Apply Now
Let's Continue the

Conversation.

Tell us how we can help you and we'll be in touch soon.