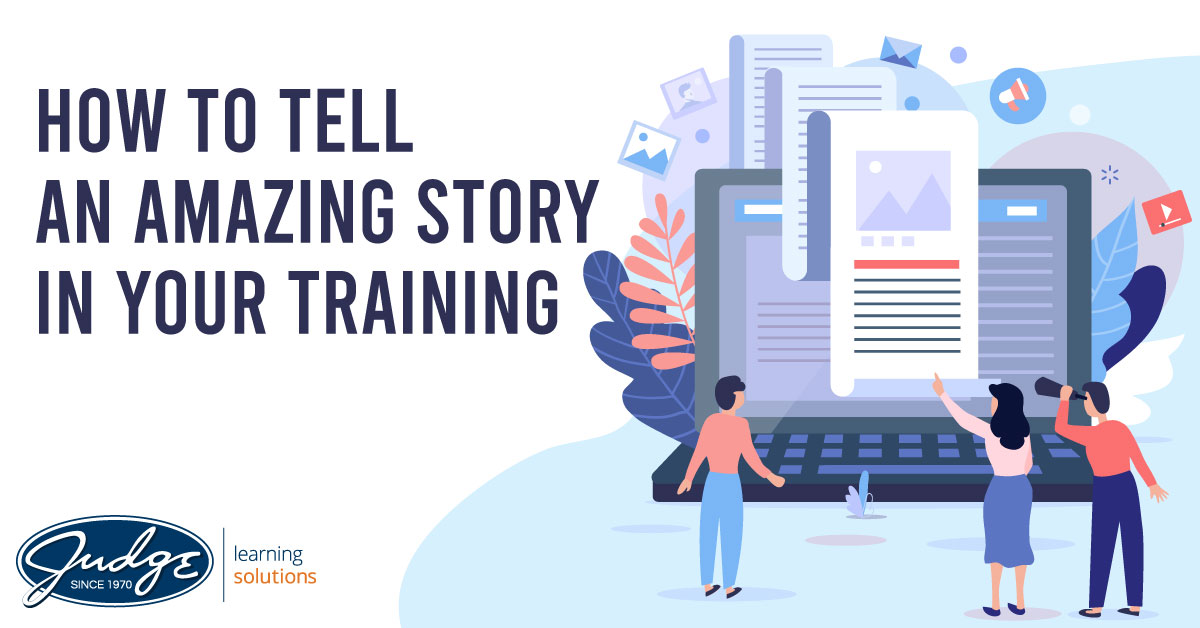 Share this post
How to Tell an Amazing Story in Your Training
By Sally Eames, Instructional Designer
Corporate learning doesn't have to be dry and academic; it doesn't have to be something learners try to get through as quickly as possible. In fact, it shouldn't be.
The most effective training engages learners and provides the information and practice opportunities they need to do their jobs well, and a great way to create powerful training is to involve storytelling.
There are many ways to use storytelling in training. Here are a few approaches to consider:
Process training as a journey, from beginning to end
Compliance training as heroes' journeys and cautionary tales
New product introduction via a series of end-user narratives
Scenarios that allow learners to apply their new knowledge in a safe way, with feedback
Storytelling forges emotional connections between learners and content by allowing them to envision themselves in the character's shoes, e.g., "What would I do in that situation?"
Here's a specific example of how storytelling can create effective learning:
Last year, our team created a gamified scenario to demonstrate the impact of bias-based choices on the hiring process. Early in the training, we demonstrated how to identify bias and explained its effects, but we wanted to give learners a reason to apply what they learned after returning to their lives and jobs. We decided to make the impact of bias real for the learners by providing them with an experience.
The game began with a candidate pool of outstanding candidates, good candidates, and questionable candidates. Each decision point mirrored a real-life place where bias could creep into the hiring process, and after each decision, learners were presented with a narrowed candidate pool and an explanation of how the previous decision affected who was now available for the job.
Where's the story in that? From the learner's point of view, it's the story of a recruiter who is trying to locate and present the best candidates. But it's also the individual stories of candidates whose lives and careers may be affected by bias. Learners saw those stories play out as they made their decisions.
We're all storytellers; it's part of being human. Effective training embraces that and uses it to help learners become better employees, team members, and human beings.
Want to talk more about this? Leave a comment below, or reach out to us at JLS@judge.com. Our team of creative rock stars are ready to help!
Topics : Articles, Corporate Learning, Learning, Learning Solutions, Storytelling, Training
Share this post
Join Our Winning Team
We are always looking to add talented professionals to our team. Advance your career with Judge.
Apply Now
Let's Continue the

Conversation.

Tell us how we can help you and we'll be in touch soon.