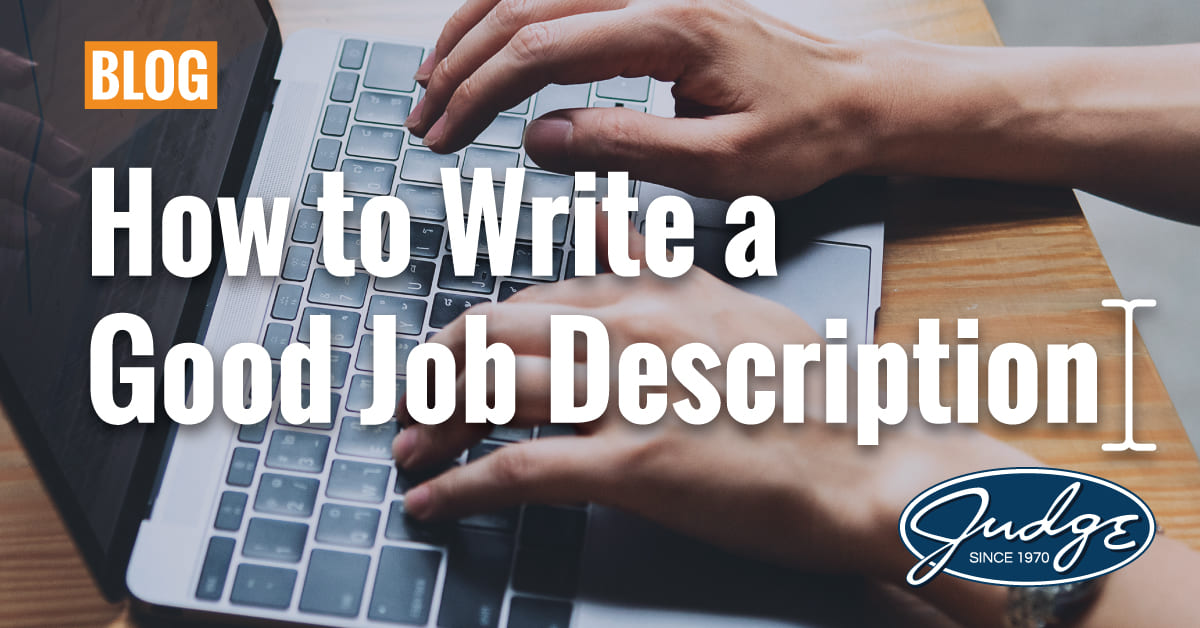 Share this post
How to Write a Good Job Description
A good job description is key to attracting the best talent for your organization. In order to write a good job description, you first need to consider who you are trying to attract and what skills those resources need to possess to be successful in their role(s)? Ask yourself, based on this job description would I apply? If the answer is no, you will need to go back and rewrite that job description, so it conveys the right message to those reading it.
As a recruiter, I can tell you that one of the most frustrating parts of my day is working with an incomplete and/or inaccurate job description. It is an inefficient use of a Recruiter's time. As far as job descriptions go, I have seen them all:
Job Descriptions that are two lines long and offer nothing in the way of guidance
Job Descriptions that are 5 paragraphs long and are 'requiring' every skill imaginable
Job Descriptions that come from HR or a VMS contact that haven't been changed in a while and are not accurate for the role
I have also seen job descriptions that are spot on, easy to interpret, require very little to no additional explanation, and give me a good base of information to accurately & passionately describe the job to candidates. Those are the clients and hiring managers I want to work with.
So how do you write a good job description you ask? What you need to focus on are these core items:
Am I the one writing it?
If you are, problem solved. If you aren't and have to delegate it (because of time constraints or company process, etc.), make sure you are getting the author all the pertinent information. You should also be proofreading it before it gets published.

How long does it need to be to still be effective?
A good job description doesn't have to be long and wordy to be effective. Pretend you only have 3 paragraphs to get your point across. What do you really want to get out there? Recruiters don't need any lengthy information about the company, we can get that from your website. What really helps is information about:

The team this role is with
The real ins & outs of the role
The interview process
Is this a backfill for someone who is leaving or got let go
Is this a new role for you and your team
Is it strictly project based work or is there a chance this role will convert to an employee within your organization
What type of personality are you looking for


What skills can I NOT live without?
Please, please, please don't be the hiring manager who puts their technology/skillset wish list in the job description. What skills/tools/etc. do you absolutely need a candidate to possess to successfully do their job? It's like Goldilocks' porridge: Too much and we won't be able to find that 'perfect' candidate because they most likely don't exist. Too little and we will hound you with follow up questions further delaying the process and delivery of candidates. But if you list the skills you absolutely need, we will produce the perfect candidates for you every time.


Does this job description accurately reflect my team and/or department's actual day-to-day responsibilities?
If this person won't be doing it, don't put it in. If they need to lift up to 50 pounds, we need to know. If there is travel, we need to know. If this role is labeled as 'Software Engineer' but they will only be doing code review, we need to know (and maybe consider changing the job title).


Is this job description clear and concise?
Does it flow well? Did you get your point across? Can anyone and everyone reading it clearly understand what you are looking for? Can a Recruiter easily and accurately convey your point to potential candidates?


Did I miss anything?
Is everything you want to say in there? If it isn't, go back and put it in because contrary to popular belief we aren't mind readers and if anything is missing, we will have to call you to get that information to our candidates.
Are your current job searches getting you results? If so, thank you for reading. If they aren't, it might be because of your job descriptions and you have to ask yourself:
Am I getting the right candidates the first time?
Am I getting hounded by recruiters for more information?
Are my job descriptions unrealistic, old, and / or inaccurate?
If the answer to any of these is "yes", you will need to correct it quickly because ultimately you are only wasting your own time and losing potential revenue. Don't let a bad job description keep you from getting good candidates.
By: Mike Press
Topics : Articles, Hiring, Job Search, Talent, War for Talent
Share this post
Join Our Winning Team
We are always looking to add talented professionals to our team. Advance your career with Judge.
Apply Now
Let's Continue the

Conversation.

Tell us how we can help you and we'll be in touch soon.