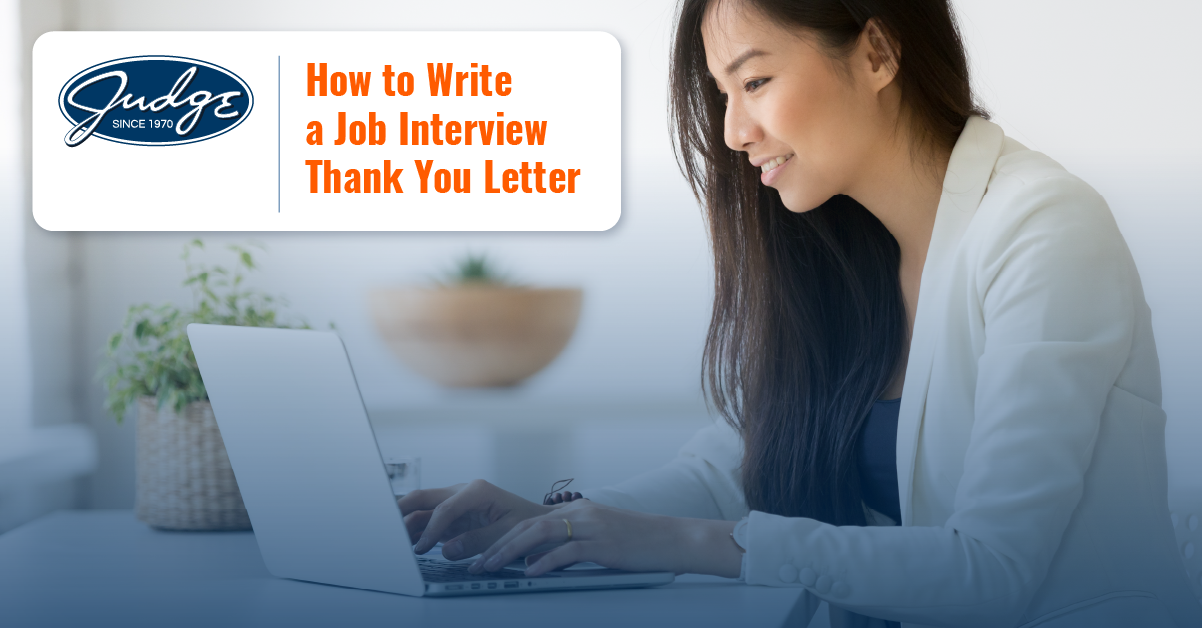 Share this post
How to Write a Job Interview Thank You Letter
Post-interview thank you letters (aka emails!) are often overlooked.
Unfortunately for you hungry job seekers, this is a mistake! Sending a thank you note is an important step in securing the job you want. A well thought out thank you letter helps you stand out from the crowd, providing another opportunity to demonstrate your interest and professionalism. Generally speaking, it's a good idea to send your thank you letter within 24 hours of your interview.
In this blog, we'll discuss how to write a thank you letter after an interview , including the six basic elements of a thank you letter.
1. Personalization
Be sure to send a personalized thank you letter to each person who interviewed you. Generic letters can be perceived as disingenuous, so be sure to customize a bit. Include specifics such as mutual points of interest discussed during the interview.
Taking notes during your interview can help you remember details, which might help you personalize your note later. If your interview is in-person, consider asking your interviewers for their business card. For virtual interviews, ask if they wouldn't mind sharing their email address for a potential follow up.
2. Be Sincere
Using a sincere tone will separate you from the competition. Writing about parts of the company's mission that resonate with you, your excitement about working with specific people or departments, and thanking your interviewers for their time are great ways to convey sincerity. Showing genuine appreciation at the beginning of your letter and including examples are strong finishing touches.
3. Include Details
Consider mentioning something specific you learned during the interview. For example, something about the company's future plans, educational or training programs, or something about your future role. Adding specific details will highlight your interest in the position, showing hiring managers or recruiters that you actively listened during the interview.
These details show your interest in a long-term investment with the company.
4. Show Enthusiasm
Hiring managers are looking for talented candidates interested in more than just a paycheck. A thank you letter is a great way to show genuine excitement about the position. Give specific examples about why you are excited for the opportunity. These can be details tied to the job, to the business, or the people.
5. Remind Them Why You Are the Perfect Fit
Use your letter to remind recruiters how your skills would make you a great fit for the organization. Mention some details that show how your contributions will help the business. Review the job listing again, and remind yourself which skills align with your own. Create a narrative that helps them envision you working with them.
6. Proofread
Always double check your grammar and spelling! Scratch that — triple check! Likewise, make sure your letter is free of any slang or jokes, and it maintains a professional tone. Read your letter out loud to check for readability. If possible, have a friend, colleague, or mentor review and provide feedback. Another pair of eyes can provide helpful insights to make your thank-you note even better.
Conclusion: How to Write a Job Interview Thank You Letter
There is more to writing a post-interview letter than just saying thank you. Remember, this is an opportunity to highlight your personality, professionalism, attention to detail, experience, and skillset. Take it seriously and use these 6 elements to learn how to write an excellent thank you letter.
Topics : Articles, Interview, Interview Tips, Job Hunting, Job Interview, Job Interview Preparation, Job Search, Mentorship, Recruiter Tips
Share this post
Join Our Winning Team
We are always looking to add talented professionals to our team. Advance your career with Judge.
Apply Now
Let's Continue the

Conversation.

Tell us how we can help you and we'll be in touch soon.