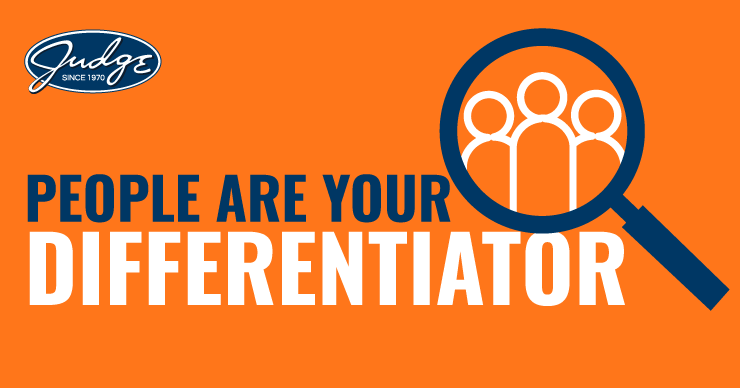 Share this post
In a World of Technology, People Are Your Biggest Differentiator
By Dennis McDonald
"There's an app for that." That well-worn phrase still has some relevance in the banking, financial services, and insurance (BFSI) environment where the right tech stack can help you stay competitive and exceed your customers' expectations. Add to that the alphabet soup of technology driving innovation in the space — from bots and artificial intelligence (AI) to machine learning (ML), and intelligent automation — and it quickly becomes clear how daunting the average executive's decision-making job can be around technology.
Yes, having the right technology in place is essential, but it's not the most critical differentiator for your business. Your people are. In a world of people, processes, and technology, your staff will be the glue that holds the organization together.
Talent Is a Significant Hurdle for BFSI Organizations
If the fact that people, and not technology, are the differentiator for your organization comes as welcome news, don't breathe a sigh of relief just yet. As a member of the C-Suite, you still have significant work to do on this issue. After all:
It's a candidate's job market: Pandemic-related unemployment hit unskilled labor hard, with the New York Times reporting 8.1% unemployment for high school graduates in October 2020. However, college graduate unemployment rates were only 4.2% during the same period. Competition for this talent will be high.
Diversity, equity, and inclusion (DE&I) are top of mind: Failing on the DE&I front will lead to lost productivity and high turnover rates among employees. An Accenture report estimates that these failures cost U.S. companies $1.05T in 2019.
The wrong hire can be costly: Hiring mistakes happen to the best organizations for a variety of reasons. The U.S. Department of Labor estimates these mistakes can cost an organization up to 30% of that employee's first-year salary.
Staffing Can Be an Important Component of the Talent Equation
You have many options when addressing the talent challenges, you face, including full-time employees, contingent workforces, offshore workers, professional services, managed services, and build vs. buy. BFSI organizations should consider these as part of a comprehensive resourcing strategy. Among those, staffing should bubble up to the top as a potential solution that mitigates many of the risks associated with other options.
Have you ever had an open position languish on a job board? Or maybe you received a significant number of responses to your LinkedIn job post, but none that were just right (you can thank LinkedIn's "Apply Now" button that allows candidates to apply with very little investment on their part). Skill shortages in cloud, data, digital, and cyber create additional challenges in the BFSI industry. However, the right staffing partner can often help you accelerate that search and minimize the lost productivity and efficiency associated with vetting the wrong candidates over and over again.
Staffing, including direct placement, and contract-to-hire, provides opportunities to fill these gaps, especially when combined with consulting services to help identify what you truly need and the training to modernize the skillset of your current employees. Strategic staffing helps fill new and temporary talent needs in cost-efficient ways.
Your talent question is likely just one of the burning questions you're considering. Download our new whitepaper, "What's Keeping the C-Suite Up at Night: 6 Imperatives in Banking, Financial Services, and Insurance," for our latest thinking on the big issues you'll face in 2021 around staffing, digital transformation, customer insights, Agile, cybersecurity, and regulatory mandates.
Topics : Articles, Banking, BFSI, Candidate Search, Employees, Financial Services, Financial Staffing, IT, IT staffing, Staffing, Talent Acquisition, Technology
Share this post
Join Our Winning Team
We are always looking to add talented professionals to our team. Advance your career with Judge.
Apply Now
Let's Continue the

Conversation.

Tell us how we can help you and we'll be in touch soon.