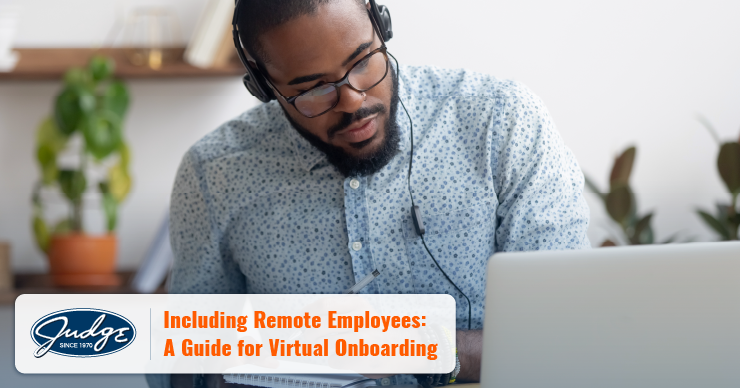 Share this post
Including Remote Employees: A Guide for Virtual Onboarding
For most companies, successful employee onboarding in 2021 will be a unique challenge.
Because although onboarding new employees always requires lots of teamwork, in the age of increased remote work, there is less face-to-face interaction than ever, and more information to digest.
The good news is, virtual onboarding can be done!
Sure, there may be some new steps to the dance, but there are a range of strategies you can implement to ensure your hires are happy and successful. Here are some tips!
1) Provide all the Necessary Hardware
There's nothing more frustrating than feeling excited to start a new job, only to spend your first week dealing with hardware issues, software issues, and technical difficulties. Make sure your new hires have the full tech package ahead of time, including all necessary items, passwords, security information, and software installation details.
2) Create a Welcome Package
If your new employees aren't physically in the office, consider welcoming them by sending company merchandise like notebooks, water bottles, and pens. Add some coffee or tea to the mix, and don't forget a personalized letter or video message! If you want to take it a step further, send a fun onboarding care package. As always, it's not so much about the content itself — it's really the thought that counts.
3) Introduce Your New Employees
Properly introduce your new hires to the team! This might be as simple as sending out an introductory email describing their background and hobbies; or beginning a video meeting with a team-wide meet and greet. Encourage your team members to introduce themselves, and ask new hires to describe their past work experience and role at the company. By getting your team involved, new employees will feel more welcomed, and hopefully, more comfortable!
4) Create a Buddy System in Your Virtual Training
We all know that it can be nerve-wracking to navigate a new job. Try easing the stress with the help of a buddy system. Simply designate an employee as an early mentor for each new hire, showing them the ropes for the first few weeks on the job. This will give new hires the chance to ping questions off someone other than their direct manager, and may be especially helpful for new remote employees.
5) Communicate Regularly
Recently hired remote workers can't simply tap their neighbor on the shoulder to inquire about things they couldn't possibly know as newbies at the company. Don't let them float in limbo! Incorporate instant messaging platforms such as Slack to show them it's okay to ask questions.
6) Stay on Top of Training
If done well, onboarding can mean hitting two birds with one stone. It's possible to convey the "nuts and bolts" of training to new hires, while also chatting about their transition on a more personal level. There are plenty of online trainings and webinar hosting platforms you can take advantage of.
7) Make Relevant Information More Visible
No one (and especially not new hires) should have to spend hours upon hours finding the day-to-day information necessary to complete their work. Invest in your HR team to improve and evolve your onboarding, orientation, and training package. It will save you and your new employees a lot of time and pain!
8) Grab a virtual coffee!
Find some time during the first couple weeks to grab a coffee with the new hires for some informal bonding. Your coworkers don't have to be your best friends, but a little camaraderie can go a long way when it comes to creating an effective workspace. Talk about your interests, passions, and hobbies, and forge a bit of colleague chemistry.
Including Remote Employees: A Guide for Virtual Onboarding
Including your remote employees from day one will help foster long-term dedication. In 2021, virtual employees will be looking for increased connection and belonging. Use these virtual onboarding tips to create the type of work environment other companies will envy!
Topics : Articles, Employee Onboarding, Remote Employees, Remote Work, Training
Share this post
Join Our Winning Team
We are always looking to add talented professionals to our team. Advance your career with Judge.
Apply Now
Let's Continue the

Conversation.

Tell us how we can help you and we'll be in touch soon.