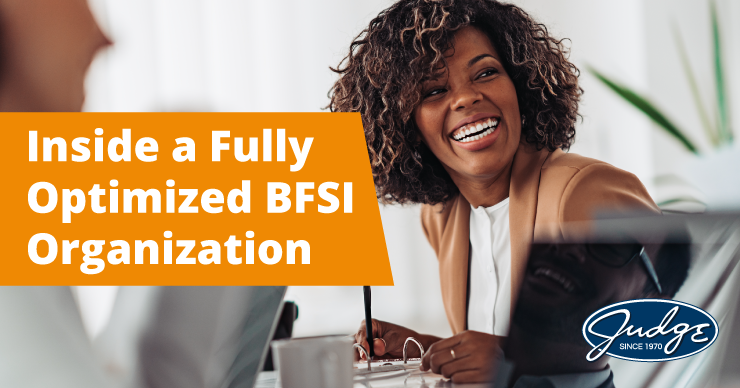 Share this post
Inside a Fully-Optimized BFSI Organization
By Dennis McDonald
Even in the midst of a global pandemic, the world is more connected than ever. While we may not be gathering in offices, stadiums, or restaurants, technology and devices have made it possible for everyone to connect with family, friends, coworkers and even their favorite brands — even when we're physically apart.
But our dependence on technology isn't anything new. We might be more reliant on it, but even before COVID-19, consumers were leaning on devices and apps to do everything from order groceries to hold company-wide meetings. In 2020, more than 4.5 billion people — nearly 60% of the world's population — connected to the internet.
Having a company app is no longer a brand differentiator. It's something consumers have grown to expect. In order to remain relevant, banking, financial services, and insurance industry (BFSI) leaders need to find new ways to stand out, going beyond a standard app to deliver a truly unique customer experience. And that begins with creating a fully-optimized BFSI organization.
Creating a Fully-Optimized BFSI Organization
As technology becomes a bigger piece of our everyday lives, it also takes a larger portion of company budgets. By 2022, up to 50% of total IT budgets will be spent on new technology. But the return on investment for BFSI organizations comes in multiple areas, including:
Leaner cost structure: Implementing new technology, such as automation and AI, reduces the time-consuming and redundant tasks that lower productivity, keep operational costs high, and result in significant downtime. Technology allows teams to assign human capital to more complex tasks while allowing bots and tools to handle the mundane.
Lower security risks: BFSI organizations have always been a top target for fraudsters. Technology creates stronger safeguards and reduces the risk of human error, keeping data protected and secure.
More modernized core: Outdated legacy systems create clunky, frustrating infrastructures for companies trying to move ahead. Consistently investing in new tech keeps innovation moving along while promoting flexibility and agility within the organization.
But while technology can bring a number of benefits to BFSI organizations, C-suite leaders are tasked with understanding which investments are right for them. Investing in technology for the sake of having the flashiest app doesn't always lead to a return. On the other hand, when decisions are made to cut corners or implement the "easy" solution, they may also find that they didn't get the outcome they were anticipating and may have created more technical debt.
To create a fully optimized BFSI organization, leadership must take a strategic approach to digital transformation. This begins with prioritizing digital strategies to create an environment for sustainable growth. They must consider not only today's challenges, but tomorrow's as well.
C-suite leaders must consider the changing needs and expectations of customers and consumers, but also what technology will improve the day-to-day operations of the business. When problems are tackled from both sides — both internally and externally — companies can replace the clunky systems that make work difficult while also acquiring and retaining customers more efficiently. Download our new whitepaper, "What's Keeping the C-Suite Up at Night: 6 Imperatives in Banking, Financial Services, and Insurance" for our tips for tackling 2021's biggest BFSI challenges head on.
Topics : Articles, Banking, BFSI, Digital, Financial Services, Leadership, Technology
Share this post
Join Our Winning Team
We are always looking to add talented professionals to our team. Advance your career with Judge.
Apply Now
Let's Continue the

Conversation.

Tell us how we can help you and we'll be in touch soon.