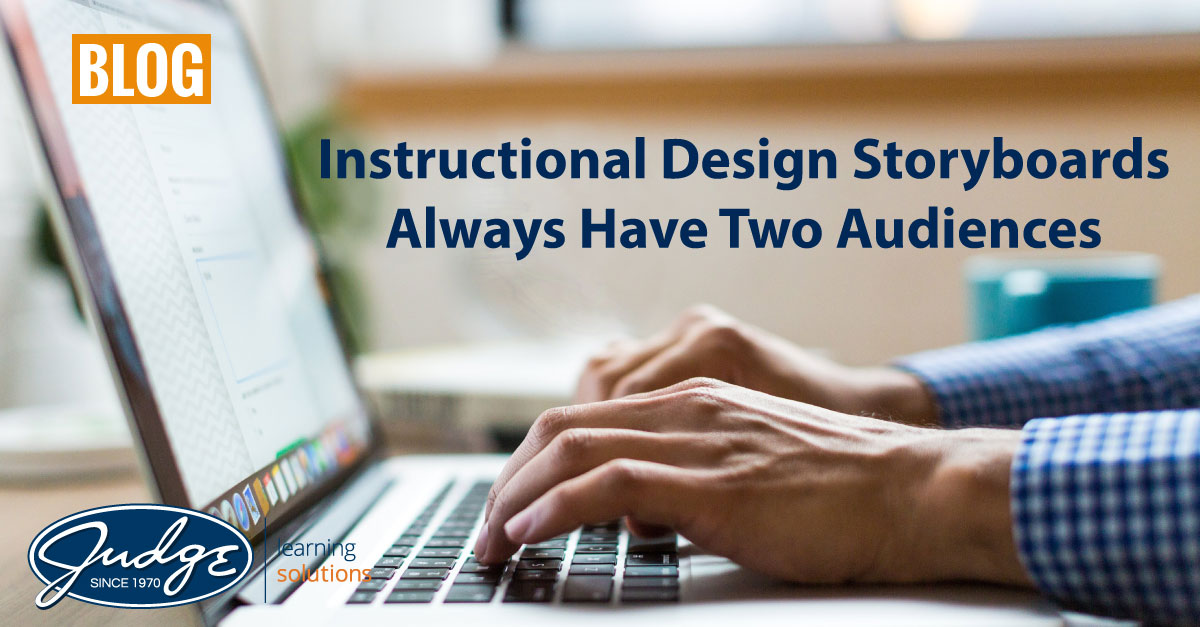 Share this post
Instructional Design Storyboards Always Have Two Audiences
By: Rose Pilgrim
If you were going to hire someone to build a house, would you let them build it without a blueprint? Of course not. You need to look at the house layout and decide if it meets your needs. Once you're happy with the blueprint, then the construction team needs it to build the actual house. In the end, the blueprint has two different audiences with different uses, but both need to understand it for the project to be successful.
It's the same for instructional design. Our clients ask us to draw a blueprint – i.e., a learning storyboard – for the training they need. The storyboard should be clear enough for them to make decisions about the product and also detailed enough for a developer to use during development. Just like a house blueprint, storyboards have two audiences: the client and the developer.
The format that you use for your storyboard depends on the most important aspect of the learning. If the finished product teaches through visuals, like a motion graphic video, then the visual section of the storyboard should be the priority. In this case, an effective storyboard may look like a comic strip, showing mostly visuals with the audio, onscreen text, and programming notes located just below.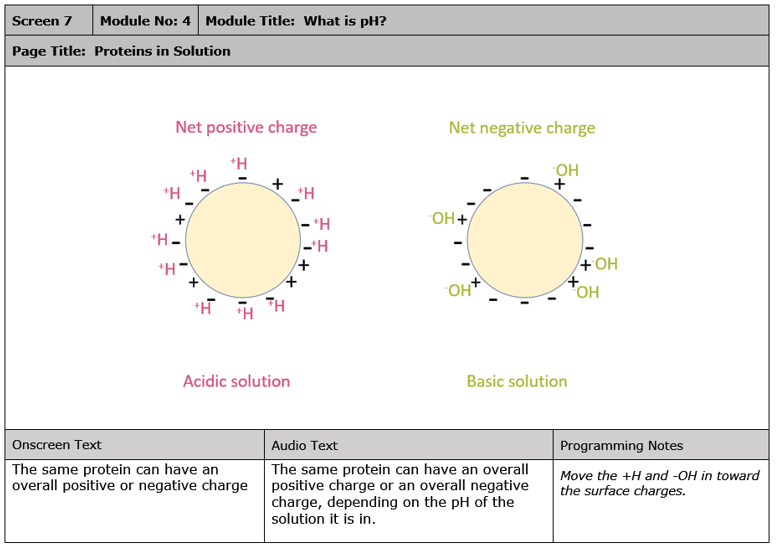 If the finished program uses onscreen and voiceover text primarily to present relatively complicated material, these are the elements that should be emphasized in your storyboard. The following visual shows a best practice for how to lay out the storyboard. Notice the emphasis on the text/audio and ensuring it coordinates well with any visuals.
Make sure to talk over the storyboard layout with both your client and developers ahead of time so that everyone's needs are met. For the client, explain how the layout works and what is most important for their reviews. The better clients understand storyboards, the fewer revisions you'll have later. For the developers, walk through the approved storyboard to confirm your vision.
As you see, storyboarding isn't just putting ideas down on a page. Choosing the right layout ensures your client and developers are set up for a smooth review and development process.
Want to chat more about this? We at Judge Learning Solutions love talking about learning and have the expertise to help make your vision a reality. Contact us at JLS@judge.com for more information.
Topics : Articles, Learning, Storyboard, Training
Share this post
Join Our Winning Team
We are always looking to add talented professionals to our team. Advance your career with Judge.
Apply Now
Let's Continue the

Conversation.

Tell us how we can help you and we'll be in touch soon.