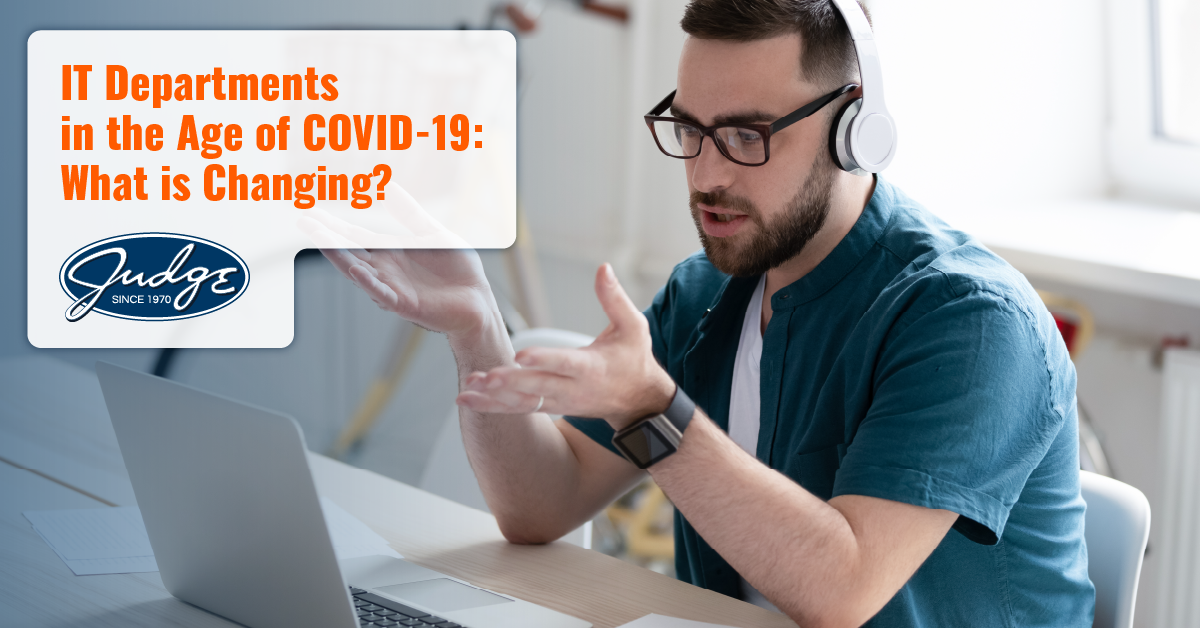 Share this post
IT Departments in the Age of COVID-19: What is Changing?
IT leaders often get credit for improving business efficiency. But they don't usually get credit for keeping people safe.
In 2020, maybe they should.
Think of it this way: ever since COVID-19 became a legitimate concern in America, technology has been one of our most important weapons. Thanks to computers, servers, applications, and the cloud, millions of Americans have been able to work from home — flattening the curve and reducing the overall burden on hospitals. Without the help of technology, sidestepping the worst effects of COVID-19 would have been extremely difficult, if not impossible.
And still, your IT department's work is far from done!
Over the coming months, a "new normal" will emerge in the world of information technology, and company leaders are beginning to think forward. No one knows exactly what this will look like, but IT professionals are already re-thinking practices and approaches. What are some of the areas that may change?
Hardware
System administrators are experiencing stressful times during the pandemic, as they attempt to meet remote employees' hardware configuration needs. From ensuring personal desktops are running properly, to supplying company owned devices, to dealing with slow shipments and orders; hardware viability has been quite a challenge.
For example, to keep things moving smoothly many IT workers are now implementing remote desktops (applications which allow employees to access their work desktops from anywhere). This trend is likely to continue, and many IT departments are searching for other creative approaches.
Cybersecurity
In 2020, cybersecurity is more advanced than ever. Yet whenever employees use their own devices and internal connections, a certain level of security concern is unavoidable. The new normal will likely mean investing in new tools, staying on top of staff training, and finding ways to properly secure important applications and documents. Given the increased amount of remote work, companies will need to take strong steps towards safeguarding data.
Remote Troubleshooting
If you've ever been in a race against the clock to meet a deadline, and your technology starts giving you issues, the phrase "patience is a virtue" goes out the door fast. With employees now having to troubleshoot tech problems under the remote guidance of IT support, things are getting a wee-bit stressful for everyone.
The new normal will require an increased focus on staff training, and investing in user-friendly tools that help prevent problems down the line (even if that means some functionality must be sacrificed).
Cloud Computing
There are many good arguments for using cloud based services. Still, some companies have resisted due to security concerns, whether founded or unfounded. Needless to say, the sudden shift to remote labor has pushed some companies to consider cloud services faster than they might have otherwise. This trend is certain to continue. In fact, cloud computing was already one of the fastest growing markets in the world before COVID-19.
Communication
Collaboration tools have been the unsung, non-human heroes of the past few months. What would we do without video conferencing and project management tools? It's not always easy to adapt to new technology, but the benefits we've received from consistent use of these apps has been clear as day. There are many excellent communication tools on the market, and we will keep relying on them for the foreseeable future.
Conclusion: IT Departments in the Age of COVID-19
At the end of the day, if pandemics occur every 100 years on the average, the world should be grateful this happened in 2020 rather than 1985. Technology is helping us weather this storm, by creating an environment of innovation and problem solving. Whatever the future holds, one thing is for sure — company IT leaders will continue blazing the path forward!
Topics : Articles, Cloud Computing, Communication, Cybersecurity, IT, Remote Work
Share this post
Join Our Winning Team
We are always looking to add talented professionals to our team. Advance your career with Judge.
Apply Now
Let's Continue the

Conversation.

Tell us how we can help you and we'll be in touch soon.