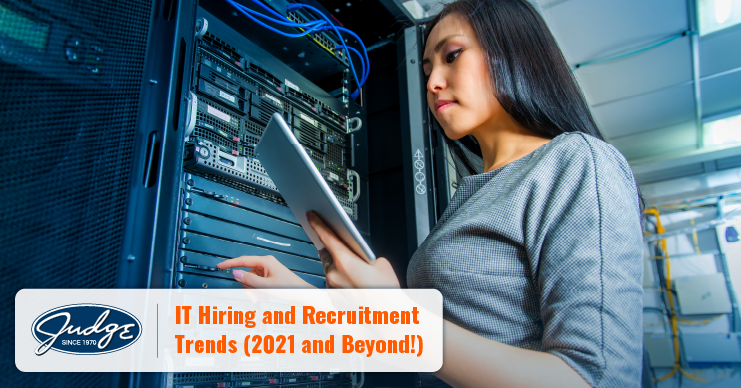 Share this post
IT Hiring and Recruitment Trends (2021 and Beyond!)
Thanks to the ongoing IT talent shortage, IT departments continue to struggle to fill positions at all levels — a trend which has become a staple of the information age. If there's anything IT departments are used to, it's change. But even for an industry accustomed to adapting, 2020 threw a few too many curveballs.
As IT departments regain the ability to plan for the long term, they will contend with a complex recruiting environment. For this reason, understanding the most current IT hiring trends is more important than ever.
So, let's jump into it! Here are some of the key IT hiring and recruitment trends to prepare for in 2021.
Upskilling
By highlighting upskilling opportunities — i.e. teaching workers additional skills while employed at your company — companies can implicitly communicate a strong organizational culture. Great candidates will recognize great opportunities, and as your organization grows, investing in employee training can counteract the overall shortage of qualified IT staff. Show effort (and the ability!) to invest in your employees, and over time you'll develop an employee-first reputation.
Work Flexibility
If you want to find and retain top talent, it's time to start planning (and ideally promoting) enhanced work flexibility. Notably, work flexibility doesn't mean working less — it means allowing employees to work the same amount, only under conditions more aligned with their lifestyle. Examples of workplace flexibility include more flexible hours, a relaxed dress code, and split shifts. Likewise, remote work is on the rise big time — thanks largely to the impact of COVID-19, combined with new technological tools making it possible.
As employees begin to intentionally seek more workplace flexibility, you may want to start being more flexible about your own flexibility!
Flexible Staffing Solutions
If you want to keep up with market demand, there's never been a better time to consider flexible staffing solutions. Combining full-time and independent or contracted roles can provide unique value to IT projects, technology upgrades, cloud migrations, and more. Furthermore, some companies hire specialized contractors to handle narrowly focused projects, while directing full-time staff to focus on broad, day-to-day tech tasks and issues.
AI Recruiting
AI is an increasingly hot trend in the world of IT recruitment trends. Now, recruiting software uses AI to automate certain aspects of talent searching — especially repetitive, high-volume tasks. Suddenly, screening a sea of resumes is a piece of cake, freeing up recruiters to spend more time assessing the cream of the crop. These softwares can also be built to understand and answer candidates' questions, provide updates, and even schedule interviews.
Soft Skills
The importance of soft skills may be one of the most surprising (but significant) trends in IT recruiting today. While education, experience, and certification are still required — and obviously still the most important factors — organizations are also increasingly on the lookout for candidates with legitimate soft skills. IT leaders want to hire employees who can communicate the nature of industry trends and complex technical concepts, listen actively, and collaborate effectively across departments.
Conclusion: IT Hiring and Recruitment Trends (2021 and Beyond!)
This year has brought some major changes to IT departments across the nation. Heck, across the world! A sudden increase in remote work has led to a surge in restructuring technology, people, and organizations. This forced many companies to adapt quickly, ensuring that their technology systems are properly supported. As we move into the new year, Judge is here to help with your IT staffing needs!
Topics : Articles, IT Departments, IT Management, IT staffing
Share this post
Join Our Winning Team
We are always looking to add talented professionals to our team. Advance your career with Judge.
Apply Now
Let's Continue the

Conversation.

Tell us how we can help you and we'll be in touch soon.