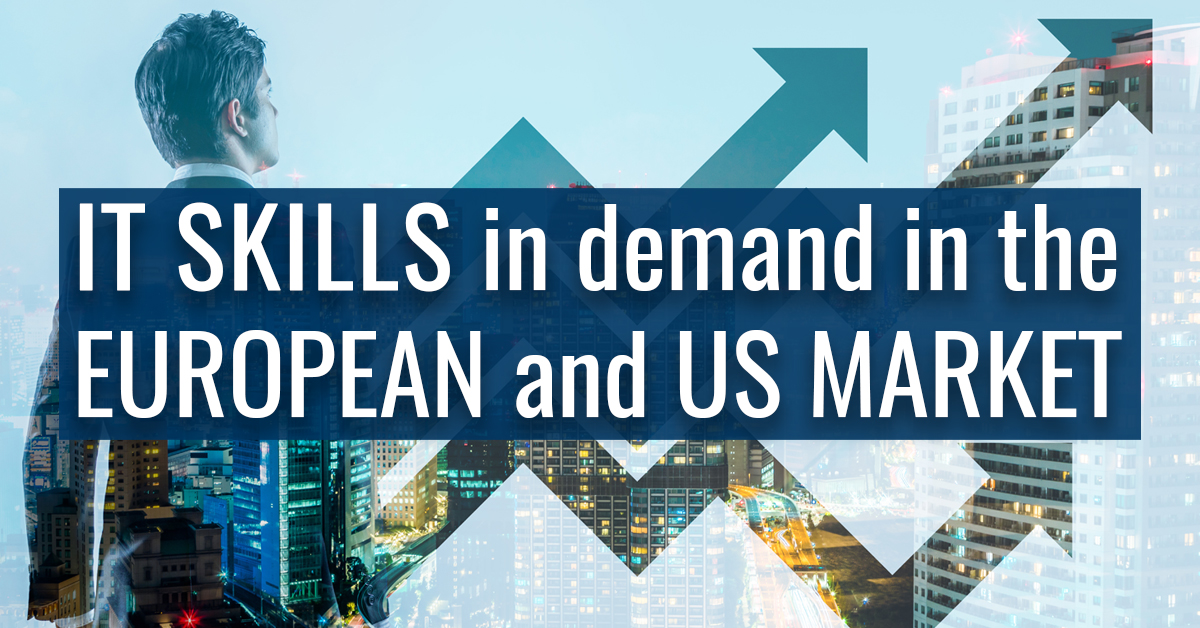 Share this post
IT Skills in demand in the European and US market
The future of European and the US job markets will revolve around technology and finance as the maximum employment opportunities to graduate and postgraduate candidates will come from these two areas. It is expected that by 2030, around 66,000 new technology and data science-related jobs will be floated in the US and developed nations of Europe.
If the trends of the first five months of 2019 analyzed, it would be clear how these two areas (technology and finance) are going to shape the future of the job market. In this period, almost 35 per cent of jobs announced by 19 banks and asset managers of Europe and the US were specifically related to tech and data roles. These employers are interested in creating job profiles which may speed up the banking and finance industry by ensuring more time to financiers for strategy development and shifting the routine tasks to AI-enabled software and programs.
Changing job market dynamics
The demand for network and information security experts in the European market will continue to see a rapid rise due to two major factors. One is the growing number of malicious threats and cyber-attacks threatening enterprise security for organizations of all sizes, while the other is the implementation of General Data Protection Regulations (GDPR) which companies need to comply. Also, employers are looking for people with digital marketing skills to improve their company's web presence and visibility. This is one of the tech skills in demand for obvious reasons: more site visits mean more conversions, customers, and revenue.
Machine learning is one of the most innovative and exciting fields moving into the future. 61% of organizations insist that Machine Learning & Artificial Intelligence will be among their top data initiatives. Cloud computing jobs are on the rise because more and more companies are switching from the classical server infrastructure to cloud solutions. According to Gartner, the market for public cloud services is projected to grow by 17.3 3% in 2020. The most in-demand cloud computing skills are Amazon Web Services (AWS), Java, Linux, Software Development, DevOps, Docker and Infrastructure as a Service (IaaS) are the most in-demand skills in the job markets of Europe and America.
With this transition from Traditional IT to Digital IT has led to an evolving need to be more productive and highly cost-effective - thus resulting the customers to make a strategic shift of on-premise infrastructure to cloud premises. All the IT Outsourcing, as well as Localized captive centers across regions, have set-up their in-house learning centers and dedicated L&D functions, which help them to impart new-age skills to the workforce. The core purpose of establishing these learning centers is re-aligning the current business needs with futuristic demands.
Future beyond transition
Technologies used to exist or still exist to cater to the changing needs of the scenario representing traditional application design, development, testing, launch & maintenance in a spectrum of waterfall model will need to be replaced with the more advanced and efficacious technologies such as Social, Mobile, Analytics, Cloud and Enterprise Security. Skills around Infra Management, Cloud Migration, Application Analytics, Social Media Integration and Mobile-Led User Experience - all engulfed in the boundaries of enterprise security is the Skill 2.0, which will drive the futuristic IT ecosystem.
Global Delivery Model and outcome certainty business propositions are becoming an outlier in the ever-burgeoning IT industry landscape worldwide; the customers quickly want to move from traditional On-Premise application suites to digital suites of business experiences. This has led to IT industry reeling under the need to transform itself - more agile, more JIT, more digitally transformative and more experiential suited for the new-age customers. Therefore, it will not be an exaggeration that IT 3.0 will predominantly depend on new-age skills, i.e., Skills 2.0 for the IT landscape transformation and the workforce-ready and aligned.
By - Abhishek Agarwal
Senior Vice President (Global Delivery)
The Judge Group India
Topics : Future, Job Market
Share this post
Join Our Winning Team
We are always looking to add talented professionals to our team. Advance your career with Judge.
Apply Now
Let's Continue the

Conversation.

Tell us how we can help you and we'll be in touch soon.