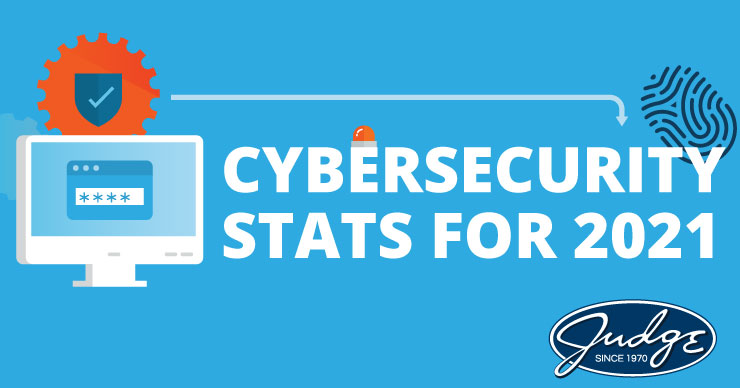 Share this post
Key Cybersecurity Stats for 2021 (Infographic)
2020 has been a record-breaking year for cybersecurity. The pandemic took the world by surprise — creating fruitful conditions for cybercriminals. As we approach 2021, it's important that the business world can look back with 20/20 hindsight. So, in order to get a data-backed perspective on all this, Judge dug up some numbers.
Here is what we found (click the image to see a larger version):
The purpose of this infographic isn't to scare or sensationalize readers — it's simply to reveal the true scale of the problem.
Whether you're a small, mid-sized, or large organization, no person or company is completely safe from cybercrime. Small businesses are the most likely to underestimate their risk, and as a consequence, they experience 54% of all cyberattacks.
The COVID-19 pandemic added an additional layer of complication. According to the 2020 Verizon Business Data Breach Investigations Report, email-users were more likely to click on links related to COVID-19 than those related to other topics. Cybercriminals used keywords such as "masks," "tests," "quarantine," and "vaccine" in their attacks, with worrisome ramifications. When cyberattacks happen, data can be lost, valuable information can be exposed, and businesses may undergo lawsuits and even full closures.
There's no simple solution, but you can take important steps towards strengthening your cybersecurity in 2021. Make a plan of action and remember that 34% of data breaches occur internally. Consider the following steps:
Train your staff on cybersecurity awareness
Install protective firewalls and antivirus software
Continuously back up data
Manage employee access to important data.
At the end of the day, customers are less likely to do business with companies who have a history of data breaches. So, in 2021, make cybersecurity a top priority for your business!
Topics : Cybersecurity, Infographic, IT, Technology
Share this post
Join Our Winning Team
We are always looking to add talented professionals to our team. Advance your career with Judge.
Apply Now
Let's Continue the

Conversation.

Tell us how we can help you and we'll be in touch soon.