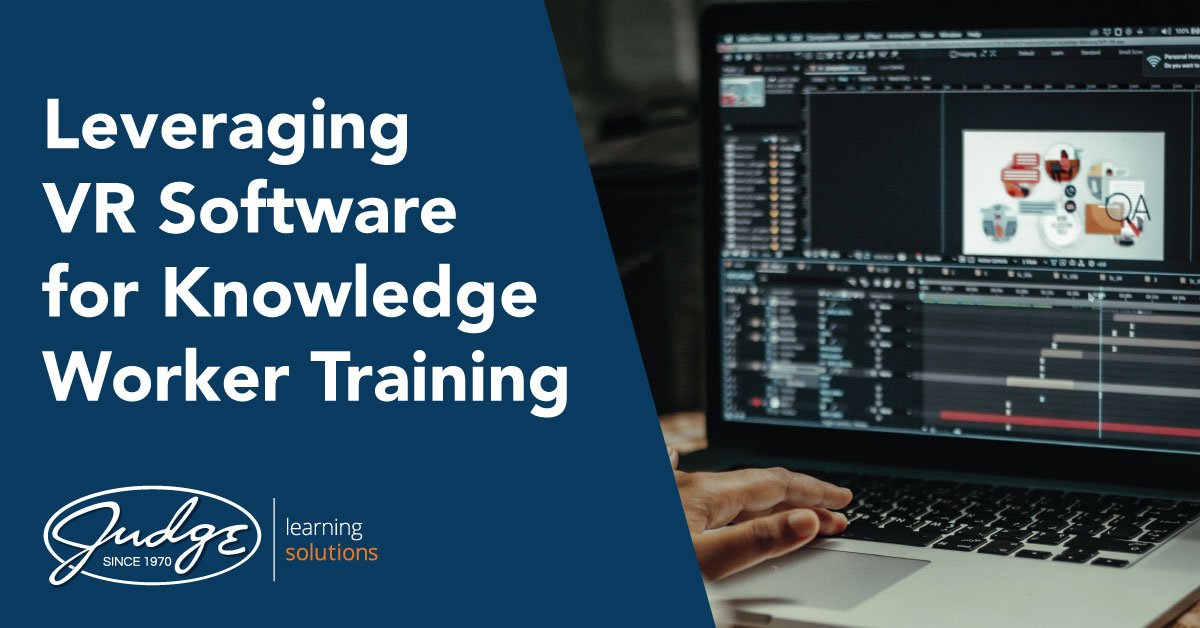 Share this post
Leveraging VR Software for Knowledge Worker Training
By Mark Burke, Ed.D.
We've been hearing for years that virtual reality is going to revolutionize training. And while some industries have seen this come to fruition due to the physical/spatial aspects of the job (e.g., military, medical, utilities, energy), it has been a hard road to get this technology into the hands of knowledge workers. When safety and patient lives are involved, the cost of VR is easy to understand. When knowledge workers need to learn a new process or tech system, it's hard to get over the cost of entry with the technology and hardware required.
I recently spent time with a VR company and was amazed at what they are doing. The 3D environments and ease of development have come a long way from a decade ago. But as I sat there using the software, I couldn't help but wonder about how I could get this in the hands of the knowledge workers we often support? Through my conversations with the VR team, a simple solution came forward: stop worrying about the hardware and use the 2D output of the software to create training now.
I know, I know. The power of VR is the 3D environment. But if we can't get the training in learners' hands because the hardware is expensive, then VR will be stuck in wait mode for these learners until the tech comes down to a reasonable cost.
Make no mistake – the 2D environment of VR is powerful. There is still the physical aspect of the environment that is controlled by a mouse or fingertip. There is still the ability to manipulate the assets in the environment. And finally, there is still a sense of exploration as learners engage with the content in a variety of ways. So how can we leverage this technology? Here are a few ways that the 2D aspect of VR can be used for knowledge workers.
Motion Graphic Videos. The movement, voiceover, and quick content make motion graphic videos a great way to get the learners' attention. Using an avatar to engage in the environment, these videos give a new way of looking at the content and allow the avatar to manipulate it in front of the learner. Short, tightly-designed videos with a compelling story paired with a new method of experiencing the content will grab learners and keep them interested.
Microlearning. Short, interactive eLearning allows learners to get in, learn something, and get out. Putting the learner in a flexible environment that includes several ways to interact with the content offers them a chance to see things through a different lens and manipulate the content.
eLearning. Learning processes and best practices are a staple of knowledge worker training. What if they could manipulate visuals of the processes and see linkages that would be difficult to convey in linear learning? This design puts the learner in control of the content and lets them learn it in their own way.
We've been waiting for VR to become mainstream for learning. The software is ready. Let's start thinking outside the box and harnessing this software to start creating a new and immersive learning experience.
Want to talk more about this? Leave a comment below or reach out to us at JLS@judge.com. Our team of creative superheroes are ready to help – just let us know what you need.
Topics : Articles, employee training, JLS, Judge Learning Solutions, Learning Course Design, Learning Solutions, Training, Virtual Reality
Share this post
Join Our Winning Team
We are always looking to add talented professionals to our team. Advance your career with Judge.
Apply Now
Let's Continue the

Conversation.

Tell us how we can help you and we'll be in touch soon.