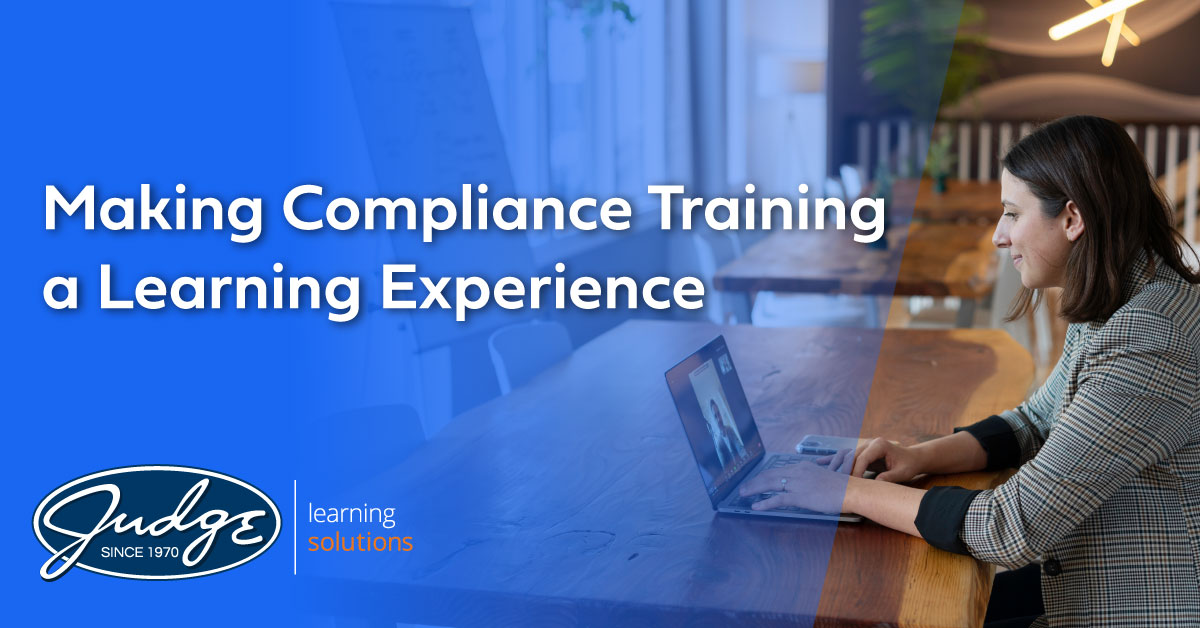 Share this post
Making Compliance Training a Learning Experience
By Mark Burke, Ed.D.
Let's be honest. Compliance eLearning is not always engaging. I've heard of people who treat it like a sport to see how fast they can click through it. Here's the problem. This stuff is important and should be taken seriously. But how can you take content that is often dense and make it appealing? Here are a few ideas to transform your compliance training to something that people will not only learn from but enjoy.
1. Use scenarios. Find the key points of the training and create stories that will interest the learner. If a learner can relate to it, they can remember it. These scenarios don't have to be overly detailed – just authentic.
2. Use voiceover. So much of the time compliance training sacrifices auditory learning in an effort to push through more content. This hurts the quality of the learning experience and reduces the chance of the learner absorbing the information.
3. Slow down. I know it sounds crazy to add time to compliance training, but if you want actual learning, then you need to use good learning principles. Putting large blocks of text on a screen will not teach someone. Instead, take your time and set up the content using good instructional design. It could add a few minutes to the training, but the increase in learning is worth it.
4. Use interactions beyond click and reveal. Matching. Drag and drop. Knowledge checks. Video clips. Slider bars. Timelines. Building animations. Whatever you do, use more than just click and reveal interactions.
5. Apply scenario-based knowledge checks. Compliance training knowledge checks are often a question about a definition that was just taught. Instead, try writing a three-sentence situation and asking how the learner would respond. Even if they get it wrong, make sure that the feedback gives the right answer with a clear explanation so you can use it as a teachable moment.
Compliance departments have a tough job. They are responsible for getting many people to follow complex regulations and requirements. Help make their job easier by transforming their training into a memorable learning experience.
Want to talk more about this? Leave a comment below or reach out to us at JLS@judge.com. Our team of creative superheroes are ready to help – just let us know what you need.
Topics : Articles, Compliance Training, eLearning, Learning Solutions
Share this post
Join Our Winning Team
We are always looking to add talented professionals to our team. Advance your career with Judge.
Apply Now
Let's Continue the

Conversation.

Tell us how we can help you and we'll be in touch soon.