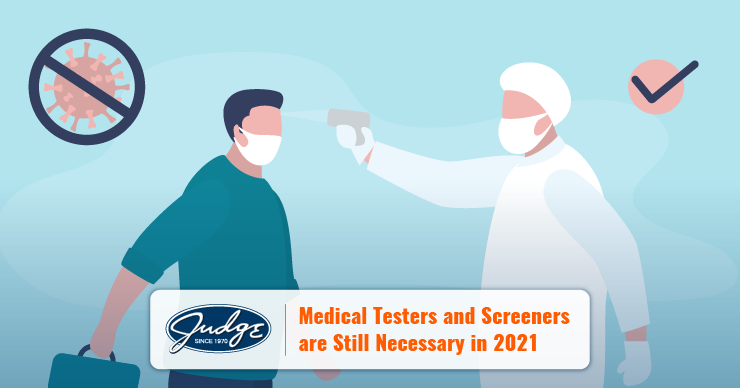 Share this post
Medical Testers and Screeners are Still Necessary in 2021
---
Throughout 2020, companies and their employees showed great resilience; adapting to the challenges brought on by the pandemic. Some businesses stayed remote. Others slowly transitioned employees back. Other companies — particularly those operating in essential industries — had little choice but to remain open from the beginning. Regardless of which camp your business fits into, the unfortunate reality is that we're not out of the woods yet. And as cases continue to spike across America, this is no time to retreat!
Until a safe vaccine becomes widely available, hiring medical screeners and testers remains the best way to create a safe and healthy work environment. Whether you're an employee, patient, or visitor, you'll be greeted by a screener who will:
Perform temperature checks
Ask health related questions
Assign passes and fails to employees
Maintain entry and exit logs
Send end-of-day reports
Why does America still need medical testers and screeners in 2021?
On New Year's Eve 2019, no one could have predicted a worldwide pandemic would be right around the corner. Even today, no one knows exactly how long it will last. Thankfully, good news (like optimistic vaccine trial results) are starting to make headlines.
When enough of the American public is safely vaccinated, we will rejoice collectively. But until that day comes, every employer's top priority should be ensuring that the workplace is as safe as possible. Even if employees are vigilant, having medical testers and screeners adds a critical layer of protection that cannot be replicated by individual decision making alone.
Helping employees overcome the fear of returning to the workplace
While many employees are more than ready to return to their workstations, it's also true that the fear of close proximity is as rampant as the virus itself.
By hiring medical testers and screeners, companies can communicate to their employees that safety is a top priority. Besides giving them peace of mind that their colleagues have been tested and screened, it's comforting to know that if an employee does happen to fall ill, he or she will be given instructions about what actions to take next, and checked on by a compassionate employer.
How can Judge help?
For the past 10 months, Judge has been hiring, training, and deploying qualified nursing and medical assistants to assist in this early detection. It's a medical screener 's job to identify potentially ill individuals and direct them to physically isolate and seek immediate medical attention.
Judge can hire, train and place these indispensable individuals for your company.
Medical testers and screeners serve as your first wall of defense to stop the spread of COVID-19. With them around, your employees can breathe more easily knowing that you're taking the necessary actions to protect them. To read more about the key benefits of on-site medical testers , click here.
Contact Judge for more information about our medical testing and screening services
Topics : Articles, Healthcare, Healthcare Staffing, Judge Healthcare, Medical Screeners, Medical Testers
Share this post
Join Our Winning Team
We are always looking to add talented professionals to our team. Advance your career with Judge.
Apply Now
Let's Continue the

Conversation.

Tell us how we can help you and we'll be in touch soon.