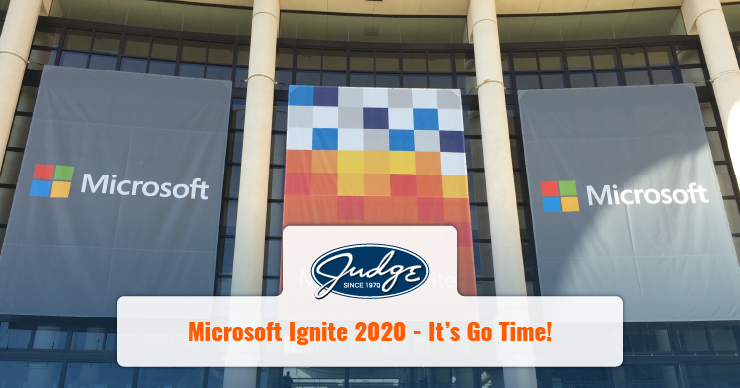 Share this post
Microsoft Ignite 2020 – It's Go Time!
This just in: Microsoft Ignite 2020 starts on September 22nd!
The bad news is that the in-person event is cancelled. The very (very) good news is that you can attend it from the comfort of your own couch, free of charge! Here's an overview of what Judge is most excited about.
The Nuts and Bolts
For the first time ever, Microsoft Ignite will be a virtual event. It was originally scheduled to take place in New-Orleans — a week long, and entirely in person. Alas, as has been the case with so much of 2020, COVID-19 had different plans for us. Thankfully, Microsoft's organizers adapted!
Ignite will be split into two parts. The first will be held from September 22-24. Registration opened on September 3rd for this event. If you haven't already, click here to sign up. The second portion will occur at TBD date in early 2021, as an additional opportunity to bring the Microsoft community together and share the latest announcements.
The Silver Lining
It's a bummer that the live event was cancelled, but all is not lost. Far from it! The virtual event will be 48 hours long and filled with nonstop work-shops, speakers, and consultations. Here are some highlights that are sure to make Microsoft Ignite an event to remember.
Start with what you are interested in!
This year's format follows something of a "choose your own adventure" model. Create your own agenda by choosing to focus on what you're most excited about. As you can see, the session catalog offers a ton of learning opportunities, the totality of which will make this year's Ignite a unique, personalized experience. Simply adjust your schedule depending on your availability and interests!
Connect with experts
Connection Zone will be a hub for virtual attendees to meet with experts in the field. Participants can share insights into new solutions, ask questions to experts, and even schedule one-on-one consultations.
Learn about Outlook's Newest Updates and Changes
Microsoft Outlook is getting new features and updates! For many users, this is exciting news. Outlook's new leader, Lynn Ayres, will make some key announcements and revelations. This portion of Ignite will be especially interesting for Mac users, since an entire session will be dedicated to introducing the new Outlook for Mac, and all of its improved features.
Learn about Exchange Online Transport
There will be multiple sessions on subjects like protecting email, calendar data, identity authentication access, and more. Attending these talks will be a great way to gain insight into Microsoft's neverending mission to make communication between individuals and organizations more secure. In particular, attendees will learn about some of the brand new designs associated with Exchange Online Transport.
Conclusion: Microsoft Ignite 2020 - It's Go Time!
This year's speaker list is long and impressive! Attendees will hear from creators, engineers, innovators and leaders from the Microsoft team. Not only will you be able to learn from pioneers in the field, but also from many "on the grounds" business leaders, actively engaged in solving problems for businesses; and working directly with clients and developers to improve company technology, internal processes, and business success.
Again, here's where you can register!
Since the event is 48 hours of non-stop sessions, you will surely find learning opportunities that interest you. Here is a detailed list of individual sessions, in case you want to create your personalized agenda!
We hope you enjoy hearing from the experts and interacting with the local and global Microsoft community. Stay tuned for an "after the event summary," where we'll follow up with the highlights!
Topics : Articles, Conference, Developers, Technology
Share this post
Join Our Winning Team
We are always looking to add talented professionals to our team. Advance your career with Judge.
Apply Now
Let's Continue the

Conversation.

Tell us how we can help you and we'll be in touch soon.