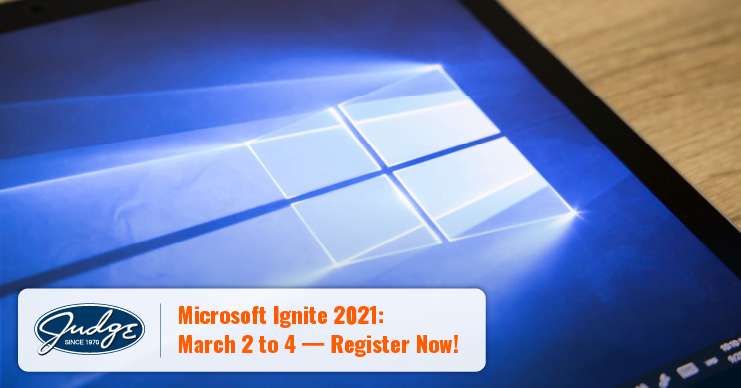 Share this post
Microsoft Ignite 2021 : March 2 to 4 — Register Now!
Microsoft Ignite was last held in September 2020.
In the time since, we've seen some exciting updates to Microsoft Teams, Microsoft Azure, and Microsoft Edge. Now, as we look forward to Microsoft Ignite 2021 , we're excited to learn about the new services and products that will enhance the Microsoft user experience.
Consistent with pandemic protocol, Microsoft Ignite sessions will be held online. The good news is, they will be free to all. From the comfort of your home, you can network, learn, and explore the newest innovations from Microsoft.
Working in IT or thinking about attending? Here's why Microsoft Ignite 2021 should be on your to do list:
Virtual and cost-free
If attending Microsoft Ignite events before was cost prohibitive (or you just weren't fond of traveling) this is a great opportunity for you! This year all of the Microsoft Ignite sessions are virtual and cost-free. Who knows — Microsoft may soon have in-person events again. Until then, don't miss out.
Networking with a global audience
Sharing ideas in real time with professionals in similar fields from across the globe; what could be better? Throughout Ignite, you'll be able to comment, announce news, and share ideas. Not only is this an opportunity to learn from keynote speakers — it's also a chance to learn from your colleagues and other industry professionals. Grow your professional circle!
Recorded sessions
A global event, Microsoft Ignite 2021 will be rebroadcast in the evening, as well as overnight. If you can't get time off from work, recorded sessions will allow you to catch up on the action. Live Microsoft Ignite sessions will be broadcast during the day from Microsoft's headquarters in Redmond, Washington.
Everyone is welcome!
The IT field is growing — becoming more and more diverse. Microsoft Ignite 2021 sessions will cover content that all can enjoy. The keynote speaker will touch on various topics — from security, to development, purchasing, and more.
Have a competitive spirit?
For attendees who like to compete: why not enter Ignite's cloud skills challenges? After all, prizes are on the line. Create and compete at your own pace by developing your cloud skills. According to Microsoft, Ignite 2021 will, "energize and educate developers through a gamified, self-guided experience to accelerate learning."
One-on-one consultation
If you are seeking specific advice about a particular interest, a current project, or a challenge unique to you, one-on-one consultations might be your ticket to a successful event. Register for consultations of about 45 minutes each with Microsoft experts. Need an IT answer? There is no better opportunity than to hear it directly from the professionals leading the sessions!
Conclusion: Microsoft Ignite 2021
A few more things to be mindful of!
Start connecting today and use the hashtag #myignite.
Look for special announcements in our upcoming recap of Microsoft Ignite 2021.
Ready to register? Click here!
Topics : Articles, Conference, Developers, IT, Technology
Share this post
Join Our Winning Team
We are always looking to add talented professionals to our team. Advance your career with Judge.
Apply Now
Let's Continue the

Conversation.

Tell us how we can help you and we'll be in touch soon.