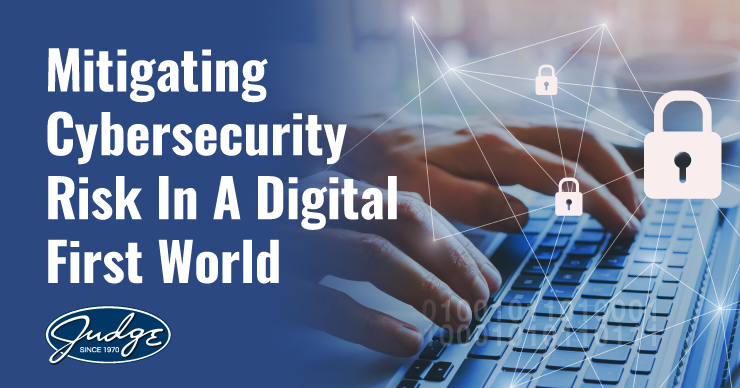 Share this post
Mitigating Cybersecurity Risk in a Digital-First World
By Dennis McDonald
The COVID-19 pandemic has accelerated the already fast-paced shift to digital within the banking and financial services industry. Where BFSI organizations once were under pressure to implement digital transformation initiatives to remain competitive, they now need to make digital a priority just to stay alive.
But the rapid acceleration of digital-first initiatives in BFSI increases the already high risk of cybersecurity threats. With teams working remotely and customers expecting the full suite of services from their devices, C-suite executives are tasked with keeping up with an entirely new environment while also protecting employee and customer data.
Past cybersecurity measures just don't cut it in this new remote-first world. Focusing on "keeping the bad guys out" does little to mitigate modern cybersecurity risks where we can rightly assume those bad guys are already in. To properly mitigate cybersecurity risk in a digital-first world, teams need to prepare and manage for when attacks inevitably occur.
New Cybersecurity Risks in BFSI
As the pandemic forced office closures, BFSI leaders were tasked with getting their teams set up to work securely from home. But with little time to prepare, companies were unable to put the appropriate safeguards in place without risking serious downtime — something no company could afford. This created the perfect storm for fraudsters.
While we're far from the beginning of the pandemic, many organizations are still struggling to properly protect their data — and cyberattackers are doing their best to take advantage of the situation. Team members are distracted by work from home environments and the overall stress of constant changes to everyday life, and when employees are no longer in the same office to simply inquire about a suspicious message, it's easier for them to let their guard down and fall for phishing emails and scams.
There is also the risk of unwelcome parties eavesdropping on calls or conversations held on platforms with less-than-ideal security standards. While many of these tools have upped their protocols since the early days of the pandemic, there is still the risk a malicious party could access sensitive information through an unsecured call.
The digital-first environment also creates new risks for customers looking for remote banking and insurance options. Fraudsters can look into customers' social media accounts to find common answers to security questions, such as birthdays, middle names, or their pets' names, to impersonate them to access bank account information or file a false insurance claim.
Mitigating Cybersecurity Risk Begins at the Foundation
When everything is digital, reactive cybersecurity measures aren't enough. In order for financial institutions to be operational and secure while remote, the organization's foundational network and infrastructure must place cybersecurity measures at the core.
One way to mitigate cybersecurity risk is with data and access management. Data and access management not only controls what employees have access to, but it can monitor and observe user behavior to determine if an "employee" is acting out of character. Using identification factors such as how they type or use their mouse can help uncover if someone is not who they are claiming to be.
Getting to know your people, systems, and potential threats is the best way to mitigate risk. Understanding the threats you're facing and the systems you have in place can remove the fear from cybersecurity threats so you can act appropriately when an attack occurs.
The increased cybersecurity risk is just one of the issues facing BFSI leadership. Download our new whitepaper, "What's Keeping the C-Suite Up at Night: 6 Imperatives in Banking, Financial Services, and Insurance" for our tips for tackling 2021's biggest BFSI challenges head on.  
Topics : Articles, Banking, BFSI, COVID-19, cyber threats, Cybersecurity, Digital, Digital Transformation, Financial Services
Share this post
Join Our Winning Team
We are always looking to add talented professionals to our team. Advance your career with Judge.
Apply Now
Let's Continue the

Conversation.

Tell us how we can help you and we'll be in touch soon.