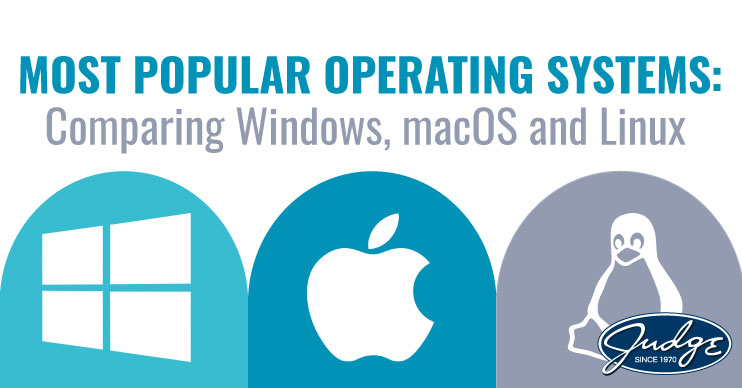 Share this post
Most Popular Operating Systems: Comparing Windows, macOS and Linux
An Operating System (OS) is the link between a user and computer hardware. An OS is designed to perform many tasks, from simple to complex! From file management to controlling printers and disk drives, to memory management and more — an OS usually comes pre-loaded to the computer you purchase.
In today's infographic, we're comparing three of the most popular operating systems for personal computers: Microsoft Windows, macOS, and Linux. Which OS are you using? Are you thinking about upgrading?
In the infographic below, check out a few differences between the three most popular operating systems!
(Click on the image below to view a larger version)
Most Popular Operating Systems: Comparing Windows, macOS and Linux
When considering the three most popular personal computer operating systems , each comes with pros and cons. In the end, deciding which OS is "best" comes down to user goals and preferences.
Some important questions to ask include: How flexible is your budget? What kind of work do you do? Is security your main concern? Something else?
Mac is an operating system widely considered to have a superior graphical user interface, developed by Apple for their Macintosh systems. Microsoft developed Windows to overcome the limitations of the MS-DOS systems, and is the most popular operating system on the planet. Linux is an open source software available to anyone for use, modification and distribution. Its open-source nature brings advantages, especially with respect to security. Anyone can review the code to ensure there are no bugs in the system.
At the end of the day, this infographic wasn't designed to tell you what to do! Its goal is to help you make an informed decision about the best OS for you, your company, or your clients.
Happy researching!
Topics : Computers, Infographic, Operating Systems
Share this post
Join Our Winning Team
We are always looking to add talented professionals to our team. Advance your career with Judge.
Apply Now
Let's Continue the

Conversation.

Tell us how we can help you and we'll be in touch soon.