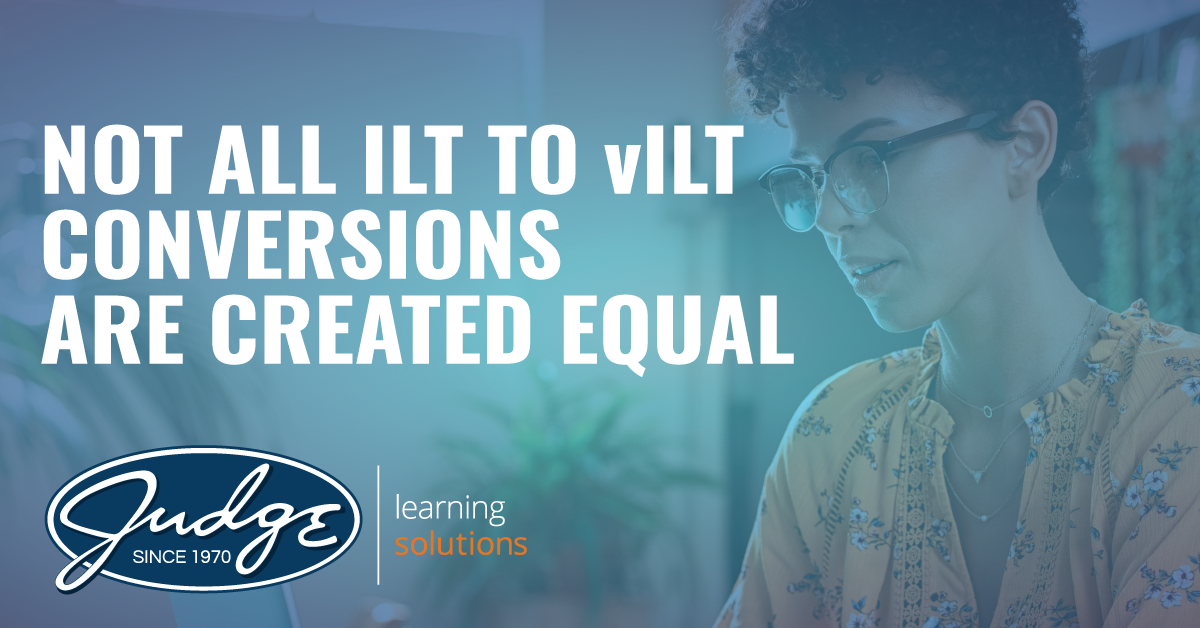 Share this post
Not All ILT to vILT Conversions are Created Equal
By Mark Burke, Ed.D.
It's a new year and a whole new game for corporate learning. Distance synchronous learning is here to stay, and L&D departments all over the world are being asked to convert their instructor-led training (ILT) to virtual ILT. With the massive amount of ILT out there, companies are outsourcing some of this work. But be careful…not all vILT conversions are the same.
When clients ask us to convert training to a virtual format, I always ask them, "What exactly do you need the training to do for the learner?" This question throws some people since they think they just told me – i.e., take X number of hours of training, and make it virtual. Not all vILT conversions are created equal, so that's why I ask. Do you want to simply move it online and update presentation slides and facilitator guides? This is OK, but not great; face-to-face activities don't always translate well online. Do you want us to add a few bells and whistles, but basically cover the same content in the same way? We can do it – but you're going to lose your learner to email or Twitter about five minutes in.
I've seen a lot of blogs about companies promising to convert ILT in two or three weeks for a low cost. From a timing and pricing perspective, I understand this is tempting. Before you jump in and go with the "Just convert this for me" decision, consider a few things:
vILTs have a different pace than ILT. Best practices show that activities are the key to engaging, effective vILTs. ILT has classroom management time, slower transitions, and often more clarifying questions. If your vILT doesn't change its structure and pace, your learner will suffer.
vILT activities are different than ILT. What works in a classroom often does not translate online. You can't simply move the exact workshop activity into an online breakout room with the same instructions. There are technical challenges, as well as the instructor's ability to manage many online groups.
vILT learning progression is different. vILTs need more breaks to keep people engaged, no matter how awesome the design. The order of the training may also need shifting, since the knowledge-based learning that often occurs in ILTs can't be very long in vILTs. Keep it moving, or lose the learner.
Bottom line – if the price and timing of a vILT conversion looks too good to be true, it probably is. You build learning to change performance, so make sure you take the time with your learning vendor to understand their conversion process and be sure they are fighting however they can to give the learner the best experience.
Want to talk more about this? Leave a comment below or reach out to us at JLS@judge.com. Our team of creative rock stars are ready to help – just let us know what you need.
Topics : Articles, Instructor-led Training, Virtual Instructor-led Training
Share this post
Join Our Winning Team
We are always looking to add talented professionals to our team. Advance your career with Judge.
Apply Now
Let's Continue the

Conversation.

Tell us how we can help you and we'll be in touch soon.