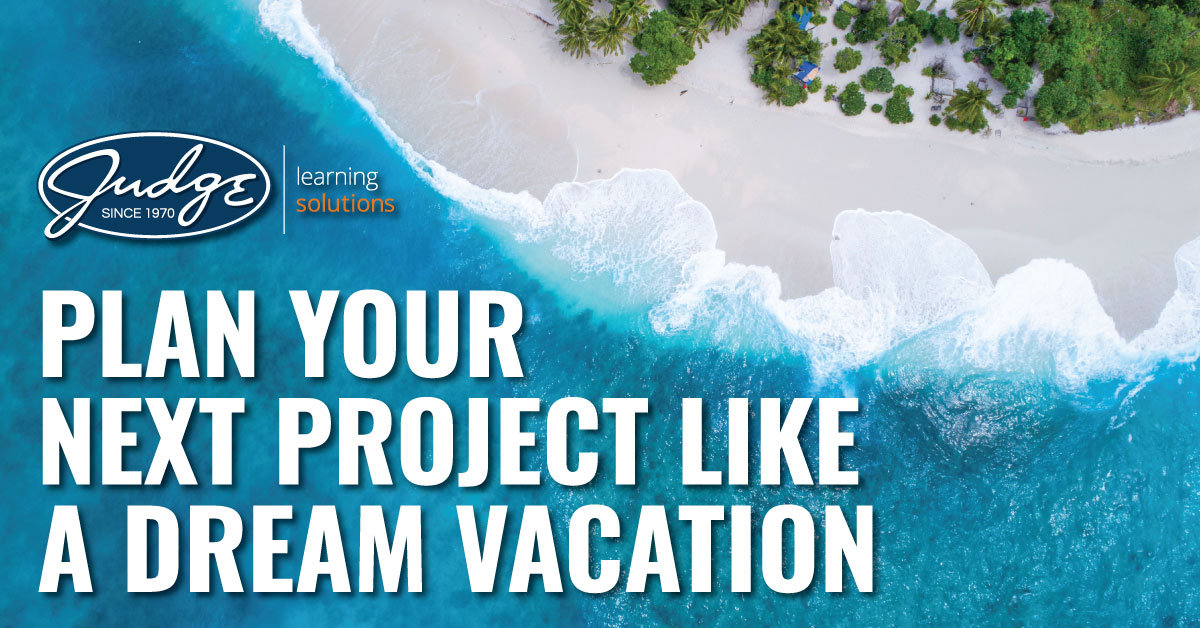 Share this post
Plan Your Next Project Like a Dream Vacation
By Suzanne Couture, MEd, APTD
As we venture into a "new normal," many of us have travel on the brain. This got me thinking about how taking a dream vacation is a lot like planning for and completing a successful learning project.
Where are we going?
Most journeys have a destination. Start by setting measurable goals to help you identify where you want your learners to be when they arrive at the end of your training.
How will we get there?
Some trips are as simple as jumping in the car, while others involve booking flights, crossing borders, and taking excursions at different ports of call. Similarly, your project may require multiple stakeholders for content reviews, approvals, and final sign-off. Engage them early in the process, to ensure that no last-minute changes arise from someone brought in at the end. Also identify any other components needed for success, such as multimedia assets, language translation, and LMS requirements.
What should we do first?
Upon arrival, you'll want to make the most of your time by prioritizing your activities. Like a concierge who keeps you informed of places to go and things to see, weekly meetings with your project team are an opportunity to collaborate, review progress, share feedback, and minimize rework.
Is it over already?
As the journey ends, it's time to reflect on the adventures you had. The same goes for your project. Ask yourself what went well and what you might do differently in the future. Be sure to measure the impact and determine if the outcome met the objectives.
Enjoy the ride!
Like planning your dream trip, consider what to expect before, during, and after your project, so you're prepared to create a highly engaging, impactful experience for your learners.
Want to talk more about this? Leave a comment below or reach out to us at JLS@judge.com. Our team of creative rock stars are ready to help – just let us know what you need.
Topics : Articles, JLS, Judge Learning Solutions, Planning, projects
Share this post
Join Our Winning Team
We are always looking to add talented professionals to our team. Advance your career with Judge.
Apply Now
Let's Continue the

Conversation.

Tell us how we can help you and we'll be in touch soon.