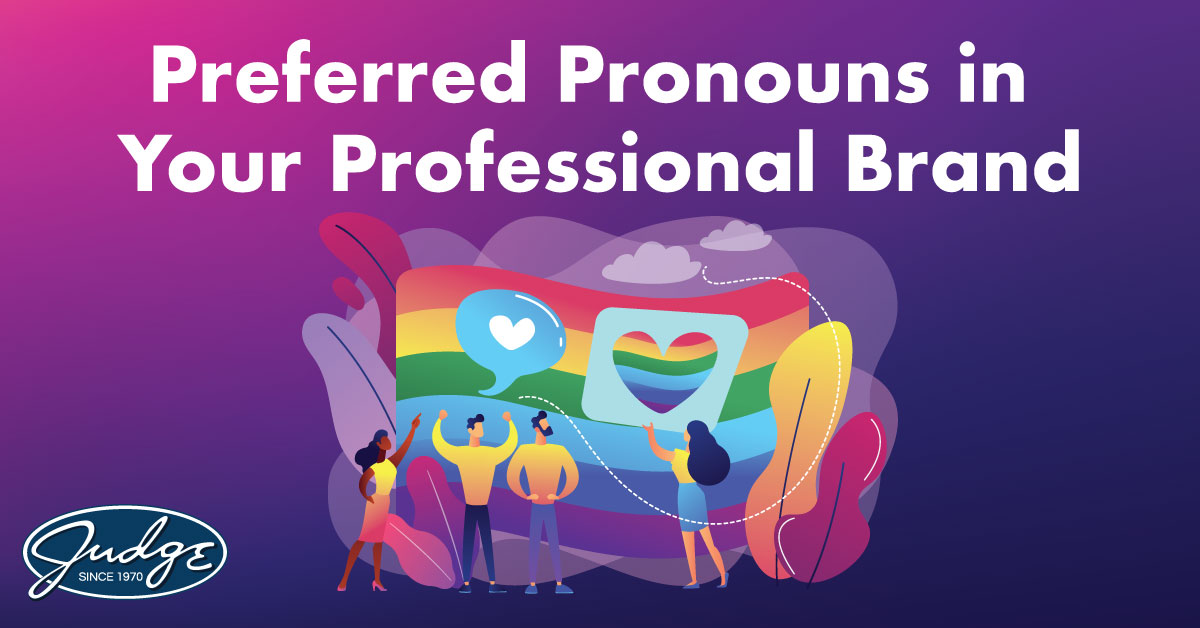 Share this post
Preferred Pronouns in Your Professional Brand
By Kristin Ortiz
Preferred pronouns have been a hot topic as of late. But why are they so important?
Pronouns are an important part of our gender identity. They represent how we wish to be seen in the world. Oftentimes, pronoun usage are assumptions based on the appearance or name of a person, but they are not always an accurate representation of who that person is and how they want to be seen.
By assigning pronouns based on common gender assumptions, we are setting a dangerous precedent that individuals must look or act a certain way to be considered a specific gender. Using someone's preferred pronouns is a sign of respect and a signal of inclusivity.
You may see someone list a combination of the following as their preferred pronouns: she/her, he/him, they/them. 
Preferred Pronouns Added to LinkedIn
Building a presence on LinkedIn that feels like a genuine, true representation of who you are is an important aspect of many of our professional lives. Previously, if you wanted to share your preferred pronouns on your LinkedIn profile you had to enter them after your last name or use the very valuable, limited space on your headline. In March 2021, LinkedIn began rolling out a new field where you can share your pronouns and not take up valuable real estate in the headline.
According to LinkedIn research, 70 percent of job seekers feel that sharing preferred pronouns is important, and 72 percent of hiring managers believe knowing pronouns is important in order to be respectful of the candidate's identity.
The new feature allows users to select from a predefined list of pronouns or to enter their own. Users can then choose if they want the pronouns to be visible to all or just to 1st-degree connections.
The expansion of personal expression on LinkedIn points to the importance of your personal brand and bringing a genuine representation of it to the table. In a world of perfectly curated content, it is important now more than ever to be authentic, and this is one step in that direction.
Topics : Articles, Identity, LinkedIn, Pride Month, Professional Brand, Pronouns
Share this post
Join Our Winning Team
We are always looking to add talented professionals to our team. Advance your career with Judge.
Apply Now
Let's Continue the

Conversation.

Tell us how we can help you and we'll be in touch soon.