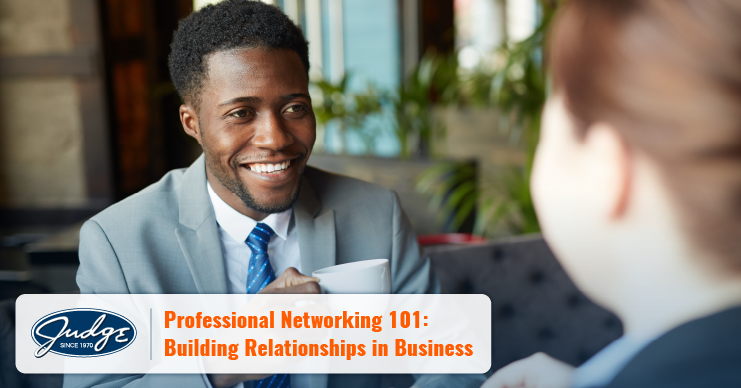 Share this post
Professional Networking 101: Building Relationships in Business
No matter what job you have, what industry you're in, or what your career goals are, building relationships in business is a must. The catch is, we often struggle with how, when, and where to start creating these meaningful relationships.
In a world where many of our connections are made on the internet, these interactions can sometimes feel superficial and stunted. But by nurturing a "garden" of connections, over time, it's possible to grow a network with strong roots. Eventually, these roots will allow your garden to grow back every year — usually better than the year before it!
In this week's blog, Judge has some advice for those seeking to build, strengthen, expand, and maintain their circle of professional relationships.
The Online Networking Arena
The easiest way to start expanding your professional network is through social media. On LinkedIn, you can browse groups and hashtags within your areas of interest. Start small. Interact by liking posts, commenting on topics you're interested in, and following people who inspire you. As you establish your roots, you'll likely hear about virtual networking events or educational opportunities you can also take advantage of.
Keep expanding your roots! Down the road, you might eventually decide to create a blog, become a speaker, host a webinar, or offer professional help to budding networkers like yourself. Start now, keep at it, and you'll confidently be growing your network in a few months!
How to Start
Let's face it — when it comes to building professional business relationships, not everyone is a natural. But that doesn't mean you can't get better at it. Start by listening and learning about other people's interests. Ask genuine questions and throw in friendly smiles. If you have similar interests with your new connection, lead with that. In the same industry? Talk about recent trends or challenges you might be facing. You don't have to be perfect. Just be authentic and honest about your interests and keep it professional.
The Next Step
Now that you've made the initial connection, it's time to bolster it by learning about your new colleague. Identify your shared goals and values, exploring what pathways led you to them. And while it's usually smart to keep our personal and work lives separate, there may come a point when it makes sense to mention some personal anecdotes. It's okay to bring these up when the time is right, since personal experiences shape our career journey. Be a patient listener and don't be afraid to show an appropriate amount of vulnerability. Developing deeper professional relationships takes time, so don't rush to put all your cards down on the table. Mutual respect and trust will develop over time.
Keep It Going!
Building relationships in business is not a one-way street. To maintain connections, both parties should set aside a bit of time to engage with each other. From sitting down for a quick virtual coffee break, to sharing helpful articles and tips, there are many manageable ways to do it! A small gesture every once in a while can keep your professional connections strong, in an organic way.
Conclusion: Professional Networking 101: Building Relationships in Business
Building relationships in business is a journey, not a sprint. Don't dive into it without planning. Instead, find the most comfortable methods that work for you, and research best practices. Stay in contact, offer help and don't be afraid to ask for support when you need it!
Topics : Articles, Career, Career Networking
Share this post
Join Our Winning Team
We are always looking to add talented professionals to our team. Advance your career with Judge.
Apply Now
Let's Continue the

Conversation.

Tell us how we can help you and we'll be in touch soon.