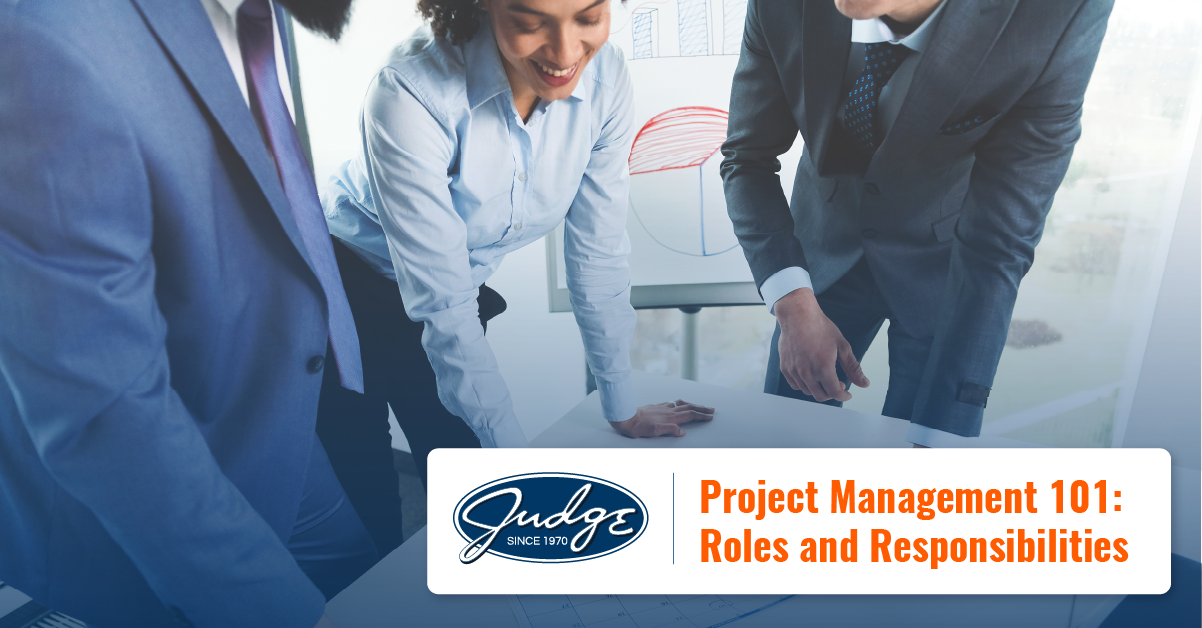 Share this post
Project Management 101: Roles and Responsibilities
If you haven't already, at some point in your career you will probably need to manage a project.
Maybe it will be a small project with just one colleague. Or, perhaps it will be a large project carried out by multiple cross-functional teams. Regardless of its size and scope, certain project management duties will always persist.
Learning the nature of these roles and responsibilities is an important way to advance in one's career and increase earnings. In this week's blog, let's cover the basics of project management.
What is project management?
A project manager uses knowledge, skills, tools, and approaches to provide a deliverable to people or an organization. A major part of project management is aligning goals and objectives across teams, client's or customers, and upper management or stakeholders. Often, a project's timeline is decided between the client and a project manager. Governing factors include planning, detailed documentation, time constraints, budget, resources, team members, scope, deliverables, metrics, and objectives.
What are the phases of project management?
Companies may have different names for the various phases of project management. But generally speaking, they break down more or less like this:
Initiation phase - The initiation phase is the start of the project. The primary activities include brainstorming, market research, and early conversation about scope, project goals, and outlining objectives and deliverables.
Planning phase - The planning phase is when the project manager and team strategize on project execution, including what is within (and beyond) the scope of the project. Here, larger milestones are agreed upon, resources are identified, and a timeline is created. Project, monthly or annual budgets, potential risks, and a communication strategy are also defined and agreed upon.
Execution phase - The execution phase is where all the planning comes to life! Team members begin enacting their roles, and working towards task completion under the guidance of the project manager. The project manager also responds to various requests during this phase
Monitoring and controlling phase - The monitoring and controlling phase occurs in step with the execution phase. Tracking and quality control are key elements of this phase. Here, the project manager monitors the unfolding project and identifies any roadblocks — ready to make changes or adjustments as necessary.
Closure phase - Once the project is delivered to the customer, a final report is prepared. Typically any lessons learned are discussed with the team.
What are the most common project management methodologies?
● Waterfall is a linear methodology used for optimally clear procedures. Each step is heavily dependent on the previous one.
● Agile follows an iterative approach, where project components are separated into smaller chunks. This flexible method offers the advantage of easy pivoting.
● Lean avoids waste by focusing on efficiency. The goal of this method is to deliver the best possible project, while avoiding useless activities and unevenly distributed workloads.
For information on other methodologies, click here.
What are some benefits of well-organized project management?
Setting the expectations, objectives, and goals in the early stages of a project helps create smoother processes throughout. Applying project management principles tends to increase efficiency, cut costs, and create accountability for all team members.
Conclusion: Project Management 101: Roles and Responsibilities
If you are just beginning your project management journey, focus on the basics to start. In order to stay on top of the timeline of each project and provide direction to your team, create a cheat sheet with important deadlines and realistic work estimates.
Topics : Articles, Career Opportunities, Project Management, Staffing
Share this post
Join Our Winning Team
We are always looking to add talented professionals to our team. Advance your career with Judge.
Apply Now
Let's Continue the

Conversation.

Tell us how we can help you and we'll be in touch soon.