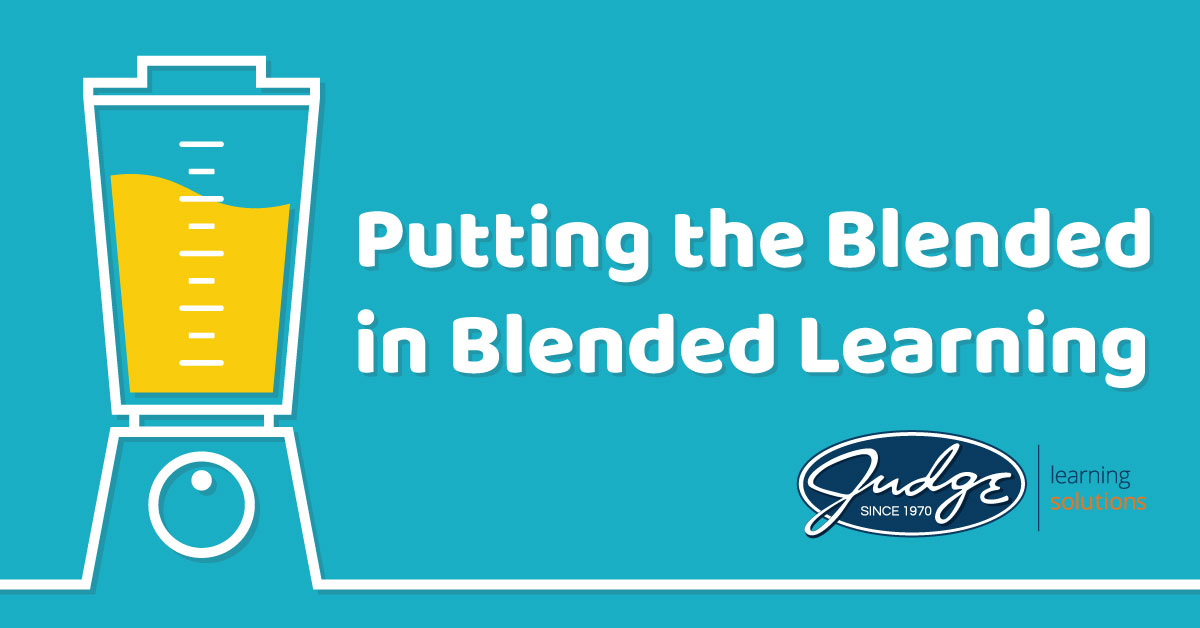 Share this post
Putting the Blended in Blended Learning
By Mark Burke, Ed.D.
There are so many great things to say about blended learning curricula. Creative. Interesting. Grounded in learning theory. The problem is that many times, blended learning turns out as an eLearning module or two and some PDFs. As learning professionals and leaders, we've got to break out of this boring definition of blended learning, and start pushing the envelope if we want to keep our learners engaged. Here are some other learning modalities to consider when you blend your curriculum. They won't all work every time, but as we fight for our learner's attention, they are definitely worth consideration.
Motion graphic or screen-capture videos – Motion graphic videos help kick off a curriculum with gusto, as they push the edge of technology and visual beauty while also introducing the curriculum and teaching some core concepts along the way. If your plan doesn't include motion graphic videos, then screen-capture videos created from PowerPoint or other presentation software are good ways to get your point across easily and succinctly.
Case studies – PDFs telling a person what to do are so 2005 and often not as effective as a short case study that demonstrates a real-world situation and asks questions about how the person should respond. Case studies take longer to create but are worth the effort when trying to get learners to think critically.
Demonstration videos – If you are teaching skills, these are your friend. If you are showing technical computer skills, then screen-capturing recording software (e.g., Camtasia) with voiceover is a good choice. If you are looking to demonstrate people interacting or a person acting in a certain manner, consider animated videos with avatars showing the new behaviors. (Vyond is a good software suite for this.)
YouTube videos – 2.3 billion users can't be wrong, right? YouTube and video sharing systems like it are a great location to send out users to learn generic information that you don't need to recreate. Good videos are fast to find and as long as they are short, you'll get good uptake on them. If you are worried about learners actually watching them, then throw in a quick quiz in the LMS to measure their retention.
External learning sites – LinkedIn Learning, PluralSight, Udemy, Khan Academy. There is no shortage of external classes available to learners if you are willing to find them. Whether you do xAPI or just provide a link to the course, mixing up the content and finding other styles of learning are powerful ways to keep learner interest and save you the time of recreating the content.
eLearning, workshops (virtual or F2F), PDFs. They are all tried and true learning modalities, but they aren't the only ones out there. For your next blended learning project, try to think outside the box and see what else is out there; your learners will thank you!
Want to talk more about this? Leave a comment below, or reach out to us at JLS@judge.com. Our team of creative rock stars are ready to help – just let us know what you need.
Topics : Article, eLearning, Judge Learning Solutions, Motion Graphics, Videos
Share this post
Join Our Winning Team
We are always looking to add talented professionals to our team. Advance your career with Judge.
Apply Now
Let's Continue the

Conversation.

Tell us how we can help you and we'll be in touch soon.