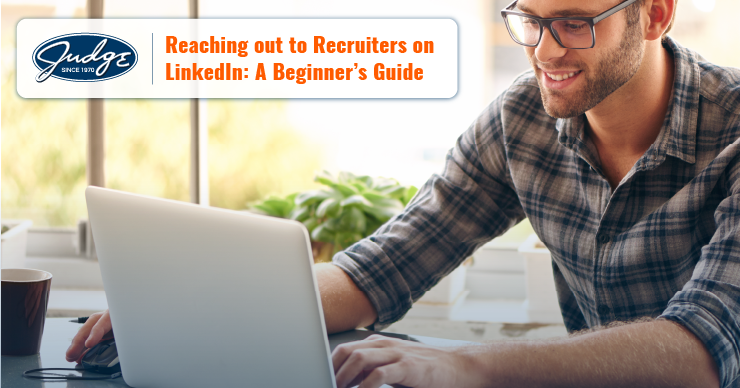 Share this post
Reaching out to Recruiters on LinkedIn: A Beginner's Guide
When it comes to finding the perfect job, who you know is as important as what you know. So if you haven't used LinkedIn as a part of your job search, here is why you should:
LinkedIn is the largest professional online network, with approximately 740 million members in more than 200 countries and territories worldwide. It may surprise you to learn that 87% of recruiters reported using LinkedIn in their candidate search. It's clear, then, that learning how to connect with recruiters on LinkedIn can make your job search more productive.
But how?
Reaching out to recruiters on LinkedIn is easier when you use these five helpful tips to make that initial connection.
Do your research
First research positions and companies that align with your career goals. What positions are open? Do your skills, experience, and education match job descriptions? Prepare your portfolio for a job search. Before approaching a recruiter on LinkedIn, make sure it is the right person. Narrow your search through keywords — job type, industry specialty, specific regions they may work in, and determine whether they are still an active recruiter. The research portion of your process will not only save you time, it will maximize the value of each connection you make.
Send a connection request with a short message
After identifying relevant recruiters, send connection requests. Include personalized messages and discuss the reasons you want to connect. Make each message brief and concise, because there is a higher acceptance rate when the recruiter understands why you want to connect. A simple introduction works wonders. Here are some helpful examples.
Send a follow-up message after your initial connection request is accepted
This is the beginning of your relationship, so it's important to demonstrate professionalism. Thank them for accepting the request and give them more details about your interest. Remember, the purpose is to strike up a relationship with the recruiter.
Judge Pro Tip: If you have a specific job in mind, apply for it before contacting the relevant recruiter. When you do reach out, let them know you've already applied for the job, and include your resume in the message. This way you will be a step ahead, and if you fit the role you'll get an interview faster.
Establish a relationship
Ideally, after your first contact, the recruiter will respond with a request for an interview. But realistically, reaching out might not produce the result you want right away. Be prepared to build a relationship with the recruiter slowly, keeping in touch, but avoiding overwhelming them. Persistence is often beneficial but knowing how to connect with recruiters on LinkedIn is useless if you sabotage the relationship by overstepping boundaries. Keep an eye on position announcements as they are posted as well as networking events. If you interact with recruiters appropriately, they will likely keep you in mind as positions become available.
Be patient
Remind yourself to be patient! Following up is healthy for any professional relationship, but here again, overdoing it can cause more harm than good. Scheduling interviews and filling positions take time. To calm your nerves, ask the recruiter at the beginning of the process about what the usual timeline looks like, remain patient, and NEVER put all your eggs in one basket. Explore as many possibilities as possible, without placing all your hopes on one.
A Beginner's Guide to Reaching out to Recruiters on LinkedIn
Reaching out to recruiters on LinkedIn is a great idea. While waiting, keep in touch but give them breathing room. Work on your profile, continually research and make connections, and stay active. Remember, job searches take time so don't get discouraged!
Topics : Articles, Career Networking, Job Hunting, Job Search, LinkedIn
Share this post
Join Our Winning Team
We are always looking to add talented professionals to our team. Advance your career with Judge.
Apply Now
Let's Continue the

Conversation.

Tell us how we can help you and we'll be in touch soon.