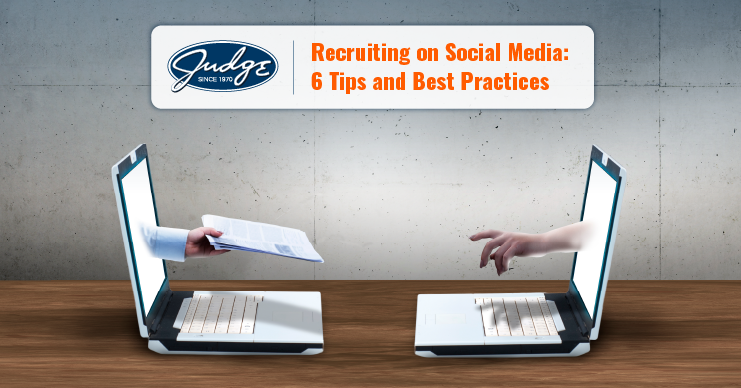 Share this post
Recruiting on Social Media: 6 Tips and Best Practices
If you moved on from a career in recruiting ten years ago, you might not be able to recognize the profession today!
Sure, the goal of identifying talented candidates remains the same — but the means for getting there has changed considerably. Case in point: today, over 90% of recruiters use social media to search for talent; primarily through LinkedIn, Facebook, and Twitter. Candidates use these platforms to interact, share ideas, and trade experiences.
From a staffing perspective, social media recruiting is a goldmine. Why? Because it presents an ongoing opportunity for companies to identify (and in some cases, vet) candidates outside of their current network.
So how can recruiters successfully connect online? If you're just getting started, here are some helpful tips!
Notify Your Followers
Be loud and clear that you're hiring. If you need to fill multiple positions, consider updating your profile with a short message about the roles you're currently hiring for. Include a link to the job description (and the application itself) in order to streamline the process.
Promote Your Company Culture
There's more to recruiting on social media than simply posting jobs. A lot more! Social media platforms can be used to highlight what makes your company unique, as well as to share content about your organization's personality. This content can consist of helpful tips, evidence of employee empowerment, volunteer efforts, educational opportunities, and anything else unique that your company offers its employees. People appreciate companies who value their employees! Demonstrating this will help you organically attract the talent you're after!
Get Your Employees Involved
Great companies get their employees involved. Your staff is your best resource, so encourage them to share, comment, or like posts that resonate with them. Not only does this help your audience grow, it helps you reach talent you wouldn't otherwise have access to. When your employees share your content, you might also encourage them to write a personal note about why they enjoy working with your company. Remind them to include any job applications links or recruiter contacts.
Judge Protip: Don't be heavy too handed here. Social media accounts often represent people's personal brands. Employees should share your company's content on a voluntary basis, because they genuinely believe in the organization and want to help. Emphasize how helpful it is for them to engage, but avoid pressuring them. This attitude will help create a trusting work environment and in the end, will help with social media recruiting efforts.
Share in Groups and Use Hashtags
Want to stand out? Rather than creating generic posts, target specific groups to network within, and encourage fellow recruiters to do the same. First impressions last, so communicate with an approachable tone! If you're posting helpful content or details about a job opening, remember to use hashtags to widen your audience.
Dig Into Niche Networks
Look beyond LinkedIn and Facebook. Different demographics and professions congregate on unique social media platforms. If you want to fill technical positions, head over to GitHub or StackOverflow. For graphic designers and illustrators you might check out Pinterest or Behance. For marketers, consider Warrior Forum. Engaging on niche platforms will get you the best bang for your buck.
Promote Your Posts or Invest in Targeted Job Ads
Not all candidates can be found organically. Your post may not reach everyone in your target audience, but a little investment can go a long way. By promoting your posts and purchasing targeted job ads, you can increase your chances of attracting more candidates and hopefully, applicants!
Conclusion: Recruiting on Social Media: 6 Tips and Best Practices
Before we let you run off to apply all these strategies, remember: it's important to make the application process as simple as possible! You'd be surprised how many applications are buggy, confusing, or not user-friendly. Considering all the effort you put into recruiting on social media and other avenues, don't lose a great candidate because of an unintuitive job application.
Topics : Articles, Hiring, Recruiting, Social Media
Share this post
Join Our Winning Team
We are always looking to add talented professionals to our team. Advance your career with Judge.
Apply Now
Let's Continue the

Conversation.

Tell us how we can help you and we'll be in touch soon.