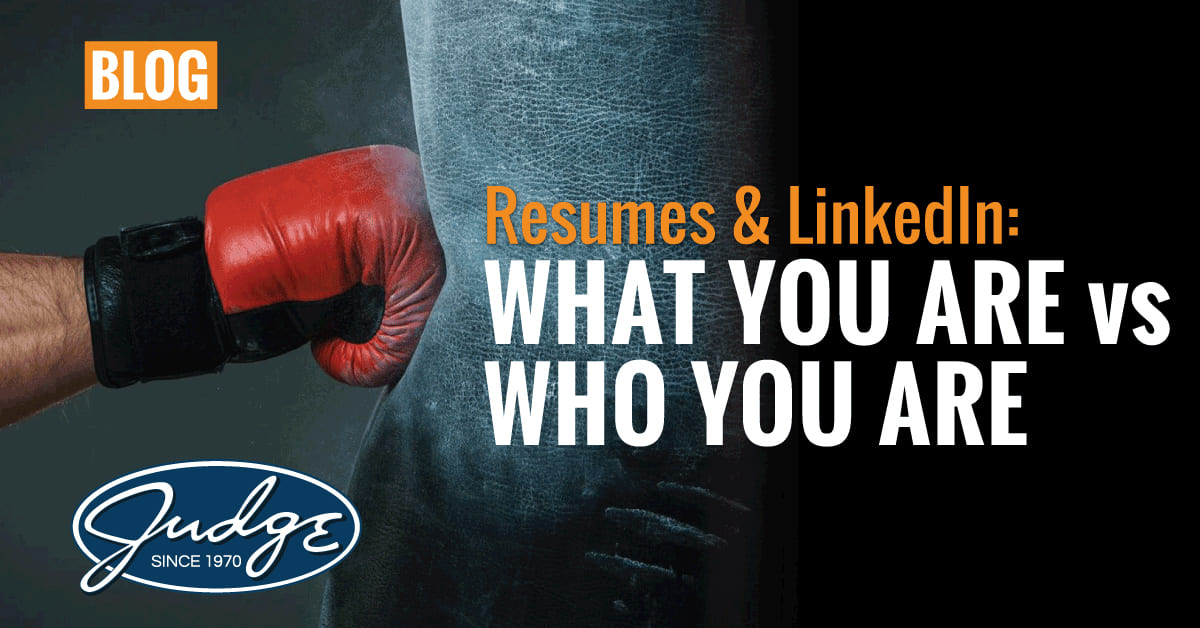 Share this post
Resumes & LinkedIn: What You Are vs Who You Are
As someone who has spent the better part of his career in the Staffing & Professional Services industry, I probably read more resumes in a year than many people read in a lifetime. It's an important part of the world in which I operate, and tells me what someone has accomplished in his/her career to date. Often times the resume is well-written and I can tell early on whether or not I feel the candidate is on the right track. And then there are times when the jury is out, and I just can't get a read on the candidate. Yeah, the matter-of-fact stuff is on the resume, but WHO is he/she?
That's when I login to LinkedIn to search for the candidate's profile. Some candidates do not bother to create a profile, which is a topic for another day. But most of those that do simply repeat the same information that appears on their resume. To me, that's a missed opportunity to engage with prospective employers or even prospective clients. I say this because your LinkedIn profile personalizes you as a professional, while a resume is a sort of checklist of accomplishments. This is important to address, because we still need both a resume and LinkedIn in today's business world. Let's compare the two, and I'll use my own resume vs my LinkedIn profile to make the point.
Resume: What You Are
As a client-facing Sales Executive for a professional services firm, responsibilities include prospecting into Information Technology departments, building relationships with IT hiring managers and Managed Service Providers in order to procure open job postings. Work with a team of professional recruiters to identify qualified candidates to fill open job postings at client sites, including contract and permanent positions. Provide clients with contingent workforce consulting services to maximize their return on investment. Also deliver high-level overviews of other Judge service offerings including Training, Technology Consulting, Unified Communications and Mobility.
Yup, that's exactly what I do. My resume is factually accurate and professionally worded. It includes the proper biz speak, and hits the mark in terms of my responsibilities. It's what a prospective employer would expect, but alone it is very 1 dimensional – the WHAT. Why would I want to repeat this on LinkedIn? What would a prospective CLIENT really learn about me? Instead, let's add some color and pump some life into WHO I am.
LinkedIn: Who You Are (https://www.linkedin.com/in/cjmccourt/)
I partner with clients to address their Technology, Learning & Talent Solutions needs. In other words, when you need to augment your existing Technology staff, I'm the guy you call. I am supported by a team of motivated recruiters that work hard to address your staffing needs. It's what we do best. We'll get you the top IT and Systems professionals in the market so that you can get back to doing what you do best. Do you hire Finance & Accounting, Engineering or Pharmaceutical professionals? I'll introduce you to my colleagues that support those disciplines too. Interested in rolling out training for your employees or members? Exploring mobility, unified communications or cloud technology? I'll introduce you to those guys as well. All housed under one roof, The Judge Group delivers PEOPLE-POWERED BUSINESS SOLUTIONS!
See the difference? The resume is a checklist of my responsibilities, and reads in a rather robotic tone, but it still serves a purpose. On the other hand, my LinkedIn profile brings ME to life! It humanizes me, and shows that I'm not boxed into the responsibilities laid out on my resume. Instead, my LI profile lets the reader know that I am a partner who can deliver solutions in many ways. It enhances my brand, and gives him/her a reason to want to engage with me. Know this: you can always upload your resume as an attachment to your LinkedIn profile, but use your page to bring YOU to life. Oh, and don't skimp out on the profile picture! A simple, clean headshot with a smile. Save the margarita pictures for Facebook!
Remember: LinkedIn is not WHAT you are, it's WHO you are!
By: C.J. McCourt
Topics : Articles, Job Hunting, LinkedIn, Resume
Share this post
Join Our Winning Team
We are always looking to add talented professionals to our team. Advance your career with Judge.
Apply Now
Let's Continue the

Conversation.

Tell us how we can help you and we'll be in touch soon.