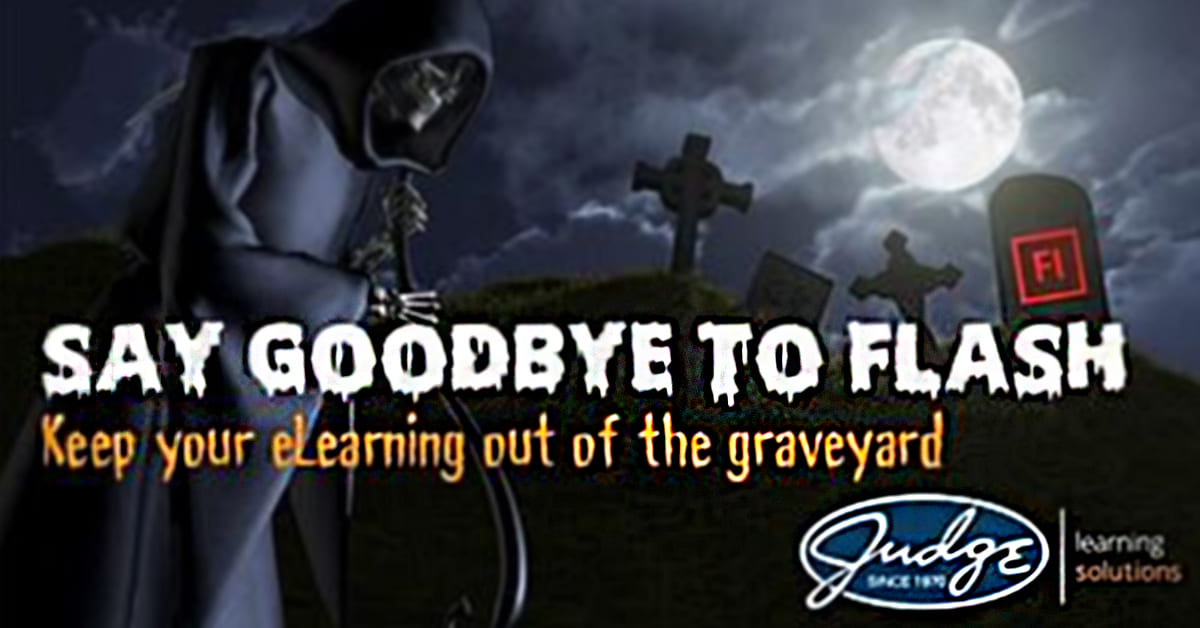 Share this post
Say Goodbye to Flash – Keep Your eLearning Out of the Graveyard
Muahhahahaha…..What is Flash and why is it dying?
If you've used the Internet for longer than just the last few years, it's more than likely you've come across Adobe Flash. Flash is a multi-media software platform that has been used extensively to deliver web content and online training courses, as well as power video games.

The usage of Flash gained in popularity in the late 1990s and early 2000s, reaching its hay-day in 2005. But then in 2007, a little device would start to turn the tide for Flash and Flash-enabled content. That little device was known, as it is today, as the iPhone.

Steve Jobs, the CEO of Apple, introduced the iPhone in June 2007 on stage to his entire company, announcing that it would perform as a phone, a media player, and, most importantly, an Internet browser. This last capability would launch the iPhone into the hands of millions of users.

In that launch, Jobs also laid out why the iPhone would not support Flash. In the spring of 2010, Jobs wrote an infamous memo called 'Thoughts on Flash' which, in many people's opinions, put the Flash platform on "death row." The Grim Reaper has been slow in coming but he is picking up speed. On your computer, Apple, Google, and even Microsoft are all rolling out browser versions that disable Flash, so it will be harder and harder to view Flash content using standard browsers. And most smartphones have no Flash support at all.

So why should anyone give a "Boo"?
Well most companies, including Judge Learning Solutions, have built learning assets using Flash. Even recently created eLearning may contain Flash elements.

If you want to make your content easily available for your organization's entire population of learners, you should consider converting these learning assets to a format that can be accessed on smartphones and tablets. But are some of your assets actually zombies that no longer have a useful life?

In our view, you might want to consider retiring outdated Flash-enabled content, and refurbishing relevant content with a modern approach that meets the need of time-pressured, mobile workers.

Avoid the eLearning graveyard
We recommend taking a strong look at all your eLearning assets at least every 2 years. You need to determine which ones to "put to rest," which ones are still vibrant and valued, and which ones could be restored in a way that avoids the eLearning graveyard. Triage your courses to determine the best option:
Restore – Determine which parts need to change so you can republish the course to run in modern browsers for learner consumption.
Refine – Create a more relevant course for the target learner by repurposing existing content and updating it while replacing Flash-enabled components.
Redesign –Determine new ways to deliver the content in ways that are more accessible, relevant, and engaging for your learners, such as microlearning or gamification.
How can Judge help you fend off the Grim Reaper?
Judge Learning Solutions has highly experienced learning strategists and performance consultants who can help you evaluate your current learning assets and develop a strategy that breathes new life into your organizational learning programs. Don't fear the Grim Reaper: let Judge defeat him for you!
 Learn about Judge's
eLearning Solutions
By: Kevin Rillo
Topics : Articles, eLearning, Flash
Share this post
Join Our Winning Team
We are always looking to add talented professionals to our team. Advance your career with Judge.
Apply Now
Let's Continue the

Conversation.

Tell us how we can help you and we'll be in touch soon.