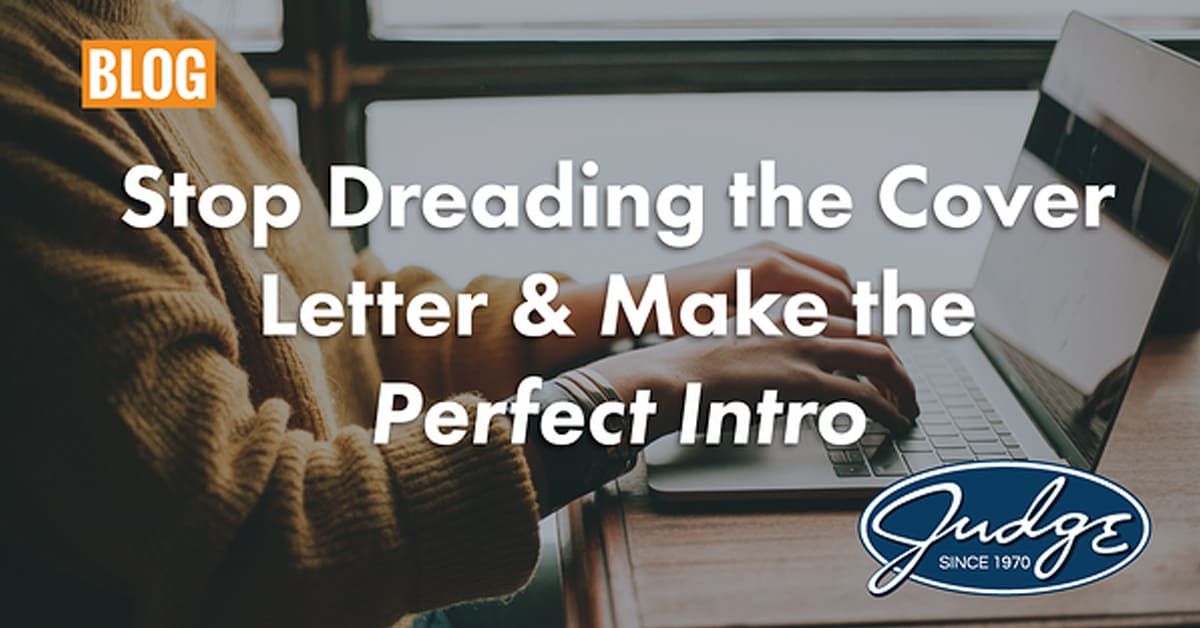 Share this post
Stop Dreading the Cover Letter and Make the Perfect Intro
You have your resume together, down to one page, and it looks impeccable. You upload it to an online job application but then you see a blank space staring at you. You need a cover letter.
The cover letter is the appetizer to the main course - your resume. This is your chance to stand out from the crowd and tell hiring managers you're the one for the job. You just have to summarize your whole background and career so far in a few sentences, but you can't be too wordy. Oh, and you must show some personality though and seem like a real person - grab their attention but still be professional. That's a lot of criteria for writing the perfect cover letter.
Learn the rules to do it well and it can benefit you greatly and increase your odds in getting a call back. Here are some tips to help you craft the perfect cover letter without stepping on any of the above landmines.
Be personable.
Interested in a role? Start researching. Re-read the job description, find current employees on LinkedIn, study the company website, and get a feel for the work culture. The more you know, the more you can personalize and customize your cover letter so it is appealing to the hiring manager reading it. Bonus points if you can use the hiring managers actual name. Hint: do a Google search with a piece of the job description or, if you're working with a recruiting agency, look on their website to possibly find the recruiter who is assigned to that position. The least "general" your letter is, the better – as long as you have your facts straight.
Introduce yourself, don't restate your resume.
You will drive yourself and recruiters/hiring managers bonkers by just restating your background – that's what your resume is for. Be a real person and explain what brought you to enter the job market again, or to apply for the position. This will make things more conversational than robotic. Demonstrating that you actually understand the position and the company's need will entice the person on the other side to keep reading and to trust you.
Keep a tight and consistent format.
First: Introduce yourself by stating why you're interested in the role and that you've researched the industry and company as well.
Second: Explain why you are a fit by stating (as briefly as possible) the skills and experience you possess that meet the job requirements.
Third: Close it with enthusiasm, when you will follow up, and always with a call to action.
Focus on the three requirements that you can meet.
A job description's list of skills are made up of those that are required and those that are desired. Don't be discouraged when you see a few that you don't have. Look through and choose three skills that you feel are most important that you possess with a quick reason why for each one. Try to provide real past examples or highlights of times you've utilized these skills throughout your career. Be concise and to the point. Try relaying this information with a set of bullets. This will make it easier for the hiring manager to read and keep their attention.
Use the cover letter to your advantage. Be real, brief, & to the point and you will undoubtedly increase your odds of a call back.
By: Devin Clark
Topics : Articles, Hiring, Job Hunting, Talent, War for Talent
Share this post
Join Our Winning Team
We are always looking to add talented professionals to our team. Advance your career with Judge.
Apply Now
Let's Continue the

Conversation.

Tell us how we can help you and we'll be in touch soon.