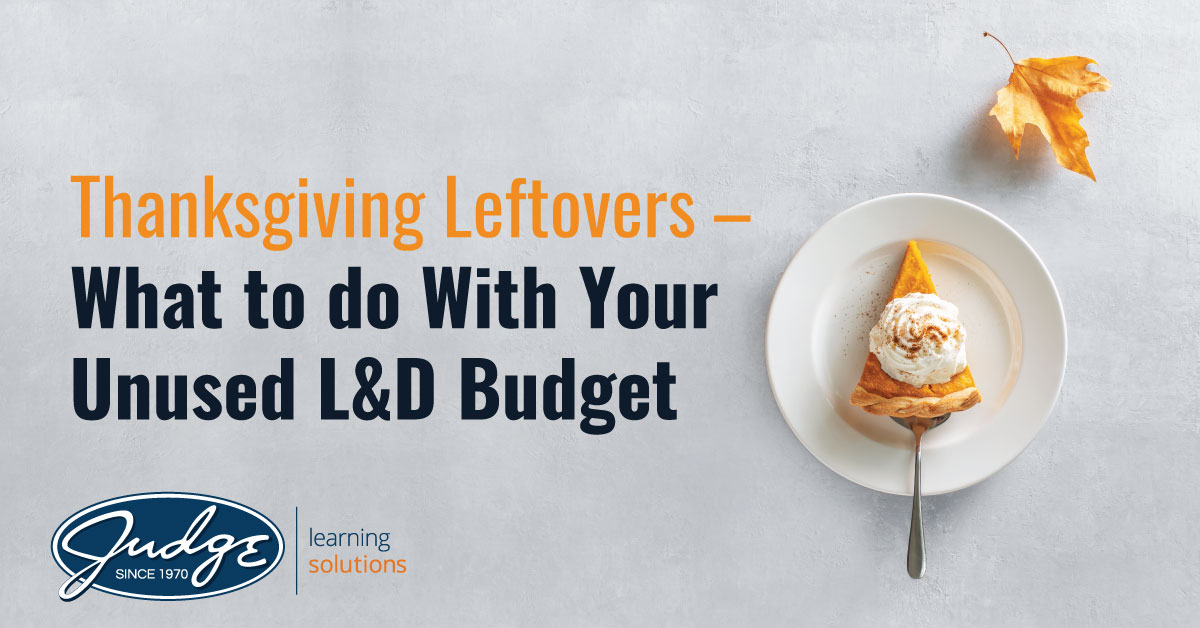 Share this post
Thanksgiving Leftovers – What to do With Your Unused L&D Budget
By Kevin Rillo, VP, OCM & Talent Development Strategies
The US holiday of Thanksgiving is right around the corner, which means not only are some people looking for new and inventive recipes for that day, but they're also wondering what to do with the leftovers once family and friends are gone.
Many organizations find themselves in a similar situation with their L&D budgets. Whether you're in an L&D department or another function that has budget for L&D activities, we often get to this time of the year and realize there is budget money left over. And many times, the directive is "use it or lose it."
So what's a budget owner to do? Read on for some suggestions on how to leverage excess funds when, quite frankly, time is running out.
Start a new L&D project – Whether you create a new learning asset or begin a needs analysis, many organizations will let you start a project in the current fiscal year and accrue the remaining money to continue that effort in the next fiscal year.
Give your teams some help – Crunch time with the holidays approaching is no fun for a design/development team. Consider bringing on some extra help in the areas where your team may be struggling to bring the project home before SMEs or stakeholders start taking time off.
Invite an Expert – Inspire and educate your team by bringing in an expert. Learning about a new area of L&D or hearing from a well-known author or key opinion leader are great ways to motivate your team and give them more tools to access. Many experts will do this for a small fee.
Invest in team-building activities - A team that plays together stays together. Organize activities where your employees get to know each other. The bond they create will make your squad more robust and more ready to face obstacles together. It's also a great way to improve collaboration.
Reward your people - Did anyone perform extraordinarily well? Did any of your teams attain a remarkable goal? From an individualized course, to paying for a conference which will happen next year, to scheduling your next meeting somewhere nice outside of the office, let them know you appreciate their efforts. The small details sometimes count the most.
Before you do any of the above, check with your finance or accounting department to make sure you are following rules.
In my experience, I always was dinged for overspending my budget and never rewarded for giving money back. So use your leftovers wisely; either do more work, finish up existing work, and/or reward those who do great work.
Want to talk more about this? Leave a comment below, or reach out to us at JLS@judge.com. Our team of creative rock stars are ready to help!
Topics : Articles, Budgets, Corporate Learning, Holiday, Judge Learning Solutions, Learning, Learning Development
Share this post
Join Our Winning Team
We are always looking to add talented professionals to our team. Advance your career with Judge.
Apply Now
Let's Continue the

Conversation.

Tell us how we can help you and we'll be in touch soon.