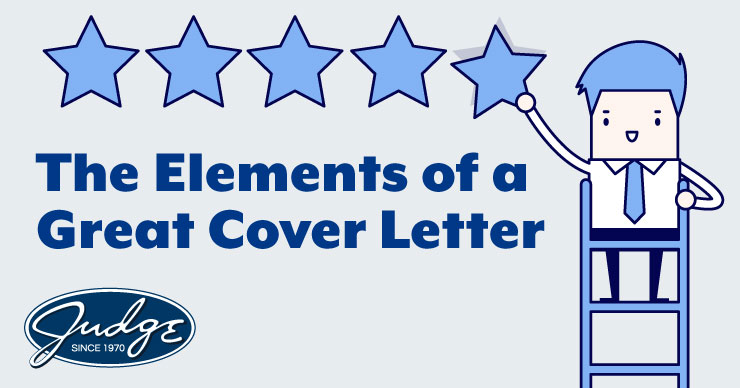 Share this post
The Elements of a (Great) Cover Letter
When applying for a new job, your resume is meant to demonstrate your skills and experience to potential employers. So, what role does a cover letter play in the application and review process? Simply put, cover letters are tools for explaining why you're the right person for a job. In today's infographic, we'll help you understand the individual elements that make a great cover letter.
Once you understand the pieces at play, you'll be able to put the puzzle together!
(Click on the image below to view a larger version)
Conclusion: The Elements of a (Great) Cover Letter
Here at Judge, we can't put enough emphasis on the importance of a great cover letter!
Take it from us: hiring managers can tell when you use generic, "canned" cover letters. Even if you are a great fit for a job, you might not be interviewed if your cover letter demonstrates very little effort.
Job searching can be stressful and it takes time - sometimes much longer you'd hope. But if you are detailed, careful, and you complete upfront research, your application will stand out from the crowd. Every organization has a different set of values. Likewise, each job has unique details that you should pay close attention to - and mention in your cover letter.
Now that we've covered how to write a good cover letter, take some time to think about your own, and develop an outline. Be sure to check for proper formatting and clear writing. Finally, including examples of your experience will make managers more likely to read your cover letter from beginning to the end.
Pay attention to the 10 elements of a cover letter and increase your chances at scoring an interview!
Topics : Candidate, Cover Letter, Infographic, Job Search, Job Skills
Share this post
Join Our Winning Team
We are always looking to add talented professionals to our team. Advance your career with Judge.
Apply Now
Let's Continue the

Conversation.

Tell us how we can help you and we'll be in touch soon.