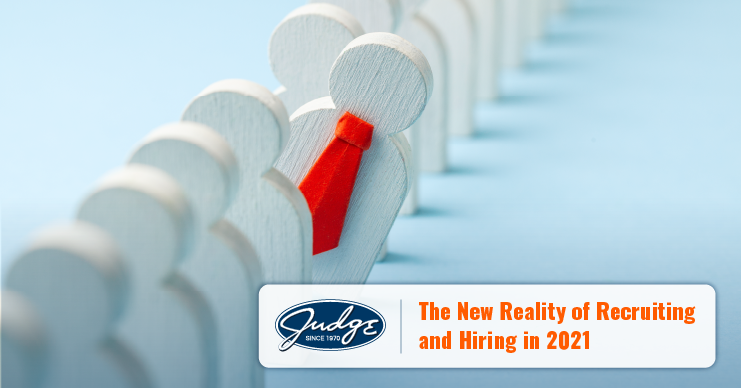 Share this post
The New Reality of Recruiting and Hiring in 2021
The business world has gone through some drastic changes this year. From increased security threats, to employee downsizing, financial challenges, and unexpected role changes, it's been nothing short of a rollercoaster ride.
Unsurprisingly, staffing and recruiting offices were not immune to all the twists and turns. Job fairs were cancelled, open houses went virtual, and traditional interview and onboarding processes were upended.
As the world transitions out of the pandemic and the economy begins to bounce back, let's discuss which hiring practices gained newfound importance and may stick around for the foreseeable future.
Increased Recruitment Using Social Media
Social media recruiting was on the rise well before 2020. But when job fairs across the world were suddenly put on hold, recruiters and candidates immediately increased their use of digital platforms. Whether it's for job seeking or job recruiting, Twitter, Facebook, and LinkedIn are the big three. By navigating in groups, discussions, and hashtags, users are able to expand their network in ways that weren't possible prior to social media. Expect the importance of social media recruitment to continue growing!
Video Interviewing
We've all used Zoom, GoogleMeets, Skype, and other video conferencing apps for professional conversations. The difference in 2020 was that they weren't a luxury - they were often the only option! Even when COVID-19 infection rates finally taper off, expect many industries to continue leveraging video interviews at higher rates — because their convenience is more obvious than ever. Video interviews may not be the same as face-to-face conversations, but they still allow you to assess a candidate's personality, public speaking skills, and expertise.
Virtual Onboarding
Start on the right foot by providing new hires with the proper hardware and software before their start date. Since they can't ask their cubicle neighbor for help, provide all the available tools and contact information of the colleagues they'll be working with. Don't forget to give them a proper introduction, and get ready to hop on video calls throughout the onboarding process.
HR Paperwork Goes Digital
What started as a green initiative was greatly accelerated by the pandemic. More than ever, companies are moving away from printed onboarding materials, contracts, and training guides; opting for digital documents instead. E-signing tools like DocuSign and HelloSign have made the transition much easier, preserving the contract reviewing and signing process, shortening the time required of all parties, and reducing the endless papertrail.
The Importance of Highlighting Company Culture
From attracting potential candidates to onboarding new hires, conveying a company's culture is more vital than it's ever been. When onboarding new hires, it's important to communicate values, mission, history, and business goals. If companies wish to promote cultures of empowerment, collaboration and continual learning, then spending extra time with new employees is highly recommended — especially during the onboarding phase.
New Communication Methods
Through much of 2020, face-to-face interactions were limited to "only when necessary" status. To supplement this, many companies found new ways to communicate formally and informally. Communication tools like Slack, Microsoft Teams, ProofHub, and others have replaced break room chats, job fairs, and conferences.
Conclusion: The New Reality of Recruiting and Hiring in 2021
2020 threw more than a few punches at the business world, but technology was able to help soften the blows. Yes, hiring may look different now, but the underlying goal is still the same: to find the ideal candidate for the position. When things finally begin to normalize, it will be interesting to see just how many of these practices stick around for the long haul!
Topics : Articles, Hiring, Recruiting, Staffing
Share this post
Join Our Winning Team
We are always looking to add talented professionals to our team. Advance your career with Judge.
Apply Now
Let's Continue the

Conversation.

Tell us how we can help you and we'll be in touch soon.