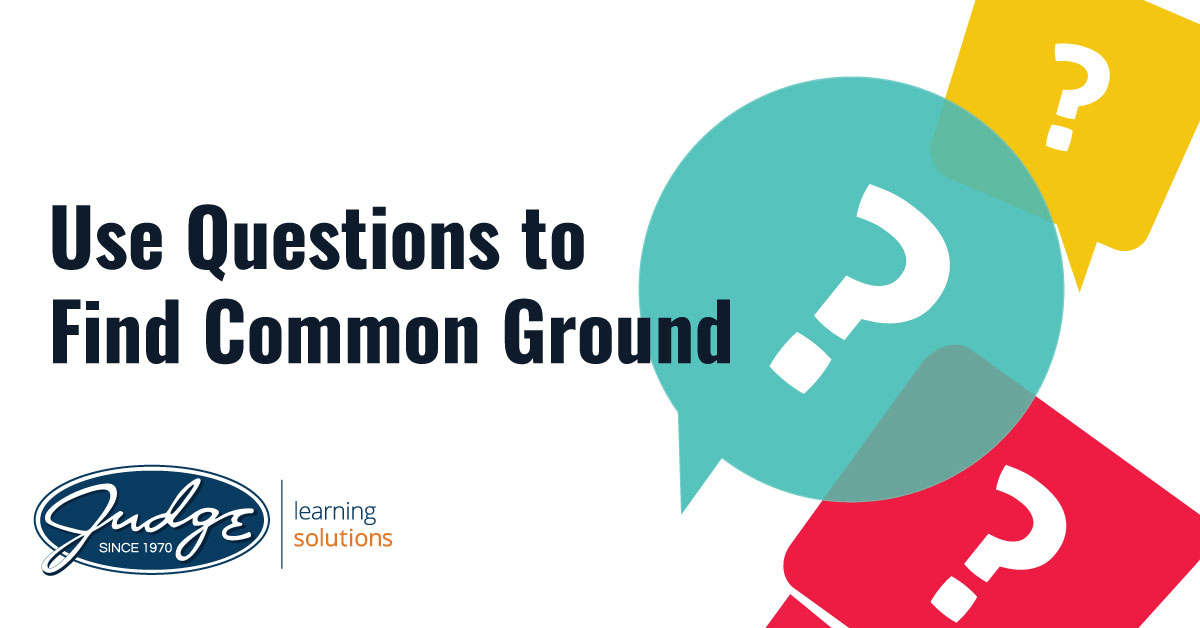 Share this post
3-Part Series: Part 3 – Use Questions to Find Common Ground
By Jill Pearson, M.S., APTD
Many learning projects have multiple stakeholders, for example, the project champion, a few subject matter experts, someone managing the learners, and of course, the learners. That can lead to a lot of ideas and opinions, and undoubtedly a lot of disagreement. As the manager of a learning project, finding common ground is an important part of your role. Doing it diplomatically makes the project run much more smoothly.
If it were as simple as letting the highest-ranking voice win, the diplomatic side of project management would be easy. Since it's not, consider using questions to help different stakeholders understand each other's perspectives. This approach is similar to the tools you employed during your project kick-off call. Rather than using statements to point out discrepancies or inconsistencies, asking the right questions can help clients arrive at the conclusions themselves, which is always a more tactful approach.
It's okay to ask a question you already know the answer to. In most projects, you'll communicate with stakeholders in multiple ways. These variations can lead to confusion when one client asks for one thing via email that contradicts what someone else asked for on the phone. Use status calls to get clarification by asking questions you might already know the answer to, as a way to get the stakeholders on the same page. For example, "Ms. Client, I remember you mentioning that you really wanted to see (x) in the course. Can you remind me more about the specific details you require?"
It's okay to feign ignorance, to a point. In the example above, you'll notice the phrase "I remember you mentioning…" While you may actually have the client's ideas clearly outlined in writing, in situations when multiple stakeholders disagree, sometimes it's best to ask for a retelling of information as though you aren't quite certain about it in a more public forum, so all parties can get on the same page.
It's okay to ask the same question again, and again. There are many reasons why you may need to ask a question more than once. Perhaps the question is related to course content, and the answer is complicated. If you don't get an answer that makes sense, ask the question in a different way. And then ask it again if necessary. You also might get answers that differ, either from person to person, or instance to instance. It's incredibly important that you don't guess or assume, especially with a brand-new client.
Know how to adjust your questions to the client. As our relationships with clients grow and evolve, often too does our ability to speak more freely. Pay attention to the signs you receive from your client. Know when to ask leading questions to get a specific answer, and know when to use open-ended questions to generate ideas. But also know when to stop asking questions and act.
Want to talk more about this? Leave a comment below, or reach out to us at JLS@judge.com. Our team of creative rock stars are ready to help – just let us know what you need.
Topics : Common Ground, Judge Learning Solutions, Learning, Questions
Share this post
Join Our Winning Team
We are always looking to add talented professionals to our team. Advance your career with Judge.
Apply Now
Let's Continue the

Conversation.

Tell us how we can help you and we'll be in touch soon.