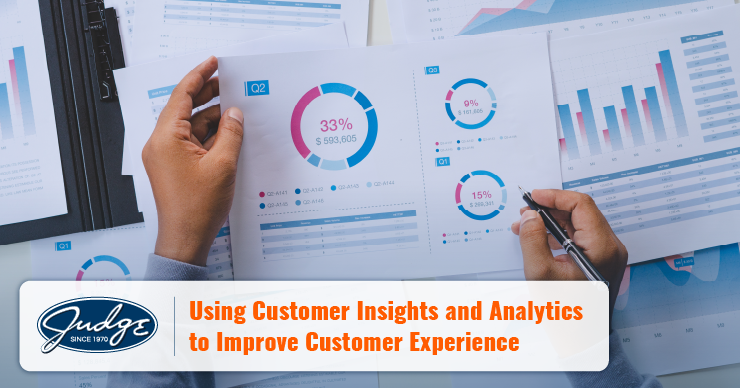 Share this post
Using Customer Insights and Analytics to Improve Customer Experience
"It takes 20 years to build a reputation and five minutes to ruin it. If you think about that, you'll do things differently." – Warren Buffett
When customers have early positive experience with your business, they are more likely to stay loyal over time. But what makes customers happy, and how can businesses predict satisfaction in advance? Ah, if only the answer was that simple!
In today's blog, let's look at the case of BFSI (Banking, Financial Services and Insurance) and discuss how these industries use technology to collect consumer insights — delivering a superior customer experience.
How BFSI Firms Leverage Customer Insights and Analytics
With many industries now fully immersed in the digital transformation, using advanced tools to facilitate better customer experiences is quickly becoming the norm. Here are a few important trends BFSI uses to meet the needs of their customers.
Use of Data Analytics – Data analytics plays a crucial role in providing insight about what consumers want and need. In 2020, the BFSI industry doesn't wait for customers to search for a product or service before offering it. Instead, they make predictions based on data analytics — offering products and services proactively. Data analytics are crucial when it comes to making smart business decisions based on customer insights.
Use of Artificial Intelligence (AI) - AI technology is the talk of the town, and for good reason. BFSI uses AI to model future customer behavior - based on previous individual and demographic behavior. For example, AI helps make individual recommendations about house loans, investments and more. It also helps companies make broader predictions about market trends; be they short or long term.
Use of Robotic Process Automation (RPA) - RPA helps busy industries deliver exceptional customer experiences through the automation of repetitive operations. This includes functions like answering low priority FAQs, account approval, new account setup, and more. If you've ever used a chatbot on your bank's website, you most likely encountered an RPA. Not only does RPA help customers get faster responses, it also minimizes human error, and can speed up credit card, insurance and mortgage application approval.
So, what are some key benefits of these technologies?
Consumer Insight Examples and Benefits
More Personalized Experiences
Customers no longer want one-size-fits all solutions. They interact with personalized products and services every day. Just as Netflix and Spotify recommend personalized movies and music, customers prefer companies who recognize their individual needs and suggest custom solutions.
Understanding What Works and What Doesn't
By using consumer insight tools, companies are able to understand which approaches work and which don't. Through statistical analysis, predictive modeling, and customer survey research, companies can better understand the strengths and weaknesses of their offerings.
Faster Response Time
For better or worse, consumers aren't as patient as they used to be! Technology has made everything a bit more convenient, and customers expect faster responses and solutions. Customer insight tools can improve internal processes, help reduce predictable problems, and make transactions occur more smoothly.
Conclusion: Using Customer Insights and Analytics to Improve Customer Experience
In 2020, competition for customer loyalty is as strong as it's ever been. Other companies in your industry will go to great lengths to understand their customers' needs. To create a more enjoyable customer experience you must do the same — and then some. Using technology to gather customer insights and analytics will help you make data-informed decisions and position your company for the future.
Topics : AI, Articles, Artificial Intelligence, Banking, BFSI, Data Analytics, Financial Services, Insurance, Robotic Process Automation, RPA
Share this post
Join Our Winning Team
We are always looking to add talented professionals to our team. Advance your career with Judge.
Apply Now
Let's Continue the

Conversation.

Tell us how we can help you and we'll be in touch soon.