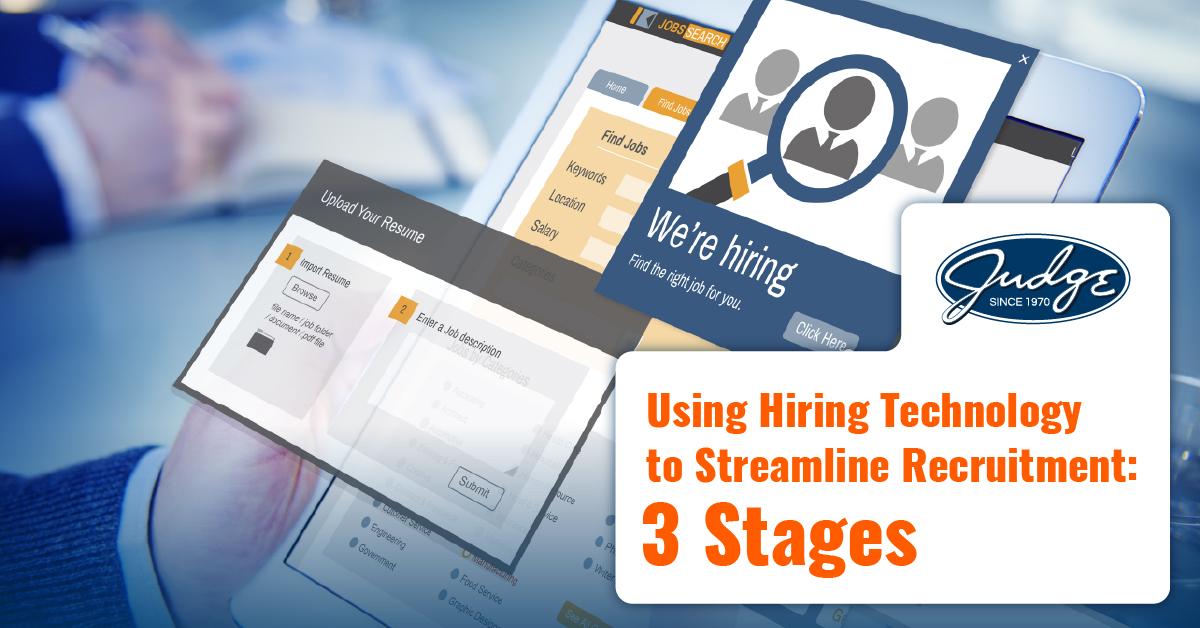 Share this post
Using Hiring Technology to Streamline Recruitment: 3 Stages
This just in: recruitment and hiring are labor intensive jobs!
If you've been actively hiring, you probably know that it's been harder to attract the right candidates over the past few years—thanks largely to the current dip in the national unemployment rate.
Luckily, the 21st century is on our side, and various types of hiring technology are here to assist us in reducing some of the burden. From candidate screening all the way to new hire on-boarding, if used correctly, tech based solutions will make your hiring process faster, more efficient, and more pain-free than ever.
So let's take a look at the 3 phases of hiring, and discuss how technology can contribute to your company's goals.
Stage 1: Pre-Interview Recruitment Technology
Before posting your next wave of jobs, conduct some research on how technology can be used to enhance the quality of your job descriptions. Various programs and applications are available to insure things are clear and easy to navigate. They can also assist you in sharing your job posting—making it more visible and engaging, and systematically placing it in front of your ideal candidates' eyeballs.
Next, by helping you choose and implement screening assessments, you can eliminate applicants who simply don't match your needs. Then, to refine your applicant pool even more, follow up with tests designed to measure candidates' problem solving skills and knowledge.
Finally, by helping you maintain consistent communication throughout the application process, technology can assist you in keeping candidates engaged, connected and motivated. For example, automated follow up emails will provide updates about application status, promote other positions applicants might be interested in, or share broader company news.
Pro Tip: Candidates will typically conduct online research before even applying for the job, so make sure your company's online presence is appealing.
Stage 2: Interview/Post-Interview Hiring Technology
Let's face it—what you observe about a candidate's personality during face-to-face interactions can't be mimicked by technology (otherwise, many of us would be out of jobs). Still, there are many tools designed to make the interview and post-interview stages more efficient.
For example, in recent years, we've seen an influx of video interview technology—whereby hiring managers pre-record questions, and candidates record video responses. This creates efficiency in the early stages of interviewing. Likewise many programs can help interviewers track candidates' answers in real time, allowing for a more effective summary of data.
Finally, let's imagine you've whittled your candidates down to just a few. Programs can also be used to send skill assessments after the interview, in order to screen candidates abilities one last time.
Stage 3: On-Boarding
If finding the right candidates is a story of its own, onboarding them is its sequel.
Take background checks as an example. In years past, recruiters might have to wait up to a month for background check clearances to be processed and delivered back to their company. Now, background checks, reference reach outs, and initial training & onboarding modules can all be automated, using web-based tools.
Getting Started!
Introducing new tools, training your HR team, and making your process more user friendly can all be time consuming—which is why it's so important to seek solutions tailored to your company's unique hiring needs. To get started, ask yourself the following question:
At what point in my hiring funnel do things slow down or falter?
Go ahead and research the kinds of tools that will help you address your most obvious areas of need, and avoid biting off more than you can chew at once. Finally, whenever possible, consider hiring technology that will solve multiple bottlenecks at once!
By: The Judge Group
Topics : Articles, Hiring, Recruiting, Technology
Share this post
Join Our Winning Team
We are always looking to add talented professionals to our team. Advance your career with Judge.
Apply Now
Let's Continue the

Conversation.

Tell us how we can help you and we'll be in touch soon.