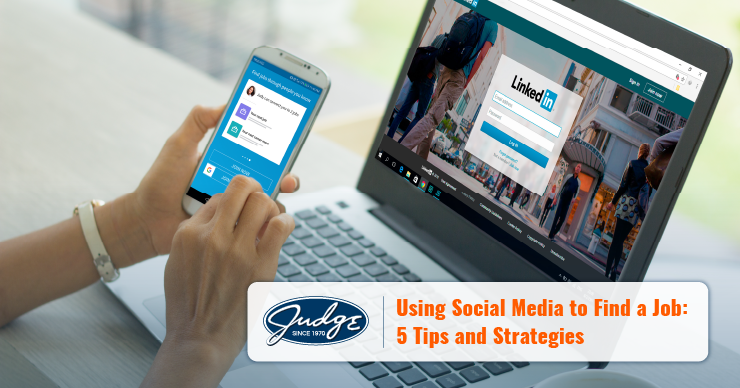 Share this post
Using Social Media to Find a Job: 5 Tips and Strategies
Hey job seekers, it's time to do some online networking!
Because if you're not already using social media to find a job, you might want to give it a go after considering these simple facts.
Fact 1: Recruiters are known for using social media to find skilled professionals.
Fact 2: In-person networking events have been put on hold, further heightening recruiters' use of social media for identifying candidates.
Social media has been a part of many of our lives for the better part of a decade and a half now. Long gone are the days of Facebook and Twitter being exclusively about funny pictures and quotes. As these platforms grew — along with LinkedIn, ofcourse — users began leveraging them to create their own brands and content.
When it comes to job searching, you can do the same!
In this week's blog, we'll discuss the advantages of using social media to find a job, and we'll show you how to build a professional brand in a way that showcases your unique skills.
Show Off Your Portfolio and Resume
Your resume, portfolio, website, and social media pages are people's first impression of you. Tailor these to show the kind of work you've done, and you are interested in. Your goal is to show your network that it took time, skill, and experience to create your online presence. Draw employers directly to your online profile and give them easy access to links that will impress them!
Join Groups and Networks Related to Your Career
When joining LinkedIn and Facebook groups and networks, you'll not only be able to see the latest conversations, you'll also be able to interact with the movers and shakers in your field. Recruiters often look for thoughtful candidates in these groups, so like, share, comment, and give your honest professional opinion to gain more visibility. The more active you are, the more you'll be on recruiters' radars.
Engage in Debates and Discussions
Got a topic you're an expert in, passionate about, or just have a professional opinion on? Don't be afraid to share your thoughts! Take time to craft your comment. Writing a one word reply — i.e., congrats, amazing, inspiring — will not set you apart. Be genuine and courteous, and future employers will be more likely to give you a look.
Be Transparent About Your Job Search
Don't hesitate to let your network know that you're on the hunt for a new job! LinkedIn now provides the option of including an #opentowork frame on your profile picture. By engaging with your audience and seeking interview and networking advice, you'll create the online image of a great candidate. You can even write LinkedIn blog posts about your work experience or job search journey. Just remember to always be professional!
Build Relationships
You are a collection of the people you know. When you get inspired by professionals on social media, make sure you let them know! When requesting connections, tell them where you first noticed them, and what stuck out about their online presence. Just like in real life, online relationships are most fruitful when you maintain them through regular, respectful contact.
Conclusion: Using Social Media to Find a Job: 5 Tips and Strategies
Even if networking online doesn't come naturally to you at first, practicing it daily will help you become more comfortable over time, and will increase your chances of finding a job using social media. Start working on your online presence and expand your network now, to start your job search on the right foot in 2021!
Topics : Articles, Job Hunting, New Job, Social Media
Share this post
Join Our Winning Team
We are always looking to add talented professionals to our team. Advance your career with Judge.
Apply Now
Let's Continue the

Conversation.

Tell us how we can help you and we'll be in touch soon.