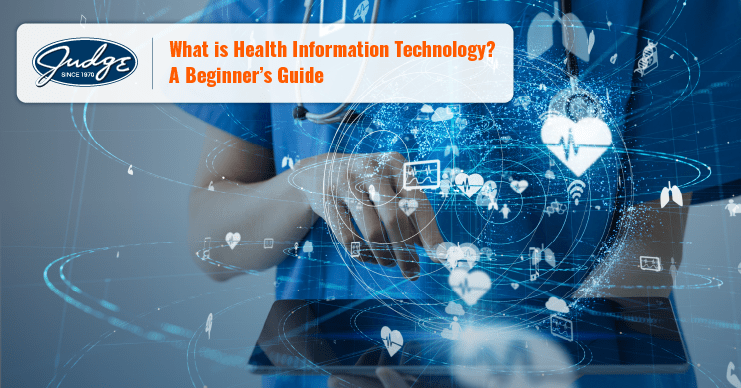 Share this post
What is Health Information Technology? A Beginner's Guide
This just in! Technology has revolutionized healthcare, becoming an integral part of the practice of medicine.
The pace of recent innovations in health IT tells a clear story — technology is one of the biggest, if not the biggest, forces behind modern medical improvements. From better diagnostic tools and cutting-edge treatments, to remote consultations and mobile apps — technology in healthcare has enhanced medicine for professionals and patients alike.
So what is health information technology? To get a sense, let's look at some of the key areas healthcare IT specialists handle.
1. Medical Data Access
The developed world has traded dusty, bulky paper files for Electronic Health Records (EHRs). Simply put, being able to access patient data from anywhere in the world (and quickly share it with fellow health providers) makes for much more efficient patient care.
Patients can now access their records more easily than ever. This is especially helpful for patients who live in inaccessible locations or cannot easily travel. When medical records are more organized and accessible, not only do the cost of medical processes improve — patient outcomes do as well!
2. Communication between Healthcare Workers
Digital technology and healthcare are a perfect pair. The rapid transference of digital data has made communication between healthcare providers and their patients easier, simpler, and much more cost-effective. Not long ago healthcare workers used beepers to communicate. Today we count on emails, smartphones, telemedicine, and telemonitoring, where information can be shared and communicated extremely efficiently. Health information technology like this improves access to care for people in areas lacking healthcare facilities and specialists.
3. Telehealth/Telemedicine (Patient communication)
Direct patient communication with healthcare providers has never been easier, and the dual era of video health consultation and electronic healthcare data is here to stay. Electrograms are a specific example of a tech innovation. Patients' vital signs—like blood pressure and oxygen levels—can be monitored remotely now, facilitating comprehensive care of patients in rural areas. Telehealth makes consultations, monitoring, and tracking patients' conditions and progress much more convenient.
4. Online Education
The shortage of healthcare workers in the medical industry has given online education an extremely important role when it comes to keeping up with the demand. Today, students interested in pursuing careers in healthcare can complete their healthcare degrees entirely online. For those of us unable to take time off work or commute long distances, this is a big deal! Nurses and other healthcare workers —many of whom work long hours but still wish to advance in their careers — can now more readily do so.
5. Mobile Health Applications
One of the most popular recent innovations in healthcare — mobile health applications — offer great flexibility. They are usually inexpensive, but provide quality service. From tracking health data to improving communication between healthcare providers, mobile apps are a convenient way to keep a keen eye on patient health. Sectors where mobile apps are particularly popular include chronic care management, personal health records, women's health, mental health, and medication management.
Conclusion: What is Health Information Technology? A Beginner's Guide
Technology has transformed healthcare — a trend we're not expecting to slow down any time soon. Indeed, we have yet to see what artificial intelligence, machine learning, blockchain, and many other advancements will do to healthcare systems. So far, the effects have been largely positive and very promising!
Topics : Articles, data, Digital, Healthcare, IT, Mobile, Telehealth
Share this post
Join Our Winning Team
We are always looking to add talented professionals to our team. Advance your career with Judge.
Apply Now
Let's Continue the

Conversation.

Tell us how we can help you and we'll be in touch soon.